Zombie
(Resident Evil 3: Nemesis)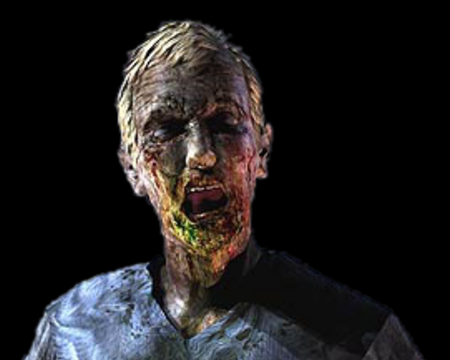 The zombie is the most common enemy in the game, the poor residents of Raccoon City who became infected with the T-Virus and left to rot on the streets. The police force could do nothing against the zombie hoards, not even the Umbrella Biohazard Counter-measure Service had a chance.

The zombie is an easy enemy, as long as they're in small numbers. The Handgun is enough to keep them at bay. It's possible to decapitate one or many zombies with a single shotgun blast, simply aim up when they come into grabbing range, and fire.
Statistics
| Game mode | Sum total |
| --- | --- |
| Hard | 167-265 * |
* Exact number can depend on certain game conditions. Please see the list of locations below for the details.
Location
Business Main Street - Uptown

Hard

5 Zombies - Wandering around. Some of them are lying next to the walls of the alleyways.

1 Zombie - If you return to this location from the western doors of the street after you have either witnessed a girl being chased by zombies, or have heard her scream on the eastern side of the street, a zombie will burst out of the car parked in the northern corner as you pass by.

View location

|

Show on map

Back Alleyway - Uptown

Hard

1 Zombie -

Appears after you hear the girl's scream in the

Business Main Street

, which occurs if you return to that area at any point in the game and explore the south eastern side.

View location

|

Show on map

Business Back Street - Uptown

Hard

5 Zombies - Emerge from the storage shed as you pass by its door, or in some circumstances only when you examine it.

View location

|

Show on map

Private Backyard - Uptown

Hard

3 Zombies -

Wandering around in the area at the bottom of the steps. Note: one of these zombies gets downed by

Brad

on your first visit here.

View location

|

Show on map

Residential Street - Uptown

Hard

1 Zombie - The second time you enter this area, the man that was attacked on the previous visit will have become a zombie.

View location

|

Show on map

Barricaded Back Passage - Uptown

Hard

8 Zombies -

Trapped behind the barricade on the west side of the passage. They will break free as you approach, or after you have examined (or used the

Lighter

on) the locked gate.

View location

|

Show on map

Information Room - Police Station 1F

Hard

4 Zombies - Either all four are wandering around near the small office, or three of them are wandering around the room and one is lying on the floor on the northern side.

View location

|

Show on map

West Stairway 2F - Police Station 2F

Hard

4 Zombies - Either three of them are wandering around near the top of the stairs and the other is at the far end of the hallway, or vice-versa.

View location

|

Show on map

Water Feature Area - Downtown

Hard

1 Zombie -

This zombie will automatically get gunned down by

Carlos

when you first enter this location.

View location

|

Show on map

Shopping District - Downtown

Hard

6 Zombies -

If you met

Carlos

inside the

Restaurant

and did exit through the restaurant back door onto into this street, these zombies will appear when you leave and re-enter this location. If you met

Carlos

inside the

Restaurant

and exited through the basement ventilation shaft then the zombies will interrupt your conversation.

2 Zombies -

If you met

Carlos

inside the

Restaurant

and exited through the basement ventilation shaft then some zombies will interrupt your conversation. If you killed any of the zombies in this location before meeting Carlos, then potentially two additional zombies will appear after the cut-scene. The maximum number of zombies that can appear in this location is six.

View location

|

Show on map

Dirty Alley - Downtown

Hard

4 Zombies - They are either crawling around and eating a dead body in the middle of the alley, or they are all playing dead throughout the area.

1 Zombie - 50% chance that an additional zombie will appear here with the others when you first enter this location.

View location

|

Show on map

Cable Car Area - Downtown

Hard

8 Zombies -

50% chance of appearing here instead of

Zombie Dogs

. Five of them are wandering around the south side of the area, the others are walking/crawling next to the cable car.

View location

|

Show on map

Dirty Alley - Downtown

Hard

1 Zombie -

When you enter this location from

Lonsdale Yard

, a zombie will burst out of the car parked on the west side of the alley as you pass by.

View location

|

Show on map

Three Points Street - Downtown

Hard

4 Zombies -

They burst out of the green door as you approach it after you have met

Nicholai

at the

Cable Car

.

2 Zombies -

They appear after re-entering this area after the

zombies

have already emerged from the green door. They burst through the barricaded windows of the south west portion of the street.

View location

|

Show on map

Sub Station - Downtown

Hard

4 Zombies -

They will burst into this room if you do nothing during the live selection choice. They will also appear if you chose to use the emergency exit and you re-enter this location, but only if you did

not

encounter

Nemesis

in the

Sub Station Entrance

.

View location

|

Show on map

Sub Station Gate Area - Downtown

Hard

2 Zombies -

Appear here if you chose

not

to increase the electrical output in the live selection inside the

Sub Station

.

4 Zombies -

An additional four zombies will appear here if you chose to run to the emergency exit in the live selection inside the

Sub Station

, but only if you encountered

Nemesis

in the

Sub Station Entrance

.

View location

|

Show on map

Sales Office Storeroom - Uptown

Hard

6 Zombies -

Burst through the door after you've picked up the

Oil Additive

off the shelf and turned to leave the room.

View location

|

Show on map

Dining Room - Clock Tower 1F

Hard

3 Zombies -

Appear here if you jumped out of the window of the cable car. 33% chance of appearing here instead of

Drain Deimos

or

Brain Suckers

. They are either crawling around or playing dead.

View location

|

Show on map

Small Library - Clock Tower 1F

Hard

4 Zombies -

Appear here if you did

not

jump out of the window of the cable car. 50% chance of appearing here instead of

Small Spiders

. Three of them are standing around, the other is lying on the floor in the south east corner.

View location

|

Show on map

Bedroom - Clock Tower 1F

Hard

4 Zombies - Emerge from the fire next to the crashed cable car when you approach the door. If you did not jump out of the window of the cable car then they will only appear if you explore the south east area of the room.

View location

|

Show on map

Small Library - Clock Tower 1F

Hard

4 Zombies -

Appear here when you are playing as

Carlos

, and only if

Jill

jumped out of the window of the cable car. 50% chance of appearing here instead of

Small Spiders

. Three of them are standing around, the other is lying on the floor in the south east corner.

View location

|

Show on map

Bedroom - Clock Tower 1F

Hard

4 Zombies -

Appear here when you are playing as

Carlos

. 50% chance of appearing here instead of

Zombie Dogs

. If not killed, they will remain here when you regain control of

Jill

.

View location

|

Show on map

Doctor's Lounge - Hospital 1F

Hard

5 Zombies - On every play-through of the game, there will be an encounter with zombies when the elevator stops on one of the three accessible floors of the hospital, thus making it a 33% chance that you will encounter zombies on this floor when you return here using the elevator.

View location

|

Show on map

Entry Hallway - Hospital 4F

Hard

5 Zombies - On every play-through of the game, there will be an encounter with zombies when the elevator stops on one of the three accessible floors of the hospital, thus making it a 33% chance that you will encounter zombies on this floor.

View location

|

Show on map

Basement Hallway - Hospital B3

Hard

5 Zombies - On every play-through of the game, there will be an encounter with zombies when the elevator stops on one of the three accessible floors of the hospital, thus making it a 33% chance that you will encounter zombies on this floor.

View location

|

Show on map

Entry Corridor - Dead Factory 2F

Hard

3 Zombies -

Standing behind the metal shutter. The metal shutter can be opened using the

Card Key

.

View location

|

Show on map

Emergency Tunnel - Dead Factory 1F

Hard

2 Zombies - Out of all the zombies lying on the floor, only these two will attack.

View location

|

Show on map

There are no locations to show for this game mode. The following game modes are applicable: