Zombie
(Resident Evil Zero)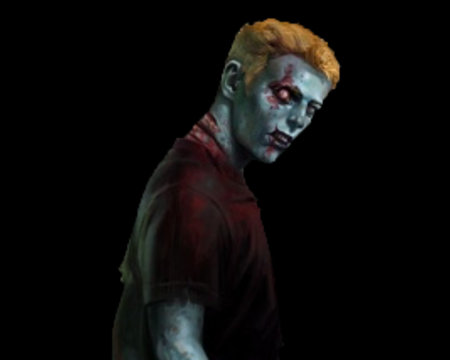 The zombie is the most common enemy in the game, the poor passengers of the train and the Umbrella staff of the Training Facility, who became infected with the T-Virus.

There are many different types of zombie in the game, normal passengers on the train, Umbrella special forces, and many others.

The zombie is an easy enemy, as long as they're in small numbers. The Handgun is enough to keep them at bay. It's possible to decapitate one or many zombies with a single shotgun blast, simply aim up when they come into grabbing range, and fire.
Statistics
| Game mode | Sum total |
| --- | --- |
| Easy | 113 |
| Normal | 113 |
| Hard | 113 |
Location
Passenger Car 2 - Train 1F

Easy

3 Zombies - Appear during the cut scene when you first enter.

2 Zombies - Appear here the second time you enter this location.

View location

|

Show on map

Passenger Car 2 - Train 1F

Normal

3 Zombies - Appear during the cut scene when you first enter.

2 Zombies - Appear here the second time you enter this location.

View location

|

Show on map

Passenger Car 2 - Train 1F

Hard

3 Zombies - Appear during the cut scene when you first enter.

2 Zombies - Appear here the second time you enter this location.

View location

|

Show on map

Officer's Car - Train 1F

Easy

1 Zombie - Appears once you have to apply the emergency brake to stop the train.

View location

|

Show on map

Officer's Car - Train 1F

Normal

1 Zombie - Appears once you have to apply the emergency brake to stop the train.

View location

|

Show on map

Officer's Car - Train 1F

Hard

1 Zombie - Appears once you have to apply the emergency brake to stop the train.

View location

|

Show on map

Engine Carriage - Train 1F

Easy

2 Zombies - These are the two Umbrella special forces men that were attacked by leeches. They get up once you have to activate the emergency brake.

View location

|

Show on map

Engine Carriage - Train 1F

Normal

2 Zombies - These are the two Umbrella special forces men that were attacked by leeches. They get up once you have to activate the emergency brake.

View location

|

Show on map

Engine Carriage - Train 1F

Hard

2 Zombies - These are the two Umbrella special forces men that were attacked by leeches. They get up once you have to activate the emergency brake.

View location

|

Show on map

Passenger Car 2 - Train 1F

Easy

4 Zombies - Appear here once you have to apply the emergency brake to stop the train

View location

|

Show on map

Passenger Car 2 - Train 1F

Normal

4 Zombies - Appear here once you have to apply the emergency brake to stop the train

View location

|

Show on map

Passenger Car 2 - Train 1F

Hard

4 Zombies - Appear here once you have to apply the emergency brake to stop the train

View location

|

Show on map

Passenger Car 1 - Train 1F

Easy

1 Zombie - Appears here once you have to apply the emergency brake to stop the train.

View location

|

Show on map

Passenger Car 1 - Train 1F

Normal

1 Zombie - Appears here once you have to apply the emergency brake to stop the train.

View location

|

Show on map

Passenger Car 1 - Train 1F

Hard

1 Zombie - Appears here once you have to apply the emergency brake to stop the train.

View location

|

Show on map

Train Passage - Training Facility B1

Easy

4 Zombies - Emerge from the fire surrounding the wrecked train.

View location

|

Show on map

Train Passage - Training Facility B1

Normal

4 Zombies - Emerge from the fire surrounding the wrecked train.

View location

|

Show on map

Train Passage - Training Facility B1

Hard

4 Zombies - Emerge from the fire surrounding the wrecked train.

View location

|

Show on map

Monitor Room - Facility Basement B1

Easy

2 Zombies - One is wandering around, the other is playing dead on the floor.

View location

|

Show on map

Monitor Room - Facility Basement B1

Normal

2 Zombies - One is wandering around, the other is playing dead on the floor.

View location

|

Show on map

Monitor Room - Facility Basement B1

Hard

2 Zombies - One is wandering around, the other is playing dead on the floor.

View location

|

Show on map

Dining Room - Training Facility 1F

Easy

1 Zombie -

The dead body in the north west corner of the room comes to life when you have to go save

Rebecca

from the basement.

View location

|

Show on map

Dining Room - Training Facility 1F

Normal

1 Zombie -

The dead body in the north west corner of the room comes to life when you have to go save

Rebecca

from the basement.

View location

|

Show on map

Dining Room - Training Facility 1F

Hard

1 Zombie -

The dead body in the north west corner of the room comes to life when you have to go save

Rebecca

from the basement.

View location

|

Show on map

Operating Room - Laboratory B1

Normal

2 Zombies - Wandering around.

1 Zombie -

The dead body opposite the door will come to life once you have created the

Stripping Agent

.

View location

|

Show on map

Marcus's Private Room - Laboratory B2

Easy

2 Zombies - One is wandering around, the other is slumped on the floor and will rise up shortly after entering.

View location

|

Show on map

Marcus's Private Room - Laboratory B2

Normal

2 Zombies - One is wandering around, the other is slumped on the floor and will rise up shortly after entering.

View location

|

Show on map

Marcus's Private Room - Laboratory B2

Hard

2 Zombies - One is wandering around, the other is slumped on the floor and will rise up shortly after entering.

View location

|

Show on map

Leech Laboratory - Laboratory B1

Easy

2 Zombies -

The dead bodies in the room will rise up once the gas chamber has been vented of the poisonous gas (using the

Sterilizing Agent

) and the door to the chamber has been opened.

View location

|

Show on map

Leech Laboratory - Laboratory B1

Normal

2 Zombies -

The dead bodies in the room will rise up once the gas chamber has been vented of the poisonous gas (using the

Sterilizing Agent

) and the door to the chamber has been opened.

View location

|

Show on map

Leech Laboratory - Laboratory B1

Hard

2 Zombies -

The dead bodies in the room will rise up once the gas chamber has been vented of the poisonous gas (using the

Sterilizing Agent

) and the door to the chamber has been opened.

View location

|

Show on map

Generator Room - Treatment Plant B6

Easy

6 Zombies - Five of them are wandering around, the other is playing dead in the south east corner of the room.

View location

|

Show on map

Generator Room - Treatment Plant B6

Normal

6 Zombies - Five of them are wandering around, the other is playing dead in the south east corner of the room.

View location

|

Show on map

Generator Room - Treatment Plant B6

Hard

6 Zombies - Five of them are wandering around, the other is playing dead in the south east corner of the room.

View location

|

Show on map

There are no locations to show for this mode. The following modes are applicable: