Resident Evil Zero
Discover the root of all evil
23 July 1998. The day before the deadly virus is unleashed upon Raccoon City.
Discover how the disturbing events of Resident Evil came about in this terrifying prequel.
New Partner Zapping system allows players to switch between the two playable characters in the blink of an eye - however, allow one of the characters to die and it's game over.
Intense gameplay, stunning graphics and foreboding atmosphere make this the most horrifying Resident Evil game yet.
Prologue
1998...
Several unusual murder cases had occurred in Raccoon City, a suburb in the Midwest.
Raccoon City police gravely reviewed reports of groups of "man-eating monsters" attacking civilians' houses. The order came through: Send in the elite S.T.A.R.S. team to investigate.
The S.T.A.R.S. Bravo team went in first. Due to inexplicable engine trouble, they were forced to make an emergency landing...
They touched down in a dense, dark forest. This was the beginning... of the nightmare!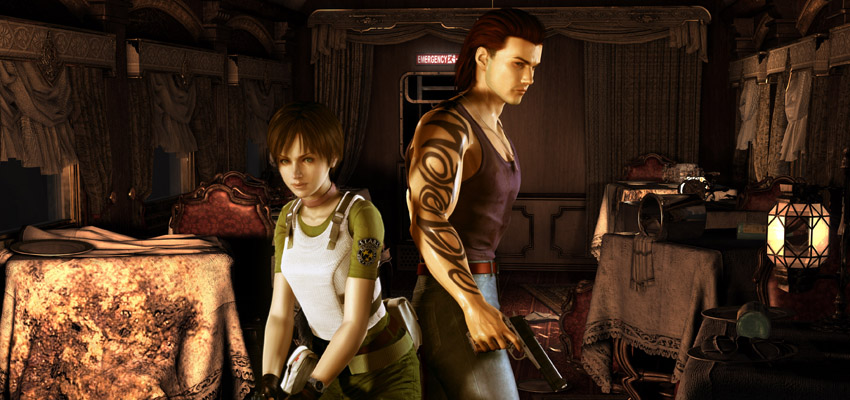 Releases
| Title | Platform | Region | Release date |
| --- | --- | --- | --- |
| Resident Evil 0 | Nintendo GameCube | North America | 12 November 2002 |
| Biohazard 0 | Nintendo GameCube | Japan | 21 November 2002 |
| Resident Evil 0 | Nintendo GameCube | Europe | 7 March 2003 |
| Biohazard 0 Wii Edition | Nintendo Wii | Japan | 10 July 2008 |
| Resident Evil 0 Archives Wii Edition | Nintendo Wii | North America | 1 December 2009 |
| Resident Evil 0 Archives Wii Edition | Nintendo Wii | Europe | 22 January 2010 |
| Resident Evil 0 HD Remaster | Sony PlayStation 3 | Europe | 19 January 2016 |
| Resident Evil 0 HD Remaster | Sony PlayStation 4 | Europe | 19 January 2016 |
| Resident Evil 0 HD Remaster | Microsoft Xbox 360 | Europe | 19 January 2016 |
| Resident Evil 0 HD Remaster | Microsoft Xbox One | Europe | 19 January 2016 |
| Resident Evil 0 HD Remaster | PC | Europe | 19 January 2016 |
| Resident Evil 0 HD Remaster | Sony PlayStation 3 | North America | 19 January 2016 |
| Resident Evil 0 HD Remaster | Sony PlayStation 4 | North America | 19 January 2016 |
| Resident Evil 0 HD Remaster | Microsoft Xbox 360 | North America | 19 January 2016 |
| Resident Evil 0 HD Remaster | Microsoft Xbox One | North America | 19 January 2016 |
| Resident Evil 0 HD Remaster | PC | North America | 19 January 2016 |
| Biohazard 0 HD Remaster | Sony PlayStation 3 | Japan | 21 January 2016 |
| Biohazard 0 HD Remaster | Sony PlayStation 4 | Japan | 21 January 2016 |
| Biohazard 0 HD Remaster | Microsoft Xbox 360 | Japan | 21 January 2016 |
| Biohazard 0 HD Remaster | Microsoft Xbox One | Japan | 21 January 2016 |
| Biohazard 0 HD Remaster | PC | Japan | 21 January 2016 |