Resident Evil 2
Can you survive the horror?
First there was the disaster at the mansion lab. Umbrella Corp. developed the T-Virus, a muta-genic toxin for use in biological weapons. After breaking loose, living things mutated into all sorts of decaying creatures. The case was eventually closed, but Umbrella's experiments were far from over.
Now it's the worst possible nightmare: a new virus runs rampant. All of Raccoon City is infested. Blood thirsty zombies, hideous mutations now overwhelm the community. When Leon and Claire arrive in town their nightmare is just beginning... You now control their destiny. If the suspense doesn't kill you, something else will!
A city crawling with confusion
Imagine a normal mid-western U.S. town, built at the base of a vast forest. Business thrived here, especially with the advent of several new industries. Heck, you can't find a more peaceful wilderness getaway than Raccoon City.
Then the trouble began.
And it leads back to when the corporation arrived.
Rumours began to spread, and the town was overcome with odd occurrences. Unidentifiable creatures appearing out of nowhere, and fatal accidents happened at an alarming rate. Word got out about a severe accident at a mountain lab. No one in town knew what was happening to their quaint town.
The Raccoon Police Department, in an effort to calm the growing fear among locals, recruited several new officers. Leon S. Kennedy is one of the promising new recruits. As Leon prepares to join his new unit, he attempts to contact the captain who hired him, but has no luck reaching him. Unfazed, he continues into Raccoon City to his new job.
At the other side of town, a distraught Claire Redfield searches for her missing brother, Chris. Claire begins her search in Raccoon City, the last known location of her brother nearly two months ago, only to learn about the "accident" in the forest. Is Chris still in Raccoon City?
Sadly for Leon and Claire, they are completely unaware of the overwhelming world of horror and despair they are both about to enter...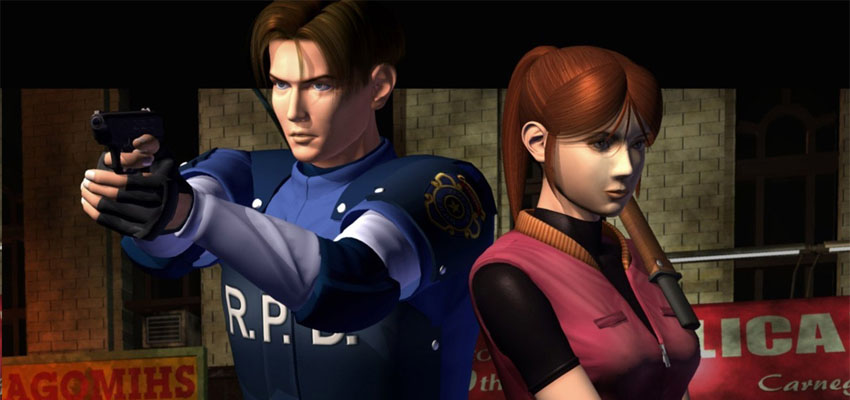 Releases
| Title | Platform | Region | Release date |
| --- | --- | --- | --- |
| Resident Evil 2 | Sony PlayStation | North America | 21 January 1998 |
| Biohazard 2 | Sony PlayStation | Japan | 29 January 1998 |
| Resident Evil 2 | Sony PlayStation | Europe | 8 May 1998 |
| Biohazard 2 Dual Shock Version | Sony PlayStation | Japan | 6 August 1998 |
| Resident Evil 2 Dual Shock Version | Sony PlayStation | North America | 11 November 1998 |
| Biohazard 2 | PC | Japan | 19 February 1999 |
| Resident Evil 2 | PC | North America | 28 February 1999 |
| Resident Evil 2 | Nintendo 64 | North America | 19 November 1999 |
| Biohazard 2 Value Plus | Sega DreamCast | Japan | 22 December 1999 |
| Biohazard 2 | Nintendo 64 | Japan | 29 January 2000 |
| Resident Evil 2 | Nintendo 64 | Europe | 9 February 2000 |
| Resident Evil 2 | Sega DreamCast | Europe | 28 April 2000 |
| Resident Evil 2 | PC | Europe | 30 June 2000 |
| Resident Evil 2 | Sega DreamCast | North America | 15 December 2000 |
| Resident Evil 2 | Nintendo GameCube | North America | 14 January 2003 |
| Biohazard 2 | Nintendo GameCube | Japan | 23 January 2003 |
| Resident Evil 2 | Nintendo GameCube | Europe | 30 May 2003 |