Resident Evil 3: Nemesis
Just days after surviving the grisly disaster at the mansion lab, Jill Valentine resigns from S.T.A.R.S. and vows to leave Raccoon City. But as events overtake her she suddenly finds herself trapped by hordes of flesh eating zombies, hideous mutants, and a relentless new Nemesis. Once again she must rely on cunning and brute force to escape. What she soon discovers is the evil created by the Umbrella Corporation is even more horrifying than she ever imagined...
Trapped!
It all began as an ordinary day in September. An ordinary day in Raccoon City, a city controlled by Umbrella Corporation.
No one dared oppose Umbrella, and that lack of strength would ultimately lead to their destruction.
If only they had the courage to fight...
Once the wheels of justice begin to turn, nothing can stop them - nothing! But it may already be too late.
Now it's Raccoon City's last chance and my last chance...
My last escape...
Prologue
A month and a half have passed since the incident...
September has come to Raccoon City, a small industrial city in the American Midwest. People are starting to forget the chaos at the mansion as their everyday lives return to normal.
The bizarre incident that occurred in the Arclay Mountains, the destruction of the special taskforce S.T.A.R.S., Umbrella corporation's secret biological weapons laboratory hidden in an old mansion, the power of the T-Virus that turns humans and animals into horrible monsters... how could it all happen here?
People could not believe the survivors' reports. Stories of their incredible experiences and of strange biological weapons and zombies were beyond the townsfolks' imagination. The surviving S.T.A.R.S. team members headed to Europe even before the town heard the full details of what had happened.
They hoped it was all over. But then it happened again. Suddenly, a series of inexplicable murders occurred and a strange disease began invading neighbourhoods.
T-Virus was flowing into the city...
The invisible plague snuck up silently and turned the unsuspecting citizens into monsters.
People cursed their foolishness. But the nightmare had already begun...
The future was out of control.
Raccoon City was on the brink of collapse...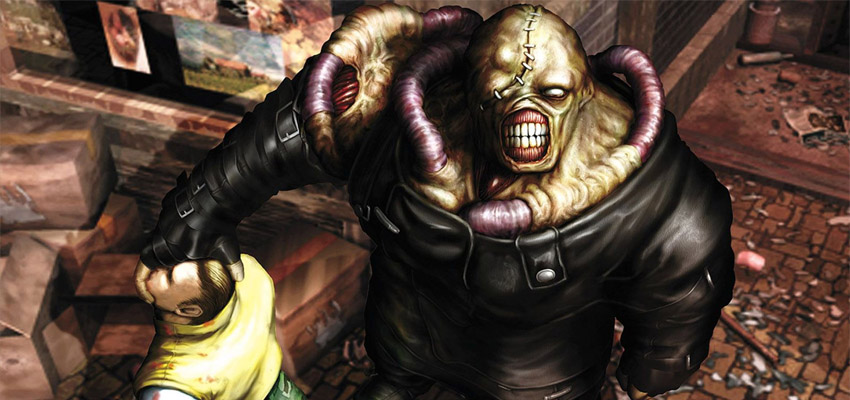 Releases
| Title | Platform | Region | Release date |
| --- | --- | --- | --- |
| Biohazard 3: Last Escape | Sony PlayStation | Japan | 22 September 1999 |
| Resident Evil 3: Nemesis | Sony PlayStation | North America | 12 November 1999 |
| Resident Evil 3: Nemesis | Sony PlayStation | Europe | 18 February 2000 |
| Biohazard 3: Last Escape | PC | Japan | 16 June 2000 |
| Biohazard 3: Last Escape | Sega DreamCast | Japan | 16 November 2000 |
| Resident Evil 3: Nemesis | Sega DreamCast | North America | 17 November 2000 |
| Resident Evil 3: Nemesis | PC | Europe | 24 November 2000 |
| Resident Evil 3: Nemesis | Sega DreamCast | Europe | 22 December 2000 |
| Resident Evil 3: Nemesis | PC | North America | 16 April 2001 |
| Resident Evil 3: Nemesis | Nintendo GameCube | North America | 14 January 2003 |
| Biohazard 3: Last Escape | Nintendo GameCube | Japan | 23 January 2003 |
| Resident Evil 3: Nemesis | Nintendo GameCube | Europe | 30 May 2003 |