Zombie
(Resident Evil)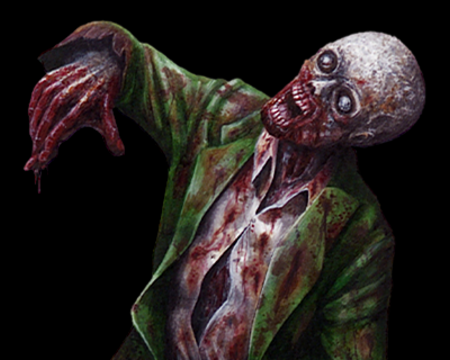 The zombie is the most common enemy in the game, the poor residents of the mansion who became infected with the T-Virus and left to rot in the dusty hallways. From the many different diaries and journals found, it is clear that they suffer greatly before the virus takes their life, and finally their soul.
There are three different types of zombie in the game, you start off by encountering the two green jacket/white jacket types in the mansion, and eventually the naked variety later on in the game.
The zombie is an easy enemy, as long as they're in small numbers. The
Beretta
is enough to keep them at bay. It's possible to decapitate one or many zombies with a single shotgun blast, simply aim up when they come into grabbing range, and fire.
Statistics
| Game mode | Sum total |
| --- | --- |
| Jill | 61 |
| Jill (Arranged / Advanced) | 75 |
| Jill (Deadly Silence Rebirth) | 112 |
| Chris | 67 |
| Chris (Arranged / Advanced) | 75 |
| Chris (Deadly Silence Rebirth) | 117 |
Location
Art Room - Mansion 1F

Jill

1 Zombie - Lying on the floor pretending to be dead in the area behind the red curtain.

View location

|

Show on map

Art Room - Mansion 1F

Jill (Arranged / Advanced)

2 Zombies - Lying on the floor pretending to be dead in the area behind the red curtain.

View location

|

Show on map

Art Room - Mansion 1F

Chris

1 Zombie - Lying on the floor pretending to be dead in the area behind the red curtain.

View location

|

Show on map

Art Room - Mansion 1F

Chris (Arranged / Advanced)

2 Zombies - Lying on the floor pretending to be dead in the area behind the red curtain.

View location

|

Show on map

Art Room - Mansion 1F

Jill (Deadly Silence Rebirth)

2 Zombies - Both are in the area behind the red curtain. One is eating a corpse, the other is lying on the floor pretending to be dead.

View location

|

Show on map

Art Room - Mansion 1F

Chris (Deadly Silence Rebirth)

2 Zombies - Both are in the area behind the red curtain. One is eating a corpse, the other is lying on the floor pretending to be dead.

View location

|

Show on map

Outside Boiler - Mansion 1F

Jill (Deadly Silence Rebirth)

1 Zombie - Lying on the ground next to the rusty boiler.

View location

|

Show on map

Outside Boiler - Mansion 1F

Chris (Deadly Silence Rebirth)

1 Zombie - Lying on the ground next to the rusty boiler.

View location

|

Show on map

Bathroom - Mansion 1F

Jill (Arranged / Advanced)

1 Zombie - Standing in the alcove, next to the toilet.

View location

|

Show on map

Bathroom - Mansion 1F

Jill (Deadly Silence Rebirth)

1 Zombie - Standing in the alcove, next to the toilet.

View location

|

Show on map

Bathroom - Mansion 1F

Chris (Arranged / Advanced)

1 Zombie - Standing in the alcove, next to the toilet.

View location

|

Show on map

Bathroom - Mansion 1F

Chris (Deadly Silence Rebirth)

1 Zombie - Standing in the alcove, next to the toilet.

View location

|

Show on map

'C' Passage - Mansion 2F

Jill (Deadly Silence Rebirth)

4 Zombies - One is lying on the floor in the southern section of the passage, the others are wandering around.

View location

|

Show on map

'C' Passage - Mansion 2F

Chris (Deadly Silence Rebirth)

4 Zombies - One is lying on the floor in the southern section of the passage, the others are wandering around.

View location

|

Show on map

West Stairway 1F - Mansion 1F

Jill (Deadly Silence Rebirth)

1 Zombie - Lying on the ground in the western section of the passage.

View location

|

Show on map

West Stairway 1F - Mansion 1F

Chris (Deadly Silence Rebirth)

1 Zombie - Lying on the ground in the western section of the passage.

View location

|

Show on map

Keeper's Bedroom - Mansion 1F

Jill

1 Zombie - Inside the closet, emerges when you take the journal from the desk.

View location

|

Show on map

Keeper's Bedroom - Mansion 1F

Jill (Arranged / Advanced)

1 Zombie - Inside the closet, emerges when you take the journal from the desk.

View location

|

Show on map

Keeper's Bedroom - Mansion 1F

Jill (Deadly Silence Rebirth)

1 Zombie - Inside the closet, emerges when you take the journal from the desk.

View location

|

Show on map

Keeper's Bedroom - Mansion 1F

Chris

1 Zombie - Inside the closet, emerges when you take the journal from the desk.

View location

|

Show on map

Keeper's Bedroom - Mansion 1F

Chris (Arranged / Advanced)

1 Zombie - Inside the closet, emerges when you take the journal from the desk.

View location

|

Show on map

Keeper's Bedroom - Mansion 1F

Chris (Deadly Silence Rebirth)

1 Zombie - Inside the closet, emerges when you take the journal from the desk.

View location

|

Show on map

Deer Room - Mansion 2F

Jill (Arranged / Advanced)

1 Zombie - Enters the room as you try to enter the bedroom for the first time.

View location

|

Show on map

Water Gate - Courtyard

Jill (Deadly Silence Rebirth)

1 Zombie - Lying on the path on the north side of the pool.

View location

|

Show on map

Water Gate - Courtyard

Chris (Deadly Silence Rebirth)

1 Zombie - Lying on the path on the north side of the pool.

View location

|

Show on map

Room 001 - Guardhouse 1F

Jill (Deadly Silence Rebirth)

4 Zombies - One is lying in the passage near the bathroom, the others are eating a dead body in the area near the bed.

View location

|

Show on map

Room 001 - Guardhouse 1F

Chris (Deadly Silence Rebirth)

4 Zombies - One is lying in the passage near the bathroom, the others are eating a dead body in the area near the bed.

View location

|

Show on map

Room 001 Bathroom - Guardhouse 1F

Jill (Deadly Silence Rebirth)

1 Zombie - Appears when you empty the bathtub.

View location

|

Show on map

Room 001 Bathroom - Guardhouse 1F

Chris (Deadly Silence Rebirth)

1 Zombie - Appears when you empty the bathtub.

View location

|

Show on map

Room 003 Bathroom - Guardhouse 1F

Jill (Deadly Silence Rebirth)

1 Zombie - One is wandering around, the other is lying on the floor.

View location

|

Show on map

Room 003 Bathroom - Guardhouse 1F

Chris (Deadly Silence Rebirth)

1 Zombie - One is wandering around, the other is lying on the floor.

View location

|

Show on map

Underground Passage 1 - Mansion B1

Chris (Deadly Silence Rebirth)

4 Zombies - Wandering around.

View location

|

Show on map

Underground Passage 2 - Mansion B1

Jill

2 Zombies - Crouched on the floor eating a dead person.

View location

|

Show on map

Underground Passage 2 - Mansion B1

Jill (Arranged / Advanced)

2 Zombies - Crouched on the floor eating a dead person.

View location

|

Show on map

Underground Passage 2 - Mansion B1

Chris

2 Zombies - Crouched on the floor eating a dead person.

View location

|

Show on map

Underground Passage 2 - Mansion B1

Chris (Arranged / Advanced)

2 Zombies - Crouched on the floor eating a dead person.

View location

|

Show on map

Underground Passage 2 - Mansion B1

Jill (Deadly Silence Rebirth)

4 Zombies - Two are crouched on the floor eating a dead person, the other two are crawling and wandering around.

View location

|

Show on map

Underground Passage 2 - Mansion B1

Chris (Deadly Silence Rebirth)

4 Zombies - Two are crouched on the floor eating a dead person, the other two are crawling and wandering around.

View location

|

Show on map

Kitchen - Mansion B1

Jill

1 Zombie - Playing dead on the floor near the elevator.

1 Zombie -

Comes down the stairs and enters the room if you approach the door leading to the

Elevator Stairway

.

View location

|

Show on map

Kitchen - Mansion B1

Jill (Arranged / Advanced)

1 Zombie - Playing dead on the floor near the elevator.

1 Zombie -

Comes down the stairs and enters the room if you approach the door leading to the

Elevator Stairway

.

View location

|

Show on map

Kitchen - Mansion B1

Jill (Deadly Silence Rebirth)

1 Zombie - Playing dead on the floor near the elevator.

1 Zombie -

Comes down the stairs and enters the room if you approach the door leading to the

Elevator Stairway

.

View location

|

Show on map

Kitchen - Mansion B1

Chris

1 Zombie - Playing dead on the floor near the elevator.

1 Zombie -

Comes down the stairs and enters the room when you approach the door leading to the

Elevator Stairway

.

View location

|

Show on map

Kitchen - Mansion B1

Chris (Arranged / Advanced)

1 Zombie - Playing dead on the floor near the elevator.

1 Zombie -

Comes down the stairs and enters the room when you approach the door leading to the

Elevator Stairway

.

View location

|

Show on map

Kitchen - Mansion B1

Chris (Deadly Silence Rebirth)

1 Zombie - Playing dead on the floor near the elevator.

1 Zombie -

Comes down the stairs and enters the room when you approach the door leading to the

Elevator Stairway

.

View location

|

Show on map

Heliport Lookout - Mansion 2F

Jill (Deadly Silence Rebirth)

1 Zombie - Crawling around on the floor.

View location

|

Show on map

Heliport Lookout - Mansion 2F

Chris (Deadly Silence Rebirth)

1 Zombie - Crawling around on the floor.

View location

|

Show on map

Rough Passage - Mansion 2F

Jill

3 Zombies - One of them is just standing around next to the south entrance, the second one is eating the third one near the north entrance.

View location

|

Show on map

Rough Passage - Mansion 2F

Jill (Arranged / Advanced)

3 Zombies - One of them is just standing around next to the south entrance, the second one is eating the third one near the north entrance.

View location

|

Show on map

Rough Passage - Mansion 2F

Chris

3 Zombies - One of them is just standing around next to the south entrance, the second one is eating the third one near the north entrance.

View location

|

Show on map

Rough Passage - Mansion 2F

Chris (Arranged / Advanced)

3 Zombies - One of them is just standing around next to the south entrance, the second one is eating the third one near the north entrance.

View location

|

Show on map

Stairway - Laboratory B2

Jill (Deadly Silence Rebirth)

5 Zombies - One is crawling around on the floor, the others are wandering around.

View location

|

Show on map

Stairway - Laboratory B2

Chris (Deadly Silence Rebirth)

5 Zombies - One is crawling around on the floor, the others are wandering around.

View location

|

Show on map

'O' Room - Laboratory B3

Jill (Arranged / Advanced)

4 Zombies - They respawn whenever you leave the area.

View location

|

Show on map

'O' Room - Laboratory B3

Jill (Deadly Silence Rebirth)

4 Zombies - They respawn whenever you leave the area.

View location

|

Show on map

'O' Room - Laboratory B3

Chris (Arranged / Advanced)

4 Zombies - They respawn whenever you leave the area.

View location

|

Show on map

'O' Room - Laboratory B3

Chris (Deadly Silence Rebirth)

4 Zombies - They respawn whenever you leave the area.

View location

|

Show on map

Private Corridor - Laboratory B3

Jill (Deadly Silence Rebirth)

3 Zombies - Crawling around on the floor.

View location

|

Show on map

Private Corridor - Laboratory B3

Chris (Deadly Silence Rebirth)

3 Zombies - Crawling around on the floor.

View location

|

Show on map

X-Ray Room - Laboratory B3

Jill (Deadly Silence Rebirth)

2 Zombies - One is wandering around, the other is lying on the floor in the middle of the room.

View location

|

Show on map

X-Ray Room - Laboratory B3

Chris (Deadly Silence Rebirth)

2 Zombies - One is wandering around, the other is lying on the floor in the middle of the room.

View location

|

Show on map

Morgue - Laboratory B3

Jill (Arranged / Advanced)

2 Zombies - Pretending to be dead on the floor.

View location

|

Show on map

Morgue - Laboratory B3

Jill (Deadly Silence Rebirth)

7 Zombies - Pretending to be dead on the floor.

View location

|

Show on map

Morgue - Laboratory B3

Chris (Arranged / Advanced)

2 Zombies - Pretending to be dead on the floor.

View location

|

Show on map

Morgue - Laboratory B3

Chris (Deadly Silence Rebirth)

7 Zombies - Pretending to be dead on the floor.

View location

|

Show on map

There are no locations to show for this game mode. The following game modes are applicable: