Zombie
(Resident Evil Remake)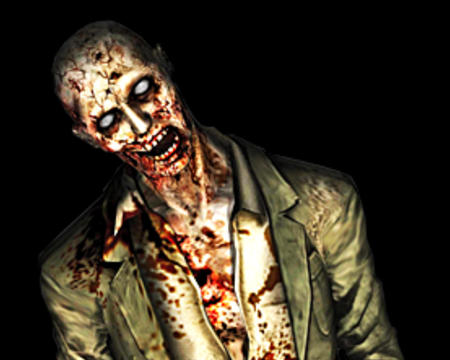 The zombie is the most common enemy in the game, the poor residents of the mansion who became infected with the T-Virus and left to rot in the dusty hallways. From the many different diaries and journals found, it is clear that they suffer greatly before the virus takes their life, and finally their soul.

The zombies in this game are more determined to end your life, even following you through doors. Ending their life isn't enough either, unless you decapitate them or incinerate them, they will slowly mutate into Crimson Heads.

The zombie is an easy enemy, as long as they're in small numbers. The Handgun is enough to keep them at bay. It's possible to decapitate one or many zombies with a single shotgun blast, simply aim up when they come into grabbing range, and fire. However unlike the other games, a decapitation is not always guaranteed with this method.
Statistics
Location
Dining Room 2F - Mansion 2F

Jill (Very Easy)

1 Zombie - Wandering around. Note: it does not appear here during Once Again mode.

View location

|

Show on map

Dining Room 2F - Mansion 2F

Chris (Very Easy)

1 Zombie - Wandering around. Note: it does not appear here during Once Again mode.

View location

|

Show on map

Dining Room 2F - Mansion 2F

Jill (Easy)

1 Zombie - Wandering around. Note: it does not appear here during Once Again mode.

View location

|

Show on map

Dining Room 2F - Mansion 2F

Chris (Easy)

1 Zombie - Wandering around. Note: it does not appear here during Once Again mode.

View location

|

Show on map

Dining Room 2F - Mansion 2F

Jill (Normal)

1 Zombie - Wandering around. Note: it does not appear here during Once Again mode.

View location

|

Show on map

Dining Room 2F - Mansion 2F

Chris (Normal)

1 Zombie - Wandering around. Note: it does not appear here during Once Again mode.

View location

|

Show on map

Dining Room 2F - Mansion 2F

Jill (Hard)

1 Zombie - Wandering around. Note: it does not appear here during Once Again mode.

View location

|

Show on map

Dining Room 2F - Mansion 2F

Chris (Hard)

1 Zombie - Wandering around. Note: it does not appear here during Once Again mode.

View location

|

Show on map

Art Room - Mansion 1F

Jill (Very Easy)

1 Zombie - Appears from around the corner after you've explored the small storage area.

View location

|

Show on map

Art Room - Mansion 1F

Chris (Very Easy)

1 Zombie - Appears from around the corner after you've explored the small storage area.

View location

|

Show on map

Art Room - Mansion 1F

Jill (Easy)

1 Zombie - Appears from around the corner after you've explored the small storage area.

View location

|

Show on map

Art Room - Mansion 1F

Chris (Easy)

1 Zombie - Appears from around the corner after you've explored the small storage area.

View location

|

Show on map

Art Room - Mansion 1F

Jill (Normal)

1 Zombie - Appears from around the corner after you've explored the small storage area.

View location

|

Show on map

Art Room - Mansion 1F

Chris (Normal)

1 Zombie - Appears from around the corner after you've explored the small storage area.

View location

|

Show on map

Art Room - Mansion 1F

Jill (Hard)

1 Zombie - Appears from around the corner after you've explored the small storage area.

View location

|

Show on map

Art Room - Mansion 1F

Chris (Hard)

1 Zombie - Appears from around the corner after you've explored the small storage area.

View location

|

Show on map

Bathroom - Mansion 1F

Jill (Very Easy)

1 Zombie - Inside the bathtub, emerges when you try and empty it.

View location

|

Show on map

Bathroom - Mansion 1F

Chris (Very Easy)

1 Zombie - Inside the bathtub, emerges when you try and empty it.

View location

|

Show on map

Bathroom - Mansion 1F

Jill (Easy)

1 Zombie - Inside the bathtub, emerges when you try and empty it.

View location

|

Show on map

Bathroom - Mansion 1F

Chris (Easy)

1 Zombie - Inside the bathtub, emerges when you try and empty it.

View location

|

Show on map

Bathroom - Mansion 1F

Jill (Normal)

1 Zombie - Inside the bathtub, emerges when you try and empty it.

View location

|

Show on map

Bathroom - Mansion 1F

Chris (Normal)

1 Zombie - Inside the bathtub, emerges when you try and empty it.

View location

|

Show on map

Bathroom - Mansion 1F

Jill (Hard)

1 Zombie - Inside the bathtub, emerges when you try and empty it.

View location

|

Show on map

Bathroom - Mansion 1F

Chris (Hard)

1 Zombie - Inside the bathtub, emerges when you try and empty it.

View location

|

Show on map

East Wing Stairway - Mansion 1F

Jill (Very Easy)

2 Zombies - One is on the ground floor, the other one is upstairs.

View location

|

Show on map

East Wing Stairway - Mansion 1F

Chris (Very Easy)

2 Zombies - One is on the ground floor, the other one is upstairs.

View location

|

Show on map

East Wing Stairway - Mansion 1F

Jill (Easy)

2 Zombies - One is on the ground floor, the other one is upstairs.

View location

|

Show on map

East Wing Stairway - Mansion 1F

Chris (Easy)

2 Zombies - One is on the ground floor, the other one is upstairs.

View location

|

Show on map

East Wing Stairway - Mansion 1F

Jill (Normal)

3 Zombies - One is on the ground floor, the other two are upstairs.

View location

|

Show on map

East Wing Stairway - Mansion 1F

Chris (Normal)

3 Zombies - One is on the ground floor, the other two are upstairs.

View location

|

Show on map

East Wing Stairway - Mansion 1F

Jill (Hard)

3 Zombies - One is on the ground floor, the other two are upstairs.

View location

|

Show on map

East Wing Stairway - Mansion 1F

Chris (Hard)

3 Zombies - One is on the ground floor, the other two are upstairs.

View location

|

Show on map

Outside Balcony - Mansion 2F

Jill (Very Easy)

1 Zombie -

Appears here once you have acquired the

Armor Key

. If not killed here, it will eventually burst its way into the

West Wing Inner Stairway

when you return to that room. Note: it does not appear here during Once Again mode.

View location

|

Show on map

Outside Balcony - Mansion 2F

Chris (Very Easy)

1 Zombie -

Appears here once you have acquired the

Armor Key

. If not killed here, it will eventually burst its way into the

West Wing Inner Stairway

when you return to that room. Note: it does not appear here during Once Again mode.

View location

|

Show on map

Outside Balcony - Mansion 2F

Jill (Easy)

1 Zombie -

Appears here once you have acquired the

Armor Key

. If not killed here, it will eventually burst its way into the

West Wing Inner Stairway

when you return to that room. Note: it does not appear here during Once Again mode.

View location

|

Show on map

Outside Balcony - Mansion 2F

Chris (Easy)

1 Zombie -

Appears here once you have acquired the

Armor Key

. If not killed here, it will eventually burst its way into the

West Wing Inner Stairway

when you return to that room. Note: it does not appear here during Once Again mode.

View location

|

Show on map

Outside Balcony - Mansion 2F

Jill (Normal)

1 Zombie -

Appears here once you have acquired the

Armor Key

. If not killed here, it will eventually burst its way into the

West Wing Inner Stairway

when you return to that room. Note: it does not appear here during Once Again mode.

View location

|

Show on map

Outside Balcony - Mansion 2F

Chris (Normal)

1 Zombie -

Appears here once you have acquired the

Armor Key

. If not killed here, it will eventually burst its way into the

West Wing Inner Stairway

when you return to that room. Note: it does not appear here during Once Again mode.

View location

|

Show on map

Outside Balcony - Mansion 2F

Jill (Hard)

1 Zombie -

Appears here once you have acquired the

Armor Key

. If not killed here, it will eventually burst its way into the

West Wing Inner Stairway

when you return to that room. Note: it does not appear here during Once Again mode.

View location

|

Show on map

Outside Balcony - Mansion 2F

Chris (Hard)

1 Zombie -

Appears here once you have acquired the

Armor Key

. If not killed here, it will eventually burst its way into the

West Wing Inner Stairway

when you return to that room. Note: it does not appear here during Once Again mode.

View location

|

Show on map

West Wing Inner Stairway - Mansion 1F

Jill (Very Easy)

1 Zombie -

Emerges from the

Outside Balcony

doorway after acquiring the

Armor Key

, provided you have not already killed it in that location. Note: does not appear in Once Again mode.

View location

|

Show on map

West Wing Inner Stairway - Mansion 1F

Chris (Very Easy)

1 Zombie -

Emerges from the

Outside Balcony

doorway after acquiring the

Armor Key

, provided you have not already killed it in that location. Note: does not appear in Once Again mode.

View location

|

Show on map

West Wing Inner Stairway - Mansion 1F

Jill (Easy)

1 Zombie -

Emerges from the

Outside Balcony

doorway after acquiring the

Armor Key

, provided you have not already killed it in that location. Note: does not appear in Once Again mode.

View location

|

Show on map

West Wing Inner Stairway - Mansion 1F

Chris (Easy)

1 Zombie -

Emerges from the

Outside Balcony

doorway after acquiring the

Armor Key

, provided you have not already killed it in that location. Note: does not appear in Once Again mode.

View location

|

Show on map

West Wing Inner Stairway - Mansion 1F

Jill (Normal)

1 Zombie -

Emerges from the

Outside Balcony

doorway after acquiring the

Armor Key

, provided you have not already killed it in that location. Note: does not appear in Once Again mode.

View location

|

Show on map

West Wing Inner Stairway - Mansion 1F

Chris (Normal)

1 Zombie -

Emerges from the

Outside Balcony

doorway after acquiring the

Armor Key

, provided you have not already killed it in that location. Note: does not appear in Once Again mode.

View location

|

Show on map

West Wing Inner Stairway - Mansion 1F

Jill (Hard)

1 Zombie -

Emerges from the

Outside Balcony

doorway after acquiring the

Armor Key

, provided you have not already killed it in that location. Note: does not appear in Once Again mode.

View location

|

Show on map

West Wing Inner Stairway - Mansion 1F

Chris (Hard)

1 Zombie -

Emerges from the

Outside Balcony

doorway after acquiring the

Armor Key

, provided you have not already killed it in that location. Note: does not appear in Once Again mode.

View location

|

Show on map

Researcher's Bedroom - Mansion 1F

Jill (Very Easy)

2 Zombies - One emerges from the wardrobe, the other one was lying on the floor.

View location

|

Show on map

Researcher's Bedroom - Mansion 1F

Chris (Very Easy)

2 Zombies - One emerges from the wardrobe, the other one was lying on the floor.

View location

|

Show on map

Researcher's Bedroom - Mansion 1F

Jill (Easy)

2 Zombies - One emerges from the wardrobe, the other one was lying on the floor.

View location

|

Show on map

Researcher's Bedroom - Mansion 1F

Chris (Easy)

2 Zombies - One emerges from the wardrobe, the other one was lying on the floor.

View location

|

Show on map

Researcher's Bedroom - Mansion 1F

Jill (Normal)

2 Zombies - One emerges from the wardrobe, the other one was lying on the floor.

View location

|

Show on map

Researcher's Bedroom - Mansion 1F

Chris (Normal)

2 Zombies - One emerges from the wardrobe, the other one was lying on the floor.

View location

|

Show on map

Researcher's Bedroom - Mansion 1F

Jill (Hard)

2 Zombies - One emerges from the wardrobe, the other one was lying on the floor.

View location

|

Show on map

Researcher's Bedroom - Mansion 1F

Chris (Hard)

2 Zombies - One emerges from the wardrobe, the other one was lying on the floor.

View location

|

Show on map

Kitchen - Mansion B1

Jill (Very Easy)

1 Zombie - Emerges from the northern door the first time you try to exit.

View location

|

Show on map

Kitchen - Mansion B1

Chris (Very Easy)

1 Zombie - Emerges from the northern door the first time you try to exit.

1 Zombie - Lying on the floor next to the main table, comes after you the first time you try to exit.

View location

|

Show on map

Kitchen - Mansion B1

Jill (Easy)

1 Zombie - Emerges from the northern door the first time you try to exit.

View location

|

Show on map

Kitchen - Mansion B1

Chris (Easy)

1 Zombie - Emerges from the northern door the first time you try to exit.

1 Zombie - Lying on the floor next to the main table, comes after you the first time you try to exit.

View location

|

Show on map

Kitchen - Mansion B1

Jill (Normal)

1 Zombie - Emerges from the northern door the first time you try to exit.

View location

|

Show on map

Kitchen - Mansion B1

Chris (Normal)

1 Zombie - Emerges from the northern door the first time you try to exit.

1 Zombie - Lying on the floor next to the main table, comes after you the first time you try to exit.

View location

|

Show on map

Kitchen - Mansion B1

Jill (Hard)

1 Zombie - Emerges from the northern door the first time you try to exit.

View location

|

Show on map

Kitchen - Mansion B1

Chris (Hard)

1 Zombie - Emerges from the northern door the first time you try to exit.

1 Zombie - Lying on the floor next to the main table, comes after you the first time you try to exit.

View location

|

Show on map

Small Dining Room - Mansion 2F

Jill (Very Easy)

1 Zombie - Inside the small alcove behind the moveable cupboard. Does not appear here during Once Again mode.

View location

|

Show on map

Small Dining Room - Mansion 2F

Chris (Very Easy)

1 Zombie - Inside the small alcove behind the moveable cupboard. Does not appear here during Once Again mode.

View location

|

Show on map

Small Dining Room - Mansion 2F

Jill (Easy)

1 Zombie - Inside the small alcove behind the moveable cupboard. Does not appear here during Once Again mode.

View location

|

Show on map

Small Dining Room - Mansion 2F

Chris (Easy)

1 Zombie - Inside the small alcove behind the moveable cupboard. Does not appear here during Once Again mode.

View location

|

Show on map

Small Dining Room - Mansion 2F

Jill (Normal)

1 Zombie - Inside the small alcove behind the moveable cupboard. Does not appear here during Once Again mode.

View location

|

Show on map

Small Dining Room - Mansion 2F

Chris (Normal)

1 Zombie - Inside the small alcove behind the moveable cupboard. Does not appear here during Once Again mode.

View location

|

Show on map

Small Dining Room - Mansion 2F

Jill (Hard)

1 Zombie - Inside the small alcove behind the moveable cupboard. Does not appear here during Once Again mode.

View location

|

Show on map

Small Dining Room - Mansion 2F

Chris (Hard)

1 Zombie - Inside the small alcove behind the moveable cupboard. Does not appear here during Once Again mode.

View location

|

Show on map

Forest Pathway - Courtyard 1F

Jill (Very Easy)

1 Zombie -

Appears here after acquiring the

Square Crank

. It is in the small clearing halfway down the path.

View location

|

Show on map

Forest Pathway - Courtyard 1F

Chris (Very Easy)

1 Zombie -

Appears here after acquiring the

Square Crank

. It is in the small clearing halfway down the path.

View location

|

Show on map

Room 001 - Residence 1F

Jill (Very Easy)

1 Zombie -

The dead body that was hanging from the ceiling breaks free while you're exploring the

bathroom

.

View location

|

Show on map

Room 001 - Residence 1F

Jill (Easy)

1 Zombie -

The dead body that was hanging from the ceiling breaks free while you're exploring the

bathroom

.

View location

|

Show on map

Room 001 - Residence 1F

Jill (Normal)

1 Zombie -

The dead body that was hanging from the ceiling breaks free while you're exploring the

bathroom

.

View location

|

Show on map

Room 001 - Residence 1F

Jill (Hard)

1 Zombie -

The dead body that was hanging from the ceiling breaks free while you're exploring the

bathroom

.

View location

|

Show on map

There are no locations to show for this game mode. The following game modes are applicable: