Lighter
(Resident Evil Remake)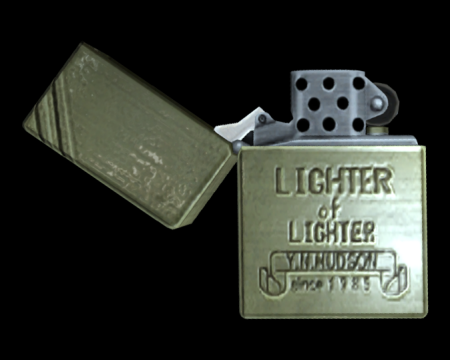 It's a brass lighter coated with gold. Words are carved on it. "Don't play with fire! Love, Jessica"
A standard flip-top lighter.
This item is used in the following locations:
Aside from the above, the most useful function of the lighter is to dispose of zombies you have killed to prevent them mutating into
Crimson Heads
. You need to have at least one dose of
Kerosene
in your
Fuel Canteen
, and then use the Lighter to ignite and burn the body. Background information on this can be found in the
Body Disposal
file.
| | |
| --- | --- |
| Category | Item (Object, tool or key) |
Location
Chris's Inventory

Chris (Very Easy)

Inside his inventory when you start the game.

Chris's Inventory

Chris (Easy)

Inside his inventory when you start the game.

Chris's Inventory

Chris (Normal)

Inside his inventory when you start the game.

Chris's Inventory

Chris (Hard)

Inside his inventory when you start the game.

Rebecca's Inventory

Chris (Very Easy)

Inside her inventory when you take control of her.

Rebecca's Inventory

Chris (Easy)

Inside her inventory when you take control of her.

Rebecca's Inventory

Chris (Normal)

Inside her inventory when you take control of her.

Rebecca's Inventory

Chris (Hard)

Inside her inventory when you take control of her.

There are no locations to show for this game mode. The following game modes are applicable: