Zombie
(Resident Evil 2)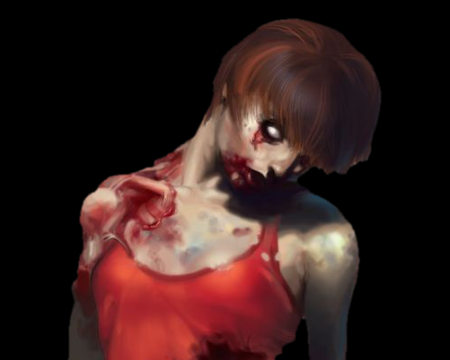 The zombie is the most common enemy in the game, the poor residents of Raccoon City who became infected with the T-Virus.

There are many different types of zombie in the game, from normal men and women, police officers, scientists, and test subjects.

The zombie is an easy enemy, as long as they're in small numbers. The Handgun is enough to keep them at bay. It's possible to decapitate one or many zombies with a single shotgun blast, simply aim up when they come into grabbing range, and fire.
Statistics
| Game mode | Sum total |
| --- | --- |
| Leon A (Normal) | 114-129 * |
| Leon B (Normal) | 92-113 * |
| Claire A (Normal) | 108-123 * |
| Claire B (Normal) | 92-113 * |
* Exact number can depend on certain game conditions. Please see the list of locations below for the details.
Location
Kendo Gun Shop - City Area 1

Leon A (Normal)

4 Zombies - Burst through the windows after either exploring the shop or exiting and re-entering through the back door.

View location

|

Show on map

Kendo Gun Shop - City Area 1

Claire A (Normal)

4 Zombies - Burst through the windows after either exploring the shop or exiting and re-entering through the back door.

View location

|

Show on map

Back Alley - City Area 1

Leon A (Normal)

4 Zombies - Wandering around in the west alley section.

View location

|

Show on map

Back Alley - City Area 1

Claire A (Normal)

4 Zombies - Wandering around in the west alley section.

View location

|

Show on map

Crashed Bus Area - City Area 1

Leon A (Normal)

4 Zombies - Crouching down eating a person near the entrance to the bus.

View location

|

Show on map

Crashed Bus Area - City Area 1

Claire A (Normal)

4 Zombies - Crouching down eating a person near the entrance to the bus.

View location

|

Show on map

Bus - City Area 1

Leon A (Normal)

2 Zombies - One is crawling along the floor, the other is standing at the back of the bus.

View location

|

Show on map

Bus - City Area 1

Claire A (Normal)

2 Zombies - One is crawling along the floor, the other is standing at the back of the bus.

View location

|

Show on map

Outside Shed - City Area 2

Leon B (Normal)

2 Zombies - Appear if you try and exit back through the west door after exploring the north west area of the shed.

View location

|

Show on map

Outside Shed - City Area 2

Claire B (Normal)

2 Zombies - Appear if you try and exit back through the west door after exploring the north west area of the shed.

View location

|

Show on map

Lounge - Police Station 2F

Leon A (Normal)

5 Zombies - Eating a corpse in the centre of the room.

View location

|

Show on map

Lounge - Police Station 2F

Claire B (Normal)

5 Zombies - Eating a corpse in the centre of the room.

View location

|

Show on map

Helicopter Corridor - Police Station 2F

Claire A (Normal)

2 Zombies - Wandering around. They will disappear after extinguishing the fire.

View location

|

Show on map

Outside Shed - City Area 2

Leon A (Normal)

2 Zombies - Appear if you try and exit through the west door.

View location

|

Show on map

Outside Shed - City Area 2

Claire A (Normal)

2 Zombies - Appear if you try and exit through the west door.

View location

|

Show on map

'L' Corridor - Police Station 1F

Leon B (Normal)

6 Zombies -

Under certain circumstances, depending on where the

Cord

was used in Scenario A, they appear here when exploring the

Library

for the first time before you have acquired the

Club Key

. Refer to

this guide

for more information.

View location

|

Show on map

'L' Corridor - Police Station 1F

Claire B (Normal)

6 Zombies -

Under certain circumstances, depending on where the

Cord

was used in Scenario A, they appear here when exploring the

Library

for the first time before you have acquired the

Club Key

. Refer to

this guide

for more information.

View location

|

Show on map

Winding Corridor - Police Station 1F

Leon B (Normal)

2 Zombies -

They burst through the boarded-up windows in the middle of this corridor as you approach, but only when entering this corridor from the

'L' Corridor

. However, under certain circumstances they do not appear at all. Refer to

this guide

for more information.

4 Zombies -

Under certain circumstances, depending on where the

Cord

was used in Scenario A, they appear here when exploring the

Library

for the first time before you have acquired the

Club Key

. Refer to

this guide

for more information.

View location

|

Show on map

Winding Corridor - Police Station 1F

Claire B (Normal)

2 Zombies -

They burst through the boarded-up windows in the middle of this corridor as you approach, but only when entering this corridor from the

'L' Corridor

. However, under certain circumstances they do not appear at all. Refer to

this guide

for more information.

4 Zombies -

Under certain circumstances, depending on where the

Cord

was used in Scenario A, they appear here when exploring the

Library

for the first time before you have acquired the

Club Key

. Refer to

this guide

for more information.

View location

|

Show on map

West Stairway 1F - Police Station 1F

Leon B (Normal)

5 Zombies -

Under certain circumstances, depending on where the

Cord

was used in Scenario A, they appear here when exploring the

Library

for the first time before you have acquired the

Club Key

. Refer to

this guide

for more information.

View location

|

Show on map

West Stairway 1F - Police Station 1F

Claire B (Normal)

5 Zombies -

Under certain circumstances, depending on where the

Cord

was used in Scenario A, they appear here when exploring the

Library

for the first time before you have acquired the

Club Key

. Refer to

this guide

for more information.

View location

|

Show on map

Office Corridor - Police Station 2F

Claire B (Normal)

1 Zombie - Appears after searching the S.T.A.R.S. Office.

View location

|

Show on map

Main Office - Police Station 1F

Leon B (Normal)

4 Zombies -

Under certain circumstances, depending on where the

Cord

was used in Scenario A, they appear here when exploring the

Library

for the first time before you have acquired the

Club Key

. Refer to

this guide

for more information.

View location

|

Show on map

Main Office - Police Station 1F

Claire B (Normal)

4 Zombies -

Under certain circumstances, depending on where the

Cord

was used in Scenario A, they appear here when exploring the

Library

for the first time before you have acquired the

Club Key

. Refer to

this guide

for more information.

View location

|

Show on map

Watchman's Corridor - Police Station 1F

Leon B (Normal)

5 Zombies -

Under certain circumstances, depending on where the

Cord

was used in Scenario A, they appear here when exploring the

Library

for the first time before you have acquired the

Club Key

. Refer to

this guide

for more information.

View location

|

Show on map

Watchman's Corridor - Police Station 1F

Claire B (Normal)

5 Zombies -

Under certain circumstances, depending on where the

Cord

was used in Scenario A, they appear here when exploring the

Library

for the first time before you have acquired the

Club Key

. Refer to

this guide

for more information.

View location

|

Show on map

Basement Entrance - Police Station B1

Leon B (Normal)

5 Zombies -

Under certain circumstances, depending on where the

Cord

was used in Scenario A, they appear here when exploring the

Library

for the first time before you have acquired the

Club Key

. Refer to

this guide

for more information.

View location

|

Show on map

Basement Entrance - Police Station B1

Claire B (Normal)

5 Zombies -

Under certain circumstances, depending on where the

Cord

was used in Scenario A, they appear here when exploring the

Library

for the first time before you have acquired the

Club Key

. Refer to

this guide

for more information.

View location

|

Show on map

Cesspool Walkway - Sewage Disposal

Leon B (Normal)

4 Zombies - Three of them are wandering around, one of them is lying on the ground in the middle of the area.

View location

|

Show on map

Basement Entrance - Police Station B1

Leon B (Normal)

2 Zombies -

Under certain circumstances, depending on where the

Cord

was used in Scenario A and if you've already explored the

Library

, they appear here after acquiring the

Club Key

. Refer to

this guide

for more information.

View location

|

Show on map

Basement Entrance - Police Station B1

Claire B (Normal)

2 Zombies -

Under certain circumstances, depending on where the

Cord

was used in Scenario A and if you've already explored the

Library

, they appear here after acquiring the

Club Key

. Refer to

this guide

for more information.

View location

|

Show on map

Autopsy Room - Police Station B1

Leon A (Normal)

5 Zombies - They come to life after you pick up the Red Card Key from the cabinet.

View location

|

Show on map

Autopsy Room - Police Station B1

Claire A (Normal)

5 Zombies - They come to life after you pick up the Red Card Key from the cabinet.

View location

|

Show on map

Main Office - Police Station 1F

Leon B (Normal)

4 Zombies -

Under certain circumstances, depending on where the

Cord

was used in Scenario A and if you've already acquired the

Club Key

, they appear here when exploring the

Library

for the first time. Refer to

this guide

for more information.

View location

|

Show on map

Main Office - Police Station 1F

Claire B (Normal)

4 Zombies -

Under certain circumstances, depending on where the

Cord

was used in Scenario A and if you've already acquired the

Club Key

, they appear here when exploring the

Library

for the first time. Refer to

this guide

for more information.

View location

|

Show on map

Watchman's Corridor - Police Station 1F

Leon A (Normal)

5 Zombies -

Under certain circumstances, depending on where the

Cord

was used, they appear here when exploring the

Library

for the first time after acquiring the

Club Key

. Refer to

this guide

for more information.

View location

|

Show on map

Watchman's Corridor - Police Station 1F

Claire A (Normal)

5 Zombies -

Under certain circumstances, depending on where the

Cord

was used, they appear here when exploring the

Library

for the first time after acquiring the

Club Key

. Refer to

this guide

for more information.

View location

|

Show on map

Watchman's Corridor - Police Station 1F

Leon B (Normal)

5 Zombies -

Under certain circumstances, depending on where the

Cord

was used in Scenario A and if you've already explored the

Library

, they appear here after acquiring the

Club Key

. Refer to

this guide

for more information.

5 Zombies -

Under certain circumstances, depending on where the

Cord

was used in Scenario A and if you've already acquired the

Club Key

, they appear here when exploring the

Library

for the first time. Refer to

this guide

for more information.

View location

|

Show on map

Watchman's Corridor - Police Station 1F

Claire B (Normal)

5 Zombies -

Under certain circumstances, depending on where the

Cord

was used in Scenario A and if you've already explored the

Library

, they appear here after acquiring the

Club Key

. Refer to

this guide

for more information.

5 Zombies -

Under certain circumstances, depending on where the

Cord

was used in Scenario A and if you've already acquired the

Club Key

, they appear here when exploring the

Library

for the first time. Refer to

this guide

for more information.

View location

|

Show on map

Basement Entrance - Police Station B1

Leon B (Normal)

2 Zombies -

Under certain circumstances, depending on where the

Cord

was used in Scenario A and if you've already acquired the

Club Key

, they appear here when exploring the

Library

for the first time. Refer to

this guide

for more information.

View location

|

Show on map

Basement Entrance - Police Station B1

Claire B (Normal)

2 Zombies -

Under certain circumstances, depending on where the

Cord

was used in Scenario A and if you've already acquired the

Club Key

, they appear here when exploring the

Library

for the first time. Refer to

this guide

for more information.

View location

|

Show on map

'L' Corridor - Police Station 1F

Leon A (Normal)

6 Zombies -

Under certain circumstances, depending on where the

Cord

was used, they appear here when exploring the

Library

for the first time after acquiring the

Club Key

. Refer to

this guide

for more information.

View location

|

Show on map

'L' Corridor - Police Station 1F

Claire A (Normal)

6 Zombies -

Under certain circumstances, depending on where the

Cord

was used, they appear here when exploring the

Library

for the first time after acquiring the

Club Key

. Refer to

this guide

for more information.

View location

|

Show on map

'L' Corridor - Police Station 1F

Leon B (Normal)

3 Zombies -

Under certain circumstances, depending on where the

Cord

was used in Scenario A and if you've already explored the

Library

, they appear here after acquiring the

Club Key

. Refer to

this guide

for more information.

3 Zombies -

Under certain circumstances, depending on where the

Cord

was used in Scenario A and if you've already acquired the

Club Key

, they appear here when exploring the

Library

for the first time. Refer to

this guide

for more information.

View location

|

Show on map

'L' Corridor - Police Station 1F

Claire B (Normal)

3 Zombies -

Under certain circumstances, depending on where the

Cord

was used in Scenario A and if you've already explored the

Library

, they appear here after acquiring the

Club Key

. Refer to

this guide

for more information.

3 Zombies -

Under certain circumstances, depending on where the

Cord

was used in Scenario A and if you've already acquired the

Club Key

, they appear here when exploring the

Library

for the first time. Refer to

this guide

for more information.

View location

|

Show on map

Winding Corridor - Police Station 1F

Leon B (Normal)

1 Zombie -

Under certain circumstances, depending on where the

Cord

was used in Scenario A and if you've already explored the

Library

, it appears here after acquiring the

Club Key

. Refer to

this guide

for more information.

1 Zombie -

Under certain circumstances, depending on where the

Cord

was used in Scenario A and if you've already acquired the

Club Key

, it appears here when exploring the

Library

for the first time. Refer to

this guide

for more information.

View location

|

Show on map

Winding Corridor - Police Station 1F

Claire B (Normal)

1 Zombie -

Under certain circumstances, depending on where the

Cord

was used in Scenario A and if you've already explored the

Library

, it appears here after acquiring the

Club Key

. Refer to

this guide

for more information.

1 Zombie -

Under certain circumstances, depending on where the

Cord

was used in Scenario A and if you've already acquired the

Club Key

, it appears here when exploring the

Library

for the first time. Refer to

this guide

for more information.

View location

|

Show on map

West Stairway 1F - Police Station 1F

Leon B (Normal)

2 Zombies -

Under certain circumstances, depending on where the

Cord

was used in Scenario A and if you've already explored the

Library

, they appear here after acquiring the

Club Key

. Refer to

this guide

for more information.

2 Zombies -

Under certain circumstances, depending on where the

Cord

was used in Scenario A and if you've already acquired the

Club Key

, they appear here when exploring the

Library

for the first time. Refer to

this guide

for more information.

View location

|

Show on map

West Stairway 1F - Police Station 1F

Claire B (Normal)

2 Zombies -

Under certain circumstances, depending on where the

Cord

was used in Scenario A and if you've already explored the

Library

, they appear here after acquiring the

Club Key

. Refer to

this guide

for more information.

2 Zombies -

Under certain circumstances, depending on where the

Cord

was used in Scenario A and if you've already acquired the

Club Key

, they appear here when exploring the

Library

for the first time. Refer to

this guide

for more information.

View location

|

Show on map

Active Treatment Experimentation Room - Laboratory B4

Leon A (Normal)

5 Zombies - Wandering around.

View location

|

Show on map

Active Treatment Experimentation Room - Laboratory B4

Claire A (Normal)

5 Zombies - Wandering around.

View location

|

Show on map

Central Corridor - Laboratory B5

Leon A (Normal)

5 Zombies - Appear here after the self-destruct sequence has been activated.

View location

|

Show on map

Central Corridor - Laboratory B5

Claire A (Normal)

5 Zombies - Appear here after the self-destruct sequence has been activated.

View location

|

Show on map

Gate Platform - Transport

Leon B (Normal)

5 Zombies - Appear here after supplying power to the train.

View location

|

Show on map

Gate Platform - Transport

Claire B (Normal)

5 Zombies - Appear here after supplying power to the train.

View location

|

Show on map

There are no locations to show for this game mode. The following game modes are applicable: