Dagger
(Resident Evil Remake)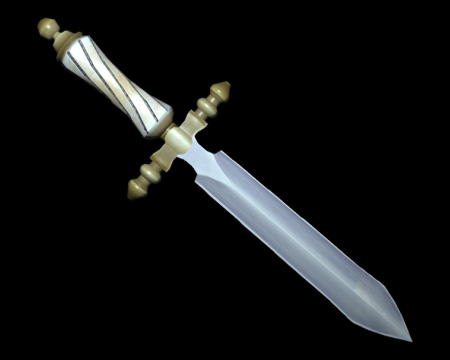 By stabbing this dagger you'll be able to protect yourself and escape from hostile situations.
A small dagger, used as a defence item.

This defence item is available to both characters. When an enemy attacks, you will stick this in their head, allowing you to escape. If you manage to decapitate the enemy after this, you can retrieve the dagger to use again.
| | |
| --- | --- |
| Category | Weaponry (Weapon) |
Statistics
| Game mode | Sum total |
| --- | --- |
| Jill (Very Easy) | 14 |
| Chris (Very Easy) | 13 |
| Jill (Easy) | 14 |
| Chris (Easy) | 13 |
| Jill (Normal) | 12 |
| Chris (Normal) | 11 |
| Jill (Hard) | 10 |
| Chris (Hard) | 9 |
Location
'L' Corridor - Mansion 1F

Jill (Very Easy)

Underneath the first wooden cabinet, push it aside to reveal.

View location

|

Show on map

'L' Corridor - Mansion 1F

Chris (Very Easy)

Underneath the first wooden cabinet, push it aside to reveal.

View location

|

Show on map

'L' Corridor - Mansion 1F

Jill (Easy)

Underneath the first wooden cabinet, push it aside to reveal.

View location

|

Show on map

'L' Corridor - Mansion 1F

Chris (Easy)

Underneath the first wooden cabinet, push it aside to reveal.

View location

|

Show on map

'L' Corridor - Mansion 1F

Jill (Normal)

Underneath the first wooden cabinet, push it aside to reveal.

View location

|

Show on map

'L' Corridor - Mansion 1F

Chris (Normal)

Underneath the first wooden cabinet, push it aside to reveal.

View location

|

Show on map

'L' Corridor - Mansion 1F

Jill (Hard)

Underneath the first wooden cabinet, push it aside to reveal.

View location

|

Show on map

'L' Corridor - Mansion 1F

Chris (Hard)

Underneath the first wooden cabinet, push it aside to reveal.

View location

|

Show on map

Room 003 Bathroom - Residence 1F

Chris (Very Easy)

Inside the bathtub once it has been emptied.

View location

|

Show on map

Sliding Trap Room - Mansion 2F

Jill (Normal)

On the small cabinet in the hidden area that gets revealed once you position the statue.

View location

|

Show on map

Sliding Trap Room - Mansion 2F

Chris (Normal)

On the small cabinet in the hidden area that gets revealed once you position the statue.

View location

|

Show on map

Trophy Room - Mansion 2F

Chris (Very Easy)

On the cabinet in the north west corner of the room.

View location

|

Show on map

There are no locations to show for this game mode. The following game modes are applicable: