Flash Grenade
(Resident Evil Remake)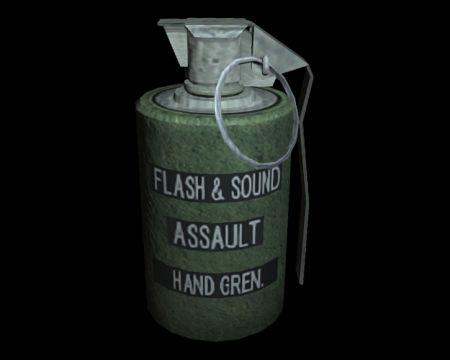 A self defense item. Normally used to disturb the offender's vision.
A small flash grenade, used to blind your enemies for a short period.

This weapon cannot be used in the same style as a traditional grenade. This is one of Chris' self defence items; when an enemy attacks, Chris will force this is their mouth, which will result in decapitation.
| | |
| --- | --- |
| Category | Weaponry (Weapon) |
Statistics
| Game mode | Sum total |
| --- | --- |
| Chris (Very Easy) | 13 |
| Chris (Easy) | 13 |
| Chris (Normal) | 12 |
| Chris (Hard) | 8 |
Location
Residence Storeroom - Residence 1F

Chris (Very Easy)

On the shelf next to the table with the typewriter.

View location

|

Show on map

Residence Storeroom - Residence 1F

Chris (Easy)

On the shelf next to the table with the typewriter.

View location

|

Show on map

Residence Storeroom - Residence 1F

Chris (Normal)

On the shelf next to the table with the typewriter.

View location

|

Show on map

Residence Storeroom - Residence 1F

Chris (Hard)

On the shelf next to the table with the typewriter.

View location

|

Show on map

Sliding Trap Room - Mansion 2F

Chris (Very Easy)

On the small cabinet in the hidden area that gets revealed once you position the statue.

View location

|

Show on map

Sliding Trap Room - Mansion 2F

Chris (Easy)

On the small cabinet in the hidden area that gets revealed once you position the statue.

View location

|

Show on map

Underground Storage Room - Courtyard B2

Chris (Very Easy)

On the very top of the piles of boxes in the north east corner, opposite the small cargo transporter.

View location

|

Show on map

Underground Storage Room - Courtyard B2

Chris (Easy)

On the very top of the piles of boxes in the north east corner, opposite the small cargo transporter.

View location

|

Show on map

Underground Storage Room - Courtyard B2

Chris (Normal)

On the very top of the piles of boxes in the north east corner, opposite the small cargo transporter.

View location

|

Show on map

Underground Storage Room - Courtyard B2

Chris (Hard)

On the very top of the piles of boxes in the north east corner, opposite the small cargo transporter.

View location

|

Show on map

Operating Room - Laboratory B3

Chris (Very Easy)

On the shelves in the back room, opposite the body bags.

View location

|

Show on map

Operating Room - Laboratory B3

Chris (Easy)

On the shelves in the back room, opposite the body bags.

View location

|

Show on map

Operating Room - Laboratory B3

Chris (Normal)

On the shelves in the back room, opposite the body bags.

View location

|

Show on map

Operating Room - Laboratory B3

Chris (Hard)

On the shelves in the back room, opposite the body bags.

View location

|

Show on map

Morgue - Laboratory B3

Chris (Very Easy)

On the desk in the south west corner, you have to travel through the air ducts to reach it.

View location

|

Show on map

Morgue - Laboratory B3

Chris (Easy)

On the desk in the south west corner, you have to travel through the air ducts to reach it.

View location

|

Show on map

Morgue - Laboratory B3

Chris (Normal)

On the desk in the south west corner, you have to travel through the air ducts to reach it.

View location

|

Show on map

Power Maze B - Laboratory B3

Chris (Very Easy)

On the floor in the north west corner of the maze.

View location

|

Show on map

There are no locations to show for this game mode. The following game modes are applicable: