Stun Gun
(Resident Evil Remake)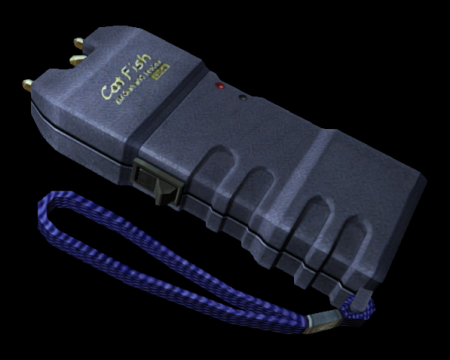 A self-defense item. You'll be able to take down an assailant, leaving him disoriented momentarily.
A stun gun that releases a small amount of electric current to stun enemies.
This is Jill's primary defence weapon. When attacked by an enemy, she sticks this in their torso, which temporarily stuns them allowing you to escape. It uses the
Battery Packs
you find strewn around the mansion.
| | |
| --- | --- |
| Category | Weaponry (Weapon) |
Location
Jill's Inventory

Jill (Very Easy)

Inside her inventory when you start the game.

Jill's Inventory

Jill (Easy)

Inside her inventory when you start the game.

Jill's Inventory

Jill (Normal)

Inside her inventory when you start the game.

Jill's Inventory

Jill (Hard)

Inside her inventory when you start the game.

There are no locations to show for this game mode. The following game modes are applicable: