Nemesis
(Resident Evil 3: Nemesis)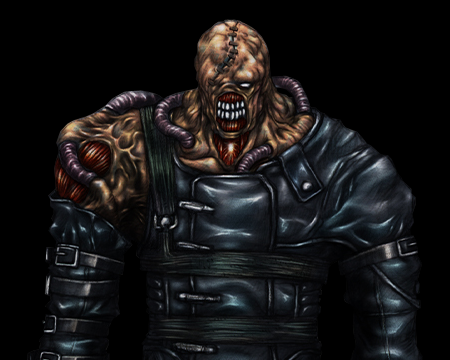 This B.O.W. was the result of advanced research conducted in the Umbrella European office as an attempt to create a Tyrant with radically improved intelligence, allowing it to follow orders and handle complex weaponry. A B.O.W. parasite was produced called the NE-alpha which was injected into an ordinary mas-produced Tyrant's spinal cord on a cellular level, whereupon it began to feed on the T-Virus and used it to spread throughout the entire system.
This new breed of Tyrant deployed into Raccoon City and was programmed with the instructions of finding and disposing of the remaining S.T.A.R.S team members,
Jill Valentine
and
Brad Vickers
. It was fitted with a protective armor to avoid taking too much damage, and equipped with a rocket launcher to aid it in its mission.
Location
Sub Station Entrance - Downtown

Easy

Appears here if you chose

not

to increase the electrical output during the live selection choice inside the

Sub Station

, and only appears if you have not yet acquired the

Oil Additive

and therefore did not meet Nemesis at the

Forked Alley

.

View location

|

Show on map

Sub Station Entrance - Downtown

Hard

Appears here if you chose

not

to increase the electrical output during the live selection choice inside the

Sub Station

, and only appears if you have not yet acquired the

Oil Additive

and therefore did not meet Nemesis at the

Forked Alley

.

View location

|

Show on map

Cable Car Rear Carriage - Downtown

Easy

Appears once you've repaired the cable car with all the required items and the cable car has started to move.

View location

|

Show on map

Cable Car Rear Carriage - Downtown

Hard

Appears once you've repaired the cable car with all the required items and the cable car has started to move.

View location

|

Show on map

Balcony - Clock Tower 2F

Easy

Appears as you approach the door after proceeding into the center of the balcony.

View location

|

Show on map

Balcony - Clock Tower 2F

Hard

Appears as you approach the door after proceeding into the center of the balcony.

View location

|

Show on map