Hunter Beta
(Resident Evil 3: Nemesis)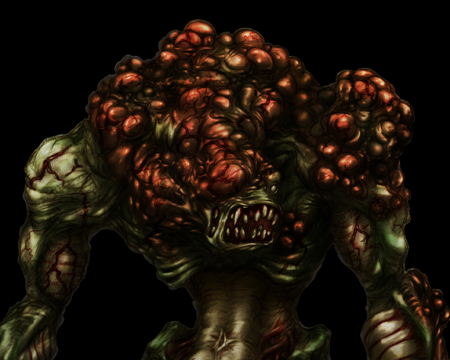 An extremely powerful creature with claws on all four limbs, and the ability to jump several metres in the air. Encountered in the Hospital and the Dead Factory, they were sent into Raccoon City for test battle purposes, before being mass produced. However, these are not perfect specimens, which reflects in their disfigured appearance.
These reptilian creatures are very dangerous; they have two different forms of attack. They either swipe at your legs, or jump and slash at your torso, which if they're close enough could go right over your head and result in decapitation. Although you have nothing more powerful than an
Assault Rifle
at the
Hospital
, when you reach the
Outskirts
these creatures should be dispatched with the Grenade Launcher.
Statistics
Location
Water Pollution Pool - Dead Factory 1F

Easy

12 Hunter Beta's -

25% chance of three Hunter Beta's appearing here instead of

Zombies

,

Drain Deimos

or

Brain Suckers

when you first enter this location. The three Hunter Beta's will respawn after each of the following events have occurred:

View location

|

Show on map

Water Pollution Pool - Dead Factory 1F

Hard

12 Hunter Beta's -

25% chance of three Hunter Beta's appearing here instead of

Zombies

,

Drain Deimos

or

Brain Suckers

when you first enter this location. The three Hunter Beta's will respawn after each of the following events have occurred:

View location

|

Show on map