Jill's Diary
(Resident Evil 3: Nemesis)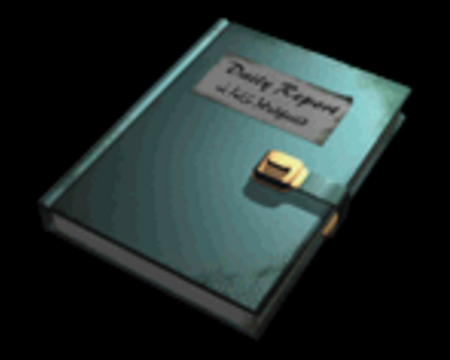 The diary of Jill, a bonus file that replaces
Game Instructions A
. To acquire it you must obtain every single file in the game in the order listed below. Pick them up in the wrong order and you will not get it.
Transcript
JILL'S DIARY

August 7th

Two weeks have passed since that day. My wounds have been healed, but I just can't forget it. For most people, it's history now. But for me, whenever I close my eyes, it all comes back clearly. Zombies eating people's flesh and the screams of my teammates dying. No, the wounds in my heart are not healed yet...

August 13th

Chris has been causing a lot of trouble recently. What's with him? He seldom talks to the other police members and is constantly irritated. The other day, he punched Elran of the Boy's Crime department just for accidentally splashing Chris's face with coffee. I immediately stopped Chris, but when he saw me he just gave me a wink and walked away. I wonder what happened to him...

August 15th

Midnight. Chris, who has been on a leave of absence for a "vacation," called me so I visited his apartment. As soon as I walked into his room, he showed me a couple of pieces of paper. They were part of a virus research report entitled as simply as "G". Then Chris told me that, "The nightmare still continues." He went on to say that, "It's not over yet." Ever since that day, he has been fighting all by himself without rest, without even telling me.

August 24th

Chris left the town today to go to Europe. Barry told me that he would send his family to Canada and then he would follow Chris. I decided to remain in Raccoon City for a while because I know that the research facility in this city will be very important to this entire case. In a month or so, I'll be joining with them somewhere in Europe. That's when my real battle begins...