FAX FROM KENDO GUN SHOP
To the boys of S.T.A.R.S.,
I have some good news for you from my brother Joe. He has finalized the new hand-gun for official use. It's the M92F S.T.A.R.S. Special, but he calls it the "Samurai Edge." It's the most balanced of the Kendo custom guns. Joe said if you miss the targets with this, you should carry a teething ring instead of a gun in your holster.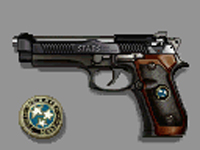 The goods will be delivered along with their proper documentation. I'm sure you'll be surprised when you see what kind of excellent parts are used for the M92F. I know that you'll want to thank the good people who developed it.
Sincerely,
Robert Kendo
Kendo Gun Shop