Green Herb
(Resident Evil Outbreak File #2)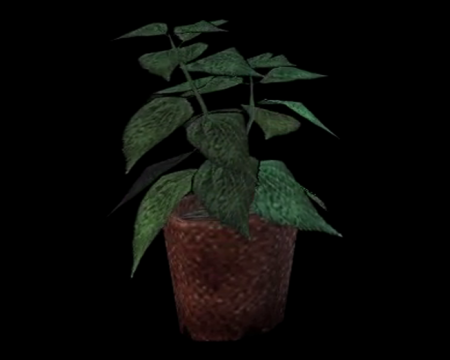 An herb which grows wild in this area.
One of three different herbs found growing in pots in and around Raccoon City.
The most useful of the three herbs you can find. The herb by itself will restore a small amount of health, but can be enhanced by combining it with other herbs to create new medicines.
| | |
| --- | --- |
| Category | Common item (Recovery item) |
Location
Cindy's Inventory

Easy

2 Green Herbs - Inside her inventory at the start of any scenario.

Cindy's Inventory

Normal

2 Green Herbs - Inside her inventory at the start of any scenario.

Cindy's Inventory

Hard

2 Green Herbs - Inside her inventory at the start of any scenario.

Cindy's Inventory

Very Hard

2 Green Herbs - Inside her inventory at the start of any scenario.

Back alley - Area Near the Zoo

Easy

1 Green Herb - On the ground next to the steps on the north section of the alley.

View location

|

Show on map

Back alley - Area Near the Zoo

Normal

1 Green Herb - On the ground next to the steps on the north section of the alley.

View location

|

Show on map

Back alley - Area Near the Zoo

Hard

1 Green Herb - On the ground next to the steps on the north section of the alley.

View location

|

Show on map

Suspension bridge - Forest 3

Easy

1 Green Herb - On the ground next to the pathway into the forest on the west side.

1 Green Herb - On the ground next to the bridge on the west bank.

View location

|

Show on map

Suspension bridge - Forest 3

Normal

1 Green Herb - On the ground next to the bridge on the west bank.

View location

|

Show on map

Suspension bridge - Forest 3

Very Hard

1 Green Herb - On the ground next to the bridge on the west bank.

View location

|

Show on map

River bank - Riverbank

Very Hard

1 Green Herb - On the side of the path leading to the riverside.

View location

|

Show on map

River bank - Riverbank

Easy

1 Green Herb - Near the entrance to this area, on the side of the path leading to the riverside.

View location

|

Show on map

River bank - Riverbank

Normal

1 Green Herb - Near the entrance to this area, on the side of the path leading to the riverside.

View location

|

Show on map

Big suspension bridge - Suspension bridge

Easy

1 Green Herb - On the ground on the western entrance to the bridge.

View location

|

Show on map

Big suspension bridge - Suspension bridge

Normal

1 Green Herb - On the ground on the western entrance to the bridge.

View location

|

Show on map

Big suspension bridge - Suspension bridge

Hard

1 Green Herb - On the ground on the western entrance to the bridge.

View location

|

Show on map

Main building 1F hall - Hospital 1F

Very Hard

1 Green Herb - On the floor next to the broken elevator in the north east corner.

View location

|

Show on map

Main building 1F hall - Hospital 1F

Normal

1 Green Herb - On the floor halfway along the passage.

1 Green Herb - On the floor next to the broken elevator in the north east corner.

View location

|

Show on map

Main building 1F hall - Hospital 1F

Easy

1 Green Herb - On the floor next to the broken elevator in the north east corner.

View location

|

Show on map

Hospital back gate - Forest 4

Easy

1 Green Herb - On the ground near the forest entrance.

1 Green Herb - On the ground in the western alcove area.

View location

|

Show on map

Hospital back gate - Forest 4

Normal

1 Green Herb - On the ground near the forest entrance.

1 Green Herb - On the ground in the western alcove area.

View location

|

Show on map

Hospital back gate - Forest 4

Very Hard

1 Green Herb - On the ground in the western alcove area.

View location

|

Show on map

Locker room - Hospital 1F

Very Hard

1 Green Herb - On the trolley in the north east corner of the room.

View location

|

Show on map

Locker room - Hospital 1F

Easy

1 Green Herb - Inside the locker in the south east corner of the room.

View location

|

Show on map

Locker room - Hospital 1F

Normal

1 Green Herb - Inside the locker in the south east corner of the room.

View location

|

Show on map

Locker room - Hospital 1F

Hard

1 Green Herb - Inside the locker in the south east corner of the room.

View location

|

Show on map

Auxiliary building B1F hall - Hospital B1F

Normal

1 Green Herb -

On the ground in the middle of the corridor. You need to dispose of the plant with a

syringe of solvent

in order to access it.

View location

|

Show on map

Auxiliary building B1F hall - Hospital B1F

Hard

1 Green Herb -

On the ground in the middle of the corridor. You need to dispose of the plant with a

syringe of solvent

in order to access it.

View location

|

Show on map

Auxiliary building north hall - Hospital 1F

Easy

2 Green Herbs - On the ground in the north west corner of the hall.

View location

|

Show on map

Auxiliary building north hall - Hospital 1F

Normal

1 Green Herb - On the ground in the north west corner of the hall.

View location

|

Show on map

Auxiliary building north hall - Hospital 1F

Hard

1 Green Herb - On the ground in the north west corner of the hall.

View location

|

Show on map

Auxiliary building 2F hall - Hospital 2F

Easy

1 Green Herb - On the ground at the top of the stairs in the north corner.

View location

|

Show on map

Auxiliary building 2F hall - Hospital 2F

Normal

1 Green Herb - On the ground at the top of the stairs in the north corner.

View location

|

Show on map

Maintenance access route - Hospital 3F

Easy

1 Green Herb - On the ground near the hole in the north west section.

View location

|

Show on map

Maintenance access route - Hospital 3F

Normal

1 Green Herb - On the ground near the hole in the north west section.

View location

|

Show on map

Maintenance access route - Hospital 3F

Hard

1 Green Herb - On the ground near the hole in the north west section.

View location

|

Show on map

Auxiliary building 5F - Hospital 5F

Easy

1 Green Herb - On the ground in the north west corner of the outer walkway.

View location

|

Show on map

Auxiliary building 5F - Hospital 5F

Normal

1 Green Herb - On the ground in the north west corner of the outer walkway.

View location

|

Show on map

Auxiliary building 5F - Hospital 5F

Hard

1 Green Herb - On the ground in the north west corner of the outer walkway.

View location

|

Show on map

Auxiliary building rooftop - Hospital rooftop

Easy

1 Green Herb - On the wall in the north east corner of the rooftop.

View location

|

Show on map

Auxiliary building rooftop - Hospital rooftop

Normal

1 Green Herb - On the wall in the north east corner of the rooftop.

View location

|

Show on map

Main building 2F hall - Hospital 2F

Easy

1 Green Herb - On the ground next to the elevator in the north east area of the hall.

View location

|

Show on map

Main building 2F hall - Hospital 2F

Normal

1 Green Herb - On the ground next to the elevator in the north east area of the hall.

View location

|

Show on map

Main building 2F hall - Hospital 2F

Hard

1 Green Herb - On the ground next to the elevator in the north east area of the hall.

View location

|

Show on map

Main building 2F hall - Hospital 2F

Very Hard

1 Green Herb - On the ground next to the elevator in the north east area of the hall.

View location

|

Show on map

Administrator's office - Hospital 2F

Normal

1 Green Herb - On the floor in the north east entrance hall.

View location

|

Show on map

Administrator's office - Hospital 2F

Hard

1 Green Herb - On the floor in the north east entrance hall.

1 Green Herb -

On the ground in the passage behind the movable bookcase. You need to push the switch on the wall next to the bookcase in the main room to reveal the passageway. In order to be able to press the switch you need to use the

Rusty Key

on it.

View location

|

Show on map

Administrator's office - Hospital 2F

Very Hard

1 Green Herb - On the floor in the north east entrance hall.

View location

|

Show on map

Auxiliary building 3F - Hospital 3F

Easy

1 Green Herb - On the ground in the north west corner of the room.

View location

|

Show on map

Auxiliary building 3F - Hospital 3F

Hard

1 Green Herb - On the ground in the north west corner of the room.

View location

|

Show on map

Auxiliary building 3F - Hospital 3F

Very Hard

1 Green Herb - On the ground in the north west corner of the room.

1 Green Herb - On the boxes in the north east corner of the room.

View location

|

Show on map

Room 202 - Hospital 2F

Hard

1 Green Herb - On the air conditioning unit on the wall on the west side of the room.

View location

|

Show on map

Main building 2F hall - Hospital 2F

Hard

1 Green Herb - On the ground next to the windows in the eastern section of the hall.

View location

|

Show on map

Room 203 - Hospital 2F

Very Hard

1 Green Herb - Next to the bedside curtain in the south west area of the room.

View location

|

Show on map

Reception office - Hospital 1F

Easy

1 Green Herb - On the desk in the south west corner of the room.

View location

|

Show on map

Reception office - Hospital 1F

Normal

1 Green Herb - On the desk in the south west corner of the room.

View location

|

Show on map

Reception office - Hospital 1F

Hard

1 Green Herb - On the desk in the south west corner of the room.

View location

|

Show on map

West entrance - Raccoon City subway - Subway B1F

Easy

2 Green Herbs - On the ground next to the doors on the east side of the passage.

View location

|

Show on map

West entrance - Raccoon City subway - Subway B1F

Normal

2 Green Herbs - On the ground next to the doors on the east side of the passage.

View location

|

Show on map

West entrance - Raccoon City subway - Subway B1F

Hard

1 Green Herb - On the ground next to the doors on the east side of the passage.

View location

|

Show on map

West ticket gate - Raccoon City subway - Subway B1F

Very Hard

1 Green Herb - On the ground next to the ticket machines in the north east corner of the room.

View location

|

Show on map

East concourse - Raccoon City subway - Subway B1F

Easy

1 Green Herb - On the ground in the north east corner of the room.

View location

|

Show on map

East concourse - Raccoon City subway - Subway B1F

Normal

1 Green Herb - On the ground in the north east corner of the room.

View location

|

Show on map

East concourse - Raccoon City subway - Subway B1F

Hard

1 Green Herb - On the ground in the north east corner of the room.

View location

|

Show on map

East entrance - Raccoon City subway - Subway B1F

Easy

2 Green Herbs - On the ground next to the doors on the west side of the passage.

View location

|

Show on map

East entrance - Raccoon City subway - Subway B1F

Normal

2 Green Herbs - On the ground next to the doors on the west side of the passage.

View location

|

Show on map

East entrance - Raccoon City subway - Subway B1F

Hard

1 Green Herb - On the ground next to the doors on the west side of the passage.

View location

|

Show on map

Men's restroom (east) - Raccoon City subway - Subway B1F

Hard

1 Green Herb - On the shelf above the sink closest to the door.

View location

|

Show on map

Men's restroom (east) - Raccoon City subway - Subway B1F

Very Hard

1 Green Herb - On the floor in the south west corner of the room.

View location

|

Show on map

Platform - Raccoon City subway - Subway B1F (Platform)

Easy

1 Green Herb - On the ground in the middle of the northern platform.

1 Green Herb - On the ground in the south east corner of the southern platform.

1 Green Herb - On the ground in the south west corner of the southern platform.

View location

|

Show on map

Platform - Raccoon City subway - Subway B1F (Platform)

Normal

1 Green Herb - On the ground in the middle of the northern platform.

1 Green Herb - On the ground between the tracks in the middle of the area.

1 Green Herb - On the ground in the north west area of the northern platform.

1 Green Herb - On the ground in the south west corner of the southern platform.

View location

|

Show on map

Platform - Raccoon City subway - Subway B1F (Platform)

Hard

1 Green Herb - On the ground in the middle of the northern platform.

1 Green Herb - On the ground in the north west area of the northern platform.

1 Green Herb - On the ground in the south west corner of the southern platform.

View location

|

Show on map

Platform - Raccoon City subway - Subway B1F (Platform)

Very Hard

1 Green Herb - On the ground between the tracks in the middle of the area.

1 Green Herb - On the ground in the north west area of the northern platform.

1 Green Herb - On the ground in the south west corner of the southern platform.

View location

|

Show on map

Subway car - Raccoon City subway - Subway B1F (Platform)

Easy

1 Green Herb - On the floor in front of the doors in the middle of the carriage.

View location

|

Show on map

Subway car - Raccoon City subway - Subway B1F (Platform)

Normal

1 Green Herb - On the floor in front of the doors in the middle of the carriage.

View location

|

Show on map

Subway car - Raccoon City subway - Subway B1F (Platform)

Hard

1 Green Herb - On the floor in front of the doors in the middle of the carriage.

View location

|

Show on map

Subway car - Raccoon City subway - Subway B1F (Platform)

Very Hard

1 Green Herb - On the small front-facing seat in the middle of the carriage.

View location

|

Show on map

Employee passage - Employee area - Subway B1F

Easy

1 Green Herb - On the ground in the middle of the straight southern passage.

View location

|

Show on map

Women's staff restroom - Employee area - Subway B1F

Easy

1 Green Herb - Inside the middle toilet stall.

View location

|

Show on map

Women's staff restroom - Employee area - Subway B1F

Normal

1 Green Herb - Inside the middle toilet stall.

View location

|

Show on map

Women's staff restroom - Employee area - Subway B1F

Very Hard

1 Green Herb - Inside the middle toilet stall.

View location

|

Show on map

Employee passage - Employee area - Subway B1F

Hard

1 Green Herb - On the ground next to the shelves on the east side of the straight southern passage.

1 Green Herb - On the ground in the corner of the section of the passage that splits off towards the north western rooms.

View location

|

Show on map

Employee passage - Employee area - Subway B1F

Normal

1 Green Herb - On the ground in the middle of the passage where it splits off towards the north western rooms.

1 Green Herb - On the ground in the north corner of the passage.

View location

|

Show on map

Employee passage - Employee area - Subway B1F

Easy

1 Green Herb - On the ground in the corner of the section of the passage that splits off towards the north western rooms.

1 Green Herb - On the ground in the north corner of the passage.

View location

|

Show on map

Control room - Employee area - Subway B1F

Very Hard

1 Green Herb - On the ground in the south west corner of the room.

View location

|

Show on map

Breaker room - Employee area - Subway B1F

Hard

1 Green Herb - Inside the plastic crate on top of the crate shelving in the south west corner of the room.

View location

|

Show on map

Breaker room - Employee area - Subway B1F

Very Hard

1 Green Herb - Inside the plastic crate on top of the crate shelving in the south west corner of the room.

View location

|

Show on map

Stairwell - Employee area - Subway B1F

Easy

1 Green Herb - On the middle landing of the stairs in the north east corner.

View location

|

Show on map

Stairwell - Employee area - Subway B1F

Normal

1 Green Herb - On the middle landing of the stairs in the north east corner.

View location

|

Show on map

Stairwell - Employee area - Subway B1F

Hard

2 Green Herbs - On the middle landing of the stairs in the north east corner.

View location

|

Show on map

Stairwell - Employee area - Subway B1F

Very Hard

1 Green Herb - On the middle landing of the stairs in the north east corner.

View location

|

Show on map

B2F passage - Employee area - Subway B2F

Normal

1 Green Herb -

On the ground in the northern section of the passage, near to the door leading to the

stairwell

.

View location

|

Show on map

B2F passage - Employee area - Subway B2F

Easy

1 Green Herb -

On the ground in the northern section of the passage, near to the door leading to the

refuse dump

.

View location

|

Show on map

B2F passage - Employee area - Subway B2F

Hard

1 Green Herb - On the ground in the north east corner of the flooded passage.

View location

|

Show on map

B2F passage - Employee area - Subway B2F

Very Hard

1 Green Herb - On the ground in the north east corner of the flooded passage.

View location

|

Show on map

Emergency power room - Employee area - Subway B2F

Hard

1 Green Herb - On the floor on the east side of the room.

View location

|

Show on map

Emergency power room - Employee area - Subway B2F

Normal

1 Green Herb - On the floor in the north east corner of the room.

View location

|

Show on map

Pump room - Employee area - Subway B2F

Easy

1 Green Herb -

On the floor in the north east corner of the room. Can only be acquired once the room has been drained of water by using the

Valve Handle

on the water valve on the west side of the room.

View location

|

Show on map

East tunnel - Raccoon City subway - Subway B3F (East tunnel)

Easy

2 Green Herbs - On the ground in the south west corner of the tunnel.

1 Green Herb - On the ground in the north west corner of the tunnel.

1 Green Herb - On the ground between the tracks in the middle of the tunnel, located near the left-hand pillar.

1 Green Herb - On the ground in the north east corner of the tunnel.

View location

|

Show on map

East tunnel - Raccoon City subway - Subway B3F (East tunnel)

Normal

2 Green Herbs - On the ground in the south west corner of the tunnel.

1 Green Herb - On the ground in the north west corner of the tunnel.

1 Green Herb - On the ground in the north east corner of the tunnel.

View location

|

Show on map

East tunnel - Raccoon City subway - Subway B3F (East tunnel)

Hard

1 Green Herb - On the ground in the north west corner of the tunnel.

1 Green Herb - On the ground in the north east corner of the tunnel.

View location

|

Show on map

East tunnel - Raccoon City subway - Subway B3F (East tunnel)

Very Hard

1 Green Herb - On the ground in the north west corner of the tunnel.

1 Green Herb - On the ground in the north east corner of the tunnel.

View location

|

Show on map

Ventilation tower - Subway ventilation tower 1F

Easy

1 Green Herb - On the ground next to the door in the north west corner of the tower.

View location

|

Show on map

Ventilation tower - Subway ventilation tower 1F

Normal

1 Green Herb - On the ground next to the door in the north west corner of the tower.

View location

|

Show on map

Ventilation tower - Subway ventilation tower 1F

Hard

1 Green Herb - On the ground next to the door in the north west corner of the tower.

View location

|

Show on map

Ventilation tower - Subway ventilation tower 1F

Very Hard

1 Green Herb - On the ground next to the door in the north west corner of the tower.

View location

|

Show on map

Underground emergency passage - Employee area - Subway B2F

Easy

1 Green Herb - On the ground next to the door in the north west corner of the passage.

View location

|

Show on map

Underground emergency passage - Employee area - Subway B2F

Normal

1 Green Herb - On the ground next to the door in the north west corner of the passage.

View location

|

Show on map

Underground emergency passage - Employee area - Subway B2F

Hard

1 Green Herb - On the ground next to the door in the north west corner of the passage.

View location

|

Show on map

Underground emergency passage - Employee area - Subway B2F

Very Hard

2 Green Herbs - On the ground next to the door in the north west corner of the passage.

View location

|

Show on map

Ventilation tower - Subway ventilation tower 4F

Easy

1 Green Herb - On the floor in the north west corner of the northern platform.

View location

|

Show on map

Ventilation tower - Subway ventilation tower 4F

Normal

1 Green Herb - On the floor in the north west corner of the northern platform.

View location

|

Show on map

Ventilation tower - Subway ventilation tower 4F

Hard

1 Green Herb - On the floor in the north west corner of the northern platform.

View location

|

Show on map

Ventilation tower - Subway ventilation tower 4F

Very Hard

1 Green Herb - On the floor in the north west corner of the northern platform.

View location

|

Show on map

Ventilation tower - Subway ventilation tower 5F

Easy

1 Green Herb - On the metal crate in the north west corner of the platform.

View location

|

Show on map

Ventilation tower - Subway ventilation tower 5F

Hard

1 Green Herb - On the metal crate in the north west corner of the platform.

View location

|

Show on map

Ventilation tower - Subway ventilation tower 5F

Very Hard

1 Green Herb - On the metal crate in the north west corner of the platform.

View location

|

Show on map

Ventilation tower - Subway ventilation tower 6F

Easy

1 Green Herb - On the ground next to the wall in the south west corner of the platform.

View location

|

Show on map

Ventilation tower - Subway ventilation tower 6F

Normal

2 Green Herbs - On the ground next to the wall in the south west corner of the platform.

View location

|

Show on map

Ventilation tower - Subway ventilation tower 6F

Hard

2 Green Herbs - On the ground next to the wall in the south west corner of the platform.

View location

|

Show on map

Ventilation tower - Subway ventilation tower 6F

Very Hard

2 Green Herbs - On the ground next to the wall in the south west corner of the platform.

View location

|

Show on map

In front of Elephant Restaurant - Area Near the Zoo

Normal

1 Green Herb - On the ground next to the truck in the north east corner of the area.

1 Green Herb - In amongst the plants lining the northwestern side of the area.

View location

|

Show on map

In front of Elephant Restaurant - Area Near the Zoo

Easy

1 Green Herb - In amongst the plants lining the northwestern side of the area.

1 Green Herb - On the grass next to the truck's cabin in the south east corner of the area.

View location

|

Show on map

In front of Elephant Restaurant - Area Near the Zoo

Very Hard

1 Green Herb - In amongst the plants lining the northwestern side of the area.

View location

|

Show on map

Elephant Restaurant - Area Near the Zoo

Easy

1 Green Herb - On the floor in front of the windows in the north west corner of the room.

View location

|

Show on map

Elephant Restaurant - Area Near the Zoo

Normal

1 Green Herb - On the floor in front of the windows in the north west corner of the room.

View location

|

Show on map

Elephant Restaurant - Area Near the Zoo

Hard

1 Green Herb - On the floor in front of the windows in the north west corner of the room.

View location

|

Show on map

Elephant Restaurant - Area Near the Zoo

Very Hard

1 Green Herb - On the floor in front of the windows in the north west corner of the room.

1 Green Herb - On the eastern counter in the south east corner of the kitchen area.

View location

|

Show on map

South Concourse - Raccoon City Zoo

Easy

1 Green Herb -

On the ground next to the body of

Cindy

. Only appears here if you are not playing as her.

2 Green Herbs -

On the ground next to the door to the

service road

in the south west corner of the concourse.

View location

|

Show on map

South Concourse - Raccoon City Zoo

Normal

1 Green Herb -

On the ground next to the body of

Cindy

. Only appears here if you are not playing as her.

1 Green Herb -

On the ground next to the door to the

service road

in the south west corner of the concourse.

View location

|

Show on map

South Concourse - Raccoon City Zoo

Very Hard

1 Green Herb -

On the ground next to the body of

Cindy

. Only appears here if you are not playing as her.

2 Green Herbs -

On the ground next to the door to the

service road

in the south west corner of the concourse.

View location

|

Show on map

North Concourse - Raccoon City Zoo

Easy

1 Green Herb - In the northern area of the concourse, on the ground next to the inner wall near the bench seat.

View location

|

Show on map

North Concourse - Raccoon City Zoo

Hard

1 Green Herb - Underneath the snack cart in the north west corner of the concourse. It must be destroyed to obtain this item.

View location

|

Show on map

Office - Raccoon City Zoo

Very Hard

1 Green Herb -

On the reception desk opposite the door from the

North Concourse

.

1 Green Herb - On top of one of the coloured boxes in the play area in the north east corner of the main office room.

1 Green Herb - On the floor against the wall in the north west area of the main office.

View location

|

Show on map

Office - Raccoon City Zoo

Normal

1 Green Herb - On top of one of the coloured boxes in the play area in the north east corner of the main office room.

1 Green Herb - On the floor against the wall in the north west area of the main office.

View location

|

Show on map

Office - Raccoon City Zoo

Easy

1 Green Herb - On the floor against the wall in the north west area of the main office.

View location

|

Show on map

Office - Raccoon City Zoo

Hard

1 Green Herb - On the floor against the wall in the north west area of the main office.

View location

|

Show on map

Elephant Stage - Raccoon City Zoo

Normal

1 Green Herb - On the ground in the east corner of the outside area in front of the large gates.

View location

|

Show on map

Elephant Stage - Raccoon City Zoo

Hard

1 Green Herb - On the ground in the east corner of the outside area in front of the large gates.

View location

|

Show on map

Elephant Stage - Raccoon City Zoo

Very Hard

1 Green Herb - On the ground in the east corner of the outside area in front of the large gates.

View location

|

Show on map

Terrarium Dome - Raccoon City Zoo

Easy

1 Green Herb - On the ground next to the button information console in the southern area of the dome. You need to crush the mutant fly trap with the crate from above before you can access it.

1 Green Herb - On the ledge halfway up the stairs on the northern side of the room.

View location

|

Show on map

Terrarium Dome - Raccoon City Zoo

Normal

1 Green Herb - On the ground next to the button information console in the southern area of the dome. You need to crush the mutant fly trap with the crate from above before you can access it.

1 Green Herb - On the ledge halfway up the stairs on the northern side of the room.

View location

|

Show on map

Terrarium Dome - Raccoon City Zoo

Hard

1 Green Herb - On the ground next to the button information console in the southern area of the dome. You need to crush the mutant fly trap with the crate from above before you can access it.

View location

|

Show on map

Terrarium Dome - Raccoon City Zoo

Very Hard

2 Green Herbs - On the ledge halfway up the stairs on the northern side of the room.

View location

|

Show on map

Lakeside area - Raccoon City Zoo

Normal

1 Green Herb - On the ground inside the roofed platform on the south west edge of the lake.

View location

|

Show on map

Path in front of Observation Deck - Raccoon City Zoo

Easy

1 Green Herb -

On the ground next to the secret passage leading to the

Front Gate Plaza

on the western side of the area.

1 Green Herb -

On the ground next to the door leading to the

North Concourse

in the south east corner of the area.

View location

|

Show on map

Path in front of Observation Deck - Raccoon City Zoo

Hard

1 Green Herb -

On the ground next to the secret passage leading to the

Front Gate Plaza

on the western side of the area.

1 Green Herb -

On the ground next to the door leading to the

North Concourse

in the south east corner of the area.

View location

|

Show on map

Path in front of Observation Deck - Raccoon City Zoo

Very Hard

1 Green Herb -

On the ground next to the secret passage leading to the

Front Gate Plaza

on the western side of the area.

View location

|

Show on map

Path in front of Observation Deck - Raccoon City Zoo

Normal

1 Green Herb -

On the ground next to the door leading to the

North Concourse

in the south east corner of the area.

View location

|

Show on map

Front Gate Plaza - Raccoon City Zoo

Easy

1 Green Herb - On the ground in the south west corner of the plaza.

View location

|

Show on map

Front Gate Plaza - Raccoon City Zoo

Normal

1 Green Herb - On the ground in the south west corner of the plaza.

View location

|

Show on map

Front Gate Plaza - Raccoon City Zoo

Hard

1 Green Herb - On the ground in the south west corner of the plaza.

View location

|

Show on map

Front Gate Plaza - Raccoon City Zoo

Very Hard

1 Green Herb - On the ground in the south west corner of the plaza.

View location

|

Show on map

Stage - Raccoon City Zoo

Very Hard

1 Green Herb - Next to the pile of sandbags in the south western corner of the area.

View location

|

Show on map

Front Gate - Raccoon City Zoo

Easy

4 Green Herbs - On the ground next to the wall in the southeastern area.

2 Green Herbs - On the ground near the tram on the west side of the area.

View location

|

Show on map

Front Gate - Raccoon City Zoo

Normal

3 Green Herbs - On the ground next to the wall in the southeastern area.

2 Green Herbs - On the ground near the tram on the west side of the area.

View location

|

Show on map

Front Gate - Raccoon City Zoo

Hard

2 Green Herbs - On the ground next to the wall in the southeastern area.

2 Green Herbs - On the ground near the tram on the west side of the area.

View location

|

Show on map

Front Gate - Raccoon City Zoo

Very Hard

1 Green Herb - On the ground next to the wall in the southeastern area.

1 Green Herb - On the ground near the tram on the west side of the area.

1 Green Herb - On the ground in the south east corner of the area.

View location

|

Show on map

Service road - Raccoon City Zoo

Normal

1 Green Herb - On the ground next to the truck parked underneath the bridge.

View location

|

Show on map

Service road - Raccoon City Zoo

Hard

1 Green Herb - On the ground next to the truck parked underneath the bridge.

View location

|

Show on map

Service road - Raccoon City Zoo

Very Hard

1 Green Herb - On the ground next to the truck parked underneath the bridge.

View location

|

Show on map

Show animals' boarding house - Raccoon City Zoo

Normal

1 Green Herb - On the floor next to the control panel in the north west corner o the room.

View location

|

Show on map

Show animals' boarding house - Raccoon City Zoo

Very Hard

1 Green Herb - On the floor next to the control panel in the north west corner o the room.

View location

|

Show on map

Show animals' boarding house - Raccoon City Zoo

Hard

1 Green Herb - On the metal shelves in the north west corner of the room.

View location

|

Show on map

Main Hall - Police station 1F

Easy

2 Green Herbs - On the floor in the south west corner of the room.

View location

|

Show on map

Main Hall - Police station 1F

Normal

2 Green Herbs - On the floor in the south west corner of the room.

View location

|

Show on map

Main Hall - Police station 1F

Hard

1 Green Herb - On the floor in the south west corner of the room.

View location

|

Show on map

Main Hall - Police station 1F

Very Hard

1 Green Herb - On the floor in the south west corner of the room.

View location

|

Show on map

Reception desk - Police station 1F

Very Hard

1 Green Herb - Next to the reception windows on the north side of the room.

1 Green Herb - On the floor next to the locked door in the south west corner of the room.

View location

|

Show on map

Reception desk - Police station 1F

Easy

1 Green Herb - On the floor next to the locked door in the south west corner of the room.

View location

|

Show on map

Reception desk - Police station 1F

Normal

1 Green Herb - On the floor next to the locked door in the south west corner of the room.

View location

|

Show on map

Reception desk - Police station 1F

Hard

1 Green Herb - On the floor next to the locked door in the south west corner of the room.

View location

|

Show on map

Police station front entrance - Police station 1F

Easy

1 Green Herb - On the ground next to the gap in the wall leading to the courtyard area.

2 Green Herbs - On the ground in the south east corner of the front yard.

1 Green Herb - On the ground in the north east corner of the front yard.

1 Green Herb - At the top of the eastern steps of the underpass.

View location

|

Show on map

Police station front entrance - Police station 1F

Normal

1 Green Herb - On the ground next to the gap in the wall leading to the courtyard area.

2 Green Herbs - On the ground in the south east corner of the front yard.

1 Green Herb - At the top of the eastern steps of the underpass.

View location

|

Show on map

Police station front entrance - Police station 1F

Hard

1 Green Herb - On the ground next to the gap in the wall leading to the courtyard area.

2 Green Herbs - On the ground in the south east corner of the front yard.

1 Green Herb - On the ground in the north east corner of the front yard.

View location

|

Show on map

Police station front entrance - Police station 1F

Very Hard

1 Green Herb - On the ground next to the gap in the wall leading to the courtyard area.

2 Green Herbs - On the ground in the south east corner of the front yard.

1 Green Herb - At the top of the eastern steps of the underpass.

View location

|

Show on map

1F lobby - Police station 1F

Easy

1 Green Herb - On the floor in the north west corner of the lobby.

View location

|

Show on map

1F lobby - Police station 1F

Normal

1 Green Herb - On the floor in the north west corner of the lobby.

View location

|

Show on map

1F lobby - Police station 1F

Very Hard

1 Green Herb - On the floor in the north west corner of the lobby.

View location

|

Show on map

1F lobby - Police station 1F

Hard

1 Green Herb -

On the floor in the north east end of the corridor, next to the door leading to the

hallway

.

View location

|

Show on map

Hallway - Police station 1F

Easy

1 Green Herb - In the small alcove on the eastern wall of the hallway.

View location

|

Show on map

Hallway - Police station 1F

Very Hard

1 Green Herb - In the small alcove on the eastern wall of the hallway.

View location

|

Show on map

Hallway - Police station 1F

Hard

2 Green Herbs - On the floor in the north west corner of the hallway.

View location

|

Show on map

East office - Police station 1F

Easy

1 Green Herb - On the floor next to the desk inside the small office in the north east corner.

View location

|

Show on map

East office - Police station 1F

Normal

1 Green Herb - On the floor next to the desk inside the small office in the north east corner.

View location

|

Show on map

East office - Police station 1F

Hard

1 Green Herb - On the floor next to the desk inside the small office in the north east corner.

View location

|

Show on map

East office - Police station 1F

Very Hard

1 Green Herb - On the floor next to the desk inside the small office in the north east corner.

View location

|

Show on map

Emergency stairwell - Police station 2F

Easy

1 Green Herb - On the ground next to the green barrels underneath the steps.

View location

|

Show on map

Emergency stairwell - Police station 2F

Normal

2 Green Herbs - On the ground next to the green barrels underneath the steps.

View location

|

Show on map

Emergency stairwell - Police station 2F

Hard

1 Green Herb - On the ground next to the green barrels underneath the steps.

View location

|

Show on map

Emergency stairwell - Police station 2F

Very Hard

1 Green Herb - On the ground in the south east corner.

View location

|

Show on map

Waiting room - Police station 2F

Easy

1 Green Herb - On the ground in the south end of the eastern corridor outside the waiting room.

View location

|

Show on map

Waiting room - Police station 2F

Normal

1 Green Herb - On the ground in the south end of the eastern corridor outside the waiting room.

View location

|

Show on map

Waiting room - Police station 2F

Very Hard

1 Green Herb - On the ground in the south end of the eastern corridor outside the waiting room.

View location

|

Show on map

Main Hall - Police station 2F

Easy

1 Green Herb - On the floor in the far south west corner of the balcony.

View location

|

Show on map

Main Hall - Police station 2F

Normal

1 Green Herb - On the floor in the far south west corner of the balcony.

View location

|

Show on map

Main Hall - Police station 2F

Hard

1 Green Herb - On the floor in the far south west corner of the balcony.

View location

|

Show on map

Main Hall - Police station 2F

Very Hard

1 Green Herb - On the floor in the far south west corner of the balcony.

View location

|

Show on map

Waiting room - Police station 2F

Easy

1 Green Herb - On the floor in the south west corner of the west side of the waiting room.

View location

|

Show on map

1F East hall - Police station 1F

Very Hard

1 Green Herb -

On the floor near the door leading to the

east office

on the south side of the corridor.

1 Green Herb - On the floor in the north east area of the corridor.

View location

|

Show on map

B1F East hall - Police station B1F

Easy

1 Green Herb - On the floor in the east corner of the corridor.

View location

|

Show on map

B1F East hall - Police station B1F

Normal

1 Green Herb - On the floor in the east corner of the corridor.

View location

|

Show on map

B1F East hall - Police station B1F

Hard

1 Green Herb - On the floor in the east corner of the corridor.

View location

|

Show on map

B1F East hall - Police station B1F

Very Hard

1 Green Herb - On the floor in the east corner of the corridor.

View location

|

Show on map

Autopsy room - Police station B1F

Easy

1 Green Herb - On the floor in the north east corner of the room.

View location

|

Show on map

Autopsy room - Police station B1F

Normal

1 Green Herb - On the floor in the north east corner of the room.

View location

|

Show on map

Autopsy room - Police station B1F

Very Hard

1 Green Herb - On the gurney in the north west corner of the room.

View location

|

Show on map

Substation room - Police station B1F

Easy

1 Green Herb - On the floor in the south west corner of the room.

View location

|

Show on map

Substation room - Police station B1F

Normal

1 Green Herb - On the floor in the south west corner of the room.

View location

|

Show on map

Substation room - Police station B1F

Very Hard

1 Green Herb - On the floor in the south west corner of the room.

View location

|

Show on map

Underground parking garage - Police station B1F

Normal

1 Green Herb - On the ground behind the southern pillar in the middle of the parking garage.

1 Green Herb - On the ground in the north west corner of the parking garage.

View location

|

Show on map

Underground parking garage - Police station B1F

Easy

1 Green Herb - On the ground in the north west corner of the parking garage.

View location

|

Show on map

Underground parking garage - Police station B1F

Very Hard

1 Green Herb - On the ground in the north west corner of the parking garage.

View location

|

Show on map

Kennel - Police station B1F

Easy

1 Green Herb - On the floor next to the stack of crates near the door.

View location

|

Show on map

Kennel - Police station B1F

Hard

1 Green Herb - On the floor next to the stack of crates near the door.

View location

|

Show on map

Parking garage ramp - Police station B1F

Normal

1 Green Herb - On the ground near the police van in the south east corner of the passage.

View location

|

Show on map

Parking garage ramp - Police station B1F

Hard

1 Green Herb - On the ground near the police van in the south east corner of the passage.

View location

|

Show on map

Parking garage ramp - Police station B1F

Very Hard

1 Green Herb - On the ground near the police van in the south east corner of the passage.

View location

|

Show on map

Examination room - Umbrella research facility

Hard

1 Green Herb - On the floor in the south east corner of the room.

View location

|

Show on map

West passage - Umbrella research facility

Easy

1 Green Herb - On the floor in the north west corner of the passage.

View location

|

Show on map

West passage - Umbrella research facility

Normal

1 Green Herb - On the floor in the north west corner of the passage.

View location

|

Show on map

West passage - Umbrella research facility

Hard

1 Green Herb - On the floor in the north west corner of the passage.

View location

|

Show on map

Laser emission room - Umbrella research facility

Easy

1 Green Herb - On the floor in the middle of the northern room.

View location

|

Show on map

Laser emission room - Umbrella research facility

Normal

1 Green Herb - On the floor in the middle of the northern room.

View location

|

Show on map

Laser emission room - Umbrella research facility

Hard

1 Green Herb - On the floor in the middle of the northern room.

View location

|

Show on map

Experimentation chamber - Umbrella research facility

Easy

2 Green Herbs - On the floor in the area next to the stairs in the north east corner of the room.

View location

|

Show on map

Experimentation chamber - Umbrella research facility

Normal

2 Green Herbs - On the floor in the area next to the stairs in the north east corner of the room.

1 Green Herb -

On the floor in the south east corner of the area behind the laser beam wall. You can only access this area once the

Tyrant

has been released from the

observation mezzanine

.

View location

|

Show on map

Experimentation chamber - Umbrella research facility

Hard

2 Green Herbs - On the floor in the area next to the stairs in the north east corner of the room.

View location

|

Show on map

Central passage 4 - Umbrella research facility

Easy

1 Green Herb - On the floor on the east side of the passage.

View location

|

Show on map

Central passage 4 - Umbrella research facility

Normal

1 Green Herb - On the floor on the east side of the passage.

View location

|

Show on map

Central passage 4 - Umbrella research facility

Very Hard

1 Green Herb - On the floor on the east side of the passage.

View location

|

Show on map

Central passage 1 - Umbrella research facility

Very Hard

1 Green Herb - On the floor near the flames in the northern half of the passage.

View location

|

Show on map

East passage 2 - Umbrella research facility

Easy

2 Green Herbs - On the floor in the north west area of the passage.

View location

|

Show on map

East passage 2 - Umbrella research facility

Normal

2 Green Herbs - On the floor in the north west area of the passage.

View location

|

Show on map

East passage 2 - Umbrella research facility

Hard

2 Green Herbs - On the floor in the north west area of the passage.

View location

|

Show on map

East passage 2 - Umbrella research facility

Very Hard

1 Green Herb - On the floor in the north west area of the passage.

View location

|

Show on map

Nursery - Umbrella research facility

Very Hard

1 Green Herb - On the control panel in the north west area of the room.

View location

|

Show on map

Special research room - Umbrella research facility

Normal

1 Green Herb - On the floor in the north east corner of the room.

View location

|

Show on map

Special research room - Umbrella research facility

Hard

1 Green Herb - On the floor in the north east corner of the room.

View location

|

Show on map

Special research room - Umbrella research facility

Very Hard

1 Green Herb - On the floor in the north east corner of the room.

View location

|

Show on map

Passage in front of elevator - Umbrella research facility

Easy

1 Green Herb - On the floor in the north east corner of the passage.

View location

|

Show on map

Passage in front of elevator - Umbrella research facility

Normal

1 Green Herb - On the floor in the north east corner of the passage.

View location

|

Show on map

Passage in front of elevator - Umbrella research facility

Hard

1 Green Herb - On the floor near the giant ventilation shaft in the middle of the passage.

View location

|

Show on map

Passage in front of elevator - Umbrella research facility

Very Hard

1 Green Herb - On the floor near the giant ventilation shaft in the middle of the passage.

View location

|

Show on map

Maintenance room - Water treatment plant - Basement 1F

Easy

1 Green Herb - On the floor in the south west corner of the room.

View location

|

Show on map

Maintenance room - Water treatment plant - Basement 1F

Normal

1 Green Herb - On the floor in the south west corner of the room.

View location

|

Show on map

Maintenance room - Water treatment plant - Basement 1F

Hard

1 Green Herb - On the floor in the south west corner of the room.

View location

|

Show on map

Maintenance room - Water treatment plant - Basement 1F

Very Hard

1 Green Herb - On the floor in the south west corner of the room.

View location

|

Show on map

Emergency materials storage - Water treatment plant - Basement 2F

Easy

1 Green Herb - On the wooden crates at the back of the northern area you can climb into.

View location

|

Show on map

Emergency materials storage - Water treatment plant - Basement 2F

Normal

1 Green Herb - On the wooden crates at the back of the northern area you can climb into.

View location

|

Show on map

Emergency materials storage - Water treatment plant - Basement 2F

Hard

1 Green Herb - On the wooden crates at the back of the northern area you can climb into.

View location

|

Show on map

Old waterway - Water treatment plant - Basement 1F

Easy

1 Green Herb - On the ground at the split in the path leading to the northern offshoot of the circular path.

1 Green Herb - On the ground in the wooden passage area in the north eastern corner of the circular path.

View location

|

Show on map

Old waterway - Water treatment plant - Basement 1F

Normal

1 Green Herb - On the ground at the split in the path leading to the northern offshoot of the circular path.

View location

|

Show on map

Old waterway - Water treatment plant - Basement 1F

Very Hard

1 Green Herb - On the ground at the split in the path leading to the northern offshoot of the circular path.

View location

|

Show on map

Old waterway - Water treatment plant - Basement 1F

Hard

1 Green Herb - On the ground in the north western area of the circular path.

View location

|

Show on map

North waterway - Water treatment plant - Basement 1F

Easy

2 Green Herbs - On the floor in the north corner of the upper walkway.

View location

|

Show on map

North waterway - Water treatment plant - Basement 1F

Normal

2 Green Herbs - On the floor in the north corner of the upper walkway.

View location

|

Show on map

North waterway - Water treatment plant - Basement 1F

Hard

2 Green Herbs - On the floor in the north corner of the upper walkway.

View location

|

Show on map

Main street South - Urban area downtown

Normal

1 Green Herb - Next to the crashed car in the south east corner of the street.

View location

|

Show on map

Main street South - Urban area downtown

Very Hard

1 Green Herb - Next to the crashed car in the south east corner of the street.

View location

|

Show on map

Inside the helicopter - Urban area downtown

Hard

1 Green Herb - On the middle seats on the east side of the helicopter.

View location

|

Show on map

Footbridge - Urban area downtown

Easy

1 Green Herb - On the ground of the steps in the south east corner.

View location

|

Show on map

Footbridge - Urban area downtown

Normal

1 Green Herb - On the ground of the steps in the south east corner.

View location

|

Show on map

Behind the residential area - Urban area downtown

Hard

1 Green Herb -

Behind the open window next to the steps leading to the

footbridge

on the eastern side of the area.

1 Green Herb - On the ground next to the car parked in the middle of the northern end of the street.

1 Green Herb -

On the ground in front of the car in the west side alley with the door leading to the

office building warehouse

.

View location

|

Show on map

Behind the residential area - Urban area downtown

Easy

1 Green Herb - On the ground next to the car parked in the middle of the northern end of the street.

View location

|

Show on map

Behind the residential area - Urban area downtown

Normal

1 Green Herb - On the ground next to the car parked in the middle of the northern end of the street.

View location

|

Show on map

Behind the residential area - Urban area downtown

Very Hard

1 Green Herb - On the ground next to the car parked in the middle of the northern end of the street.

1 Green Herb -

On the ground in front of the car in the west side alley with the door leading to the

office building warehouse

.

1 Green Herb - On the ground next to the car blocking the path at the southern end of the street.

View location

|

Show on map

Office building warehouse - Urban area downtown

Easy

1 Green Herb - On the shelves in the south east corner of the room.

View location

|

Show on map

Office building warehouse - Urban area downtown

Normal

1 Green Herb - On the shelves in the south east corner of the room.

View location

|

Show on map

Office building warehouse - Urban area downtown

Very Hard

1 Green Herb - On the shelves in the south east corner of the room.

1 Green Herb - On the stack of boxes in the south west corner of the room.

View location

|

Show on map

Under the highway overpass - Urban area downtown

Easy

2 Green Herbs - On the ground in the south east area.

View location

|

Show on map

Under the highway overpass - Urban area downtown

Normal

2 Green Herbs - On the ground in the south east area.

View location

|

Show on map

Under the highway overpass - Urban area downtown

Hard

1 Green Herb - On the ground in the south east area.

View location

|

Show on map

Under the highway overpass - Urban area downtown

Very Hard

1 Green Herb - On the ground in the south east area.

View location

|

Show on map

Construction site - Urban area downtown

Very Hard

1 Green Herb - On the ground next to the digger on the east side of the room.

View location

|

Show on map

In front of Apple Inn - Urban area downtown

Very Hard

1 Green Herb - On the path next to the construction barricades in the middle of the area.

1 Green Herb - On the ground in front of the deli in the north east side of the area.

View location

|

Show on map

In front of Apple Inn - Urban area downtown

Easy

1 Green Herb - On the ground in front of the deli in the north east side of the area.

View location

|

Show on map

In front of Apple Inn - Urban area downtown

Normal

1 Green Herb - On the ground in front of the deli in the north east side of the area.

View location

|

Show on map

In front of Apple Inn - Urban area downtown

Hard

1 Green Herb - On the ground in front of the deli in the north east side of the area.

View location

|

Show on map

Tunnel - Urban area downtown

Easy

1 Green Herb - On the ground in the north east corner of the tunnel.

1 Green Herb - On the ground in the south east corner of the tunnel.

View location

|

Show on map

Tunnel - Urban area downtown

Hard

1 Green Herb - On the ground in the north east corner of the tunnel.

1 Green Herb - On the ground in the south east corner of the tunnel.

View location

|

Show on map

Tunnel - Urban area downtown

Normal

1 Green Herb - On the ground in the south east corner of the tunnel.

View location

|

Show on map

Tunnel - Urban area downtown

Very Hard

1 Green Herb - On the ground in the south east corner of the tunnel.

View location

|

Show on map

Apple Inn front lobby - Urban area downtown

Easy

1 Green Herb - On the floor in the south east corner of the room.

View location

|

Show on map

Apple Inn front lobby - Urban area downtown

Normal

1 Green Herb - On the floor in the south east corner of the room.

View location

|

Show on map

Apple Inn front lobby - Urban area downtown

Hard

1 Green Herb - On the floor in the south east corner of the room.

View location

|

Show on map

Office building 1F - Urban area downtown

Easy

1 Green Herb - On the floor inside the area with the stairwell. This area becomes available once the countdown for the helicopter has expired.

View location

|

Show on map

Office building 1F - Urban area downtown

Normal

1 Green Herb - On the floor inside the area with the stairwell. This area becomes available once the countdown for the helicopter has expired.

View location

|

Show on map

Office building 1F - Urban area downtown

Hard

1 Green Herb - On the floor inside the area with the stairwell. This area becomes available once the countdown for the helicopter has expired.

View location

|

Show on map

Rooftop - Urban area highway

Easy

1 Green Herb - On the ground in the south east corner of the rooftop.

View location

|

Show on map

Rooftop - Urban area highway

Normal

1 Green Herb - On the ground in the south east corner of the rooftop.

View location

|

Show on map

Rooftop - Urban area highway

Hard

1 Green Herb - On the ground in the south east corner of the rooftop.

View location

|

Show on map

Rooftop - Urban area highway

Very Hard

1 Green Herb - On the ground in the south east corner of the rooftop.

View location

|

Show on map

Elevated highway - Urban area highway

Easy

1 Green Herb - On the ground next to the construction barriers in the south east area of the highway.

1 Green Herb - On the ground next to the wall in the south west area of the highway.

View location

|

Show on map

Elevated highway - Urban area highway

Normal

1 Green Herb - On the ground next to the construction barriers in the south east area of the highway.

1 Green Herb - On the ground next to the wall in the south west area of the highway.

View location

|

Show on map

Elevated highway - Urban area highway

Hard

1 Green Herb - On the ground next to the construction barriers in the south east area of the highway.

1 Green Herb - On the ground next to the wall in the south west area of the highway.

View location

|

Show on map

Elevated highway - Urban area highway

Very Hard

1 Green Herb - On the ground next to the construction barriers in the south east area of the highway.

1 Green Herb - On the ground next to the wall in the south west area of the highway.

View location

|

Show on map