Psychostimulants
(Resident Evil 7 Biohazard)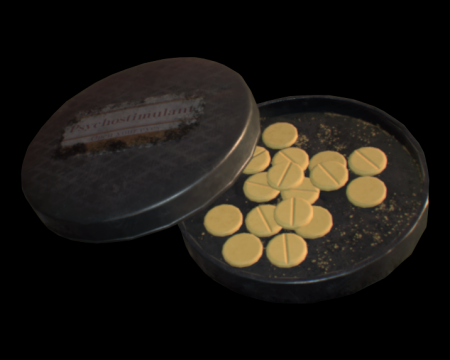 Medicine that temporarily sharpens the senses, making item detection easier.
A tin of small yellow tablets.

Consuming these will heighten your character's ability to find nearby items. When under the influence of these pills, items that can be picked up will appear as dots in your field of vision. The effects of these pills only lasts a couple of minutes.
| | |
| --- | --- |
| Category | Item (Consumable) |
Statistics
| Game mode | Sum total |
| --- | --- |
| Easy | 8 |
| Normal | 8 |
| Madhouse | 7 |
Location
Main Hall - Main House 1F

Madhouse

1 × Psychostimulants - On the table in the middle of the room.

View location

|

Show on map

Drawing Room - Main House 1F

Easy

1 × Psychostimulants - On the coffee table in the middle of the room.

View location

|

Show on map

Drawing Room - Main House 1F

Normal

1 × Psychostimulants - On the coffee table in the middle of the room.

View location

|

Show on map

Meat Storage - Processing Area

Madhouse

1 × Psychostimulants - On top of the closed freezer in the north west corner of the room.

View location

|

Show on map

Back Passageway - Processing Area

Easy

1 × Psychostimulants - On the cardboard boxes next to the door on the west side of the passage.

View location

|

Show on map

Back Passageway - Processing Area

Normal

1 × Psychostimulants - On the cardboard boxes next to the door on the west side of the passage.

View location

|

Show on map

Dilapidated Room - Old House 1F

Easy

1 × Psychostimulants - Inside the crawlspace that runs underneath this room. This is located inside a breakable crate.

View location

|

Show on map

Dilapidated Room - Old House 1F

Normal

1 × Psychostimulants - Inside the crawlspace that runs underneath this room. This is located inside a breakable crate.

View location

|

Show on map

Walkway - Old House 1F

Easy

1 × Psychostimulants - On the small white shelves in the south east corner.

View location

|

Show on map

Walkway - Old House 1F

Normal

1 × Psychostimulants - On the small white shelves in the south east corner.

View location

|

Show on map

Old Corridor - Old House (West) 1F

Easy

1 × Psychostimulants - On the couch at the west end of the corridor.

View location

|

Show on map

Old Corridor - Old House (West) 1F

Normal

1 × Psychostimulants - On the couch at the west end of the corridor.

View location

|

Show on map

Carcass Room - Testing Area 1F

Madhouse

1 × Psychostimulants - On top of the wooden pallet on top of the barrels in the south west corner of the room.

View location

|

Show on map

Shed 1F - Boat House (Storage) 1F

Easy

1 × Psychostimulants - On the metal bench opposite the entrance.

View location

|

Show on map

Shed 1F - Boat House (Storage) 1F

Normal

1 × Psychostimulants - On the metal bench opposite the entrance.

View location

|

Show on map

Storage 2F - Boat House (Storage) 2F

Madhouse

1 × Psychostimulants - In the south east corner of the room.

View location

|

Show on map

Storage - Wrecked Ship 1F

Madhouse

1 × Psychostimulants - On the metal shelves on the north side of the room.

View location

|

Show on map

Bridge - Wrecked Ship 4F

Madhouse

1 × Psychostimulants - On the desk on the southern wall, opposite the row of main consoles and security monitor.

View location

|

Show on map

Sick Bay - Wrecked Ship 3F

Madhouse

1 × Psychostimulants - Inside the medicine cabinet on the southern wall.

View location

|

Show on map

Mine Office - Swamp

Easy

1 × Psychostimulants - On the small shelving unit with the fan in the middle corridor section of the cabin.

View location

|

Show on map

Mine Office - Swamp

Normal

1 × Psychostimulants - On the small shelving unit with the fan in the middle corridor section of the cabin.

View location

|

Show on map