Green Herb
(Resident Evil 2)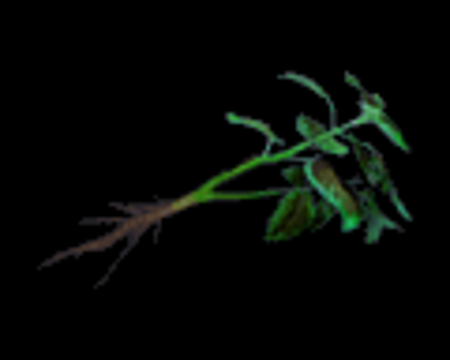 Special herbs that grow in the Raccoon City region.
One of three different herbs found growing in pots around the R.P.D. building and surrounding area.
The most useful of the three herbs you can find. The Green Herb by itself will restore a small amount of health, but can be enhanced by combining it with another Green Herb to create the
Mixed Herb (G+G)
which will double its potency. It can also be combined with the
Blue Herb
to create the
Mixed Herb (G+B)
or combined with the
Red Herb
to create
Mixed Herb (G+R)
.
| | |
| --- | --- |
| Category | Item (Recovery item) |
Statistics
| Game mode | Sum total |
| --- | --- |
| Leon A (Normal) | 26 |
| Leon B (Normal) | 29 |
| Claire A (Normal) | 25 |
| Claire B (Normal) | 30 |
Location
R.P.D. Courtyard - City Area 1

Leon A (Normal)

1 Green Herb - In the shrubbery in the north east corner of the courtyard.

View location

|

Show on map

R.P.D. Courtyard - City Area 1

Leon B (Normal)

1 Green Herb - In the shrubbery in the north east corner of the courtyard.

View location

|

Show on map

R.P.D. Courtyard - City Area 1

Claire A (Normal)

1 Green Herb - In the shrubbery in the north east corner of the courtyard.

View location

|

Show on map

R.P.D. Courtyard - City Area 1

Claire B (Normal)

1 Green Herb - In the shrubbery in the north east corner of the courtyard.

View location

|

Show on map

'L' Corridor - Police Station 1F

Leon A (Normal)

1 Green Herb - On the floor next to the north door.

View location

|

Show on map

'L' Corridor - Police Station 1F

Leon B (Normal)

1 Green Herb - On the floor next to the north door.

View location

|

Show on map

'L' Corridor - Police Station 1F

Claire A (Normal)

1 Green Herb - On the floor next to the north door.

View location

|

Show on map

'L' Corridor - Police Station 1F

Claire B (Normal)

1 Green Herb - On the floor next to the north door.

View location

|

Show on map

West Stairway 1F - Police Station 1F

Leon A (Normal)

2 Green Herbs - On the floor underneath the stairs.

View location

|

Show on map

West Stairway 1F - Police Station 1F

Leon B (Normal)

2 Green Herbs - On the floor underneath the stairs.

View location

|

Show on map

West Stairway 1F - Police Station 1F

Claire A (Normal)

2 Green Herbs - On the floor underneath the stairs.

View location

|

Show on map

West Stairway 1F - Police Station 1F

Claire B (Normal)

2 Green Herbs - On the floor underneath the stairs.

View location

|

Show on map

East Stairway 1F - Police Station 1F

Leon A (Normal)

2 Green Herbs - On the ground next to the door.

View location

|

Show on map

East Stairway 1F - Police Station 1F

Leon B (Normal)

2 Green Herbs - On the ground next to the door.

View location

|

Show on map

East Stairway 1F - Police Station 1F

Claire A (Normal)

2 Green Herbs - On the ground next to the door.

View location

|

Show on map

East Stairway 1F - Police Station 1F

Claire B (Normal)

2 Green Herbs - On the ground next to the door.

View location

|

Show on map

Payphone Corridor - Police Station 1F

Leon A (Normal)

1 Green Herb - On the floor next to the vending machines.

View location

|

Show on map

Payphone Corridor - Police Station 1F

Leon B (Normal)

1 Green Herb - On the floor next to the vending machines.

View location

|

Show on map

Payphone Corridor - Police Station 1F

Claire A (Normal)

1 Green Herb - On the floor next to the vending machines.

View location

|

Show on map

Payphone Corridor - Police Station 1F

Claire B (Normal)

1 Green Herb - On the floor next to the vending machines.

View location

|

Show on map

Main Office - Police Station 1F

Leon A (Normal)

2 Green Herbs - On the floor behind the desk in the small office.

View location

|

Show on map

Main Office - Police Station 1F

Leon B (Normal)

2 Green Herbs - On the floor behind the desk in the small office.

View location

|

Show on map

Main Office - Police Station 1F

Claire A (Normal)

2 Green Herbs - On the floor behind the desk in the small office.

View location

|

Show on map

Main Office - Police Station 1F

Claire B (Normal)

2 Green Herbs - On the floor behind the desk in the small office.

View location

|

Show on map

East Stairway 2F - Police Station 2F

Leon A (Normal)

1 Green Herb - On the floor of the balcony.

View location

|

Show on map

East Stairway 2F - Police Station 2F

Leon B (Normal)

1 Green Herb - On the floor of the balcony.

View location

|

Show on map

East Stairway 2F - Police Station 2F

Claire A (Normal)

1 Green Herb - On the floor of the balcony.

View location

|

Show on map

East Stairway 2F - Police Station 2F

Claire B (Normal)

1 Green Herb - On the floor of the balcony.

View location

|

Show on map

Watchman's Corridor - Police Station 1F

Leon A (Normal)

2 Green Herbs - On the floor next to the entrance door.

View location

|

Show on map

Watchman's Corridor - Police Station 1F

Leon B (Normal)

2 Green Herbs - On the floor next to the entrance door.

View location

|

Show on map

Watchman's Corridor - Police Station 1F

Claire A (Normal)

2 Green Herbs - On the floor next to the entrance door.

View location

|

Show on map

Watchman's Corridor - Police Station 1F

Claire B (Normal)

2 Green Herbs - On the floor next to the entrance door.

View location

|

Show on map

Information Office - Police Station 1F

Leon A (Normal)

1 Green Herb - On the floor in the north west corner of the room.

View location

|

Show on map

Information Office - Police Station 1F

Leon B (Normal)

1 Green Herb - On the floor in the north west corner of the room.

View location

|

Show on map

Information Office - Police Station 1F

Claire A (Normal)

1 Green Herb - On the floor in the north west corner of the room.

View location

|

Show on map

Information Office - Police Station 1F

Claire B (Normal)

1 Green Herb - On the floor in the north west corner of the room.

View location

|

Show on map

Generator Room - Police Station B1

Leon A (Normal)

1 Green Herb - On the floor in the south west corner of the room.

View location

|

Show on map

Generator Room - Police Station B1

Leon B (Normal)

1 Green Herb - On the floor in the south west corner of the room.

View location

|

Show on map

Generator Room - Police Station B1

Claire A (Normal)

1 Green Herb - On the floor in the south west corner of the room.

View location

|

Show on map

Generator Room - Police Station B1

Claire B (Normal)

1 Green Herb - On the floor in the south west corner of the room.

View location

|

Show on map

Parking Lot - Police Station B1

Leon A (Normal)

1 Green Herb - On the ground in the north west corner.

View location

|

Show on map

Parking Lot - Police Station B1

Leon B (Normal)

1 Green Herb - On the ground in the north west corner.

View location

|

Show on map

Parking Lot - Police Station B1

Claire A (Normal)

1 Green Herb - On the ground in the north west corner.

View location

|

Show on map

Parking Lot - Police Station B1

Claire B (Normal)

1 Green Herb - On the ground in the north west corner.

View location

|

Show on map

Control Room 1 - Sewer B1

Leon B (Normal)

3 Green Herbs - On the floor in the south east corner of the room.

View location

|

Show on map

Control Room 2 - Sewer B1

Claire B (Normal)

3 Green Herbs - On the floor along the northern wall.

View location

|

Show on map

Water Pool - Sewer B2

Leon A (Normal)

2 Green Herbs - On the floor on the south side of the water pool.

View location

|

Show on map

Water Pool - Sewer B2

Leon B (Normal)

2 Green Herbs - On the floor on the south side of the water pool.

View location

|

Show on map

Water Pool - Sewer B2

Claire A (Normal)

2 Green Herbs - On the floor on the south side of the water pool.

View location

|

Show on map

Water Pool - Sewer B2

Claire B (Normal)

2 Green Herbs - On the floor on the south side of the water pool.

View location

|

Show on map

Factory Tunnel 2 - Vacant Factory B1

Leon A (Normal)

2 Green Herbs - On the floor at the end of the east branch of the passage.

View location

|

Show on map

Factory Tunnel 2 - Vacant Factory B1

Claire A (Normal)

2 Green Herbs - On the floor at the end of the east branch of the passage.

View location

|

Show on map

Factory Tunnel 2 - Vacant Factory B1

Leon B (Normal)

1 Green Herb - On the floor at the end of the east branch of the passage.

View location

|

Show on map

Factory Tunnel 2 - Vacant Factory B1

Claire B (Normal)

1 Green Herb - On the floor at the end of the east branch of the passage.

View location

|

Show on map

Security Room - Laboratory B4

Leon A (Normal)

1 Green Herb - On top of the file cabinet in the north east corner of the room.

View location

|

Show on map

Security Room - Laboratory B4

Claire A (Normal)

1 Green Herb - On top of the file cabinet in the north east corner of the room.

View location

|

Show on map

Security Room - Laboratory B4

Claire B (Normal)

1 Green Herb - On top of the file cabinet in the north east corner of the room.

View location

|

Show on map

Central Corridor - Laboratory B5

Leon A (Normal)

3 Green Herbs - On the floor next to the metal gateway shutter.

View location

|

Show on map

Central Corridor - Laboratory B5

Leon B (Normal)

3 Green Herbs - On the floor next to the metal gateway shutter.

View location

|

Show on map

Central Corridor - Laboratory B5

Claire A (Normal)

3 Green Herbs - On the floor next to the metal gateway shutter.

View location

|

Show on map

Central Corridor - Laboratory B5

Claire B (Normal)

3 Green Herbs - On the floor next to the metal gateway shutter.

View location

|

Show on map

There are no locations to show for this mode. The following modes are applicable: