Flame Rounds
(Resident Evil 2 Remake)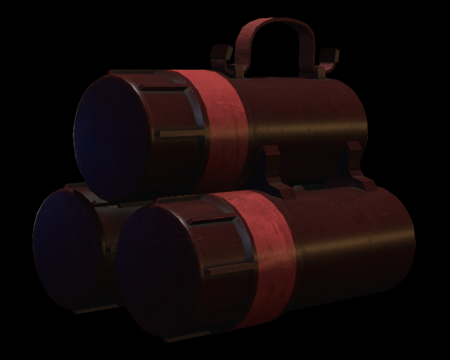 Ammo for a grenade launcher. The napalm inside ignites on impact, setting the surrounding area on fire.
A container of grenade shells containing a highly flammable chemical. These shells are particularly useful against enemies susceptible to fire, such as the
Ivies
.
This ammunition can be used with the
GM 79
.
Statistics
| Game mode | Occurrences | Sum total |
| --- | --- | --- |
| Claire (Standard) | 14 | 27 |
| Claire [2nd] (Standard) | 15 | 29 |
| Claire (Hardcore) | 14 | 27 |
| Claire [2nd] (Hardcore) | 15 | 29 |
Location
Break Room Hallway - Police Station 1F

Claire [2nd] (Standard)

Flame Rounds (1×2) - On the metal shelves above the stairs in the north west corner of the hallway.

View location

|

Show on map

Break Room Hallway - Police Station 1F

Claire [2nd] (Hardcore)

Flame Rounds (1×2) - On the metal shelves above the stairs in the north west corner of the hallway.

View location

|

Show on map

Men's Locker Room - Police Station 2F

Claire (Standard)

Flame Rounds (1×2) - Inside the left locker in the north east corner of the locker room.

View location

|

Show on map

Men's Locker Room - Police Station 2F

Claire [2nd] (Standard)

Flame Rounds (1×2) - Inside the left locker in the north east corner of the locker room.

View location

|

Show on map

Men's Locker Room - Police Station 2F

Claire (Hardcore)

Flame Rounds (1×2) - Inside the left locker in the north east corner of the locker room.

View location

|

Show on map

Men's Locker Room - Police Station 2F

Claire [2nd] (Hardcore)

Flame Rounds (1×2) - Inside the left locker in the north east corner of the locker room.

View location

|

Show on map

Safety Deposit Room - Police Station 1F

Claire (Standard)

Flame Rounds (1×2) -

Inside the locker labelled "208". You need to use the

Spare Key

for the "2" on the control panel.

Flame Rounds (1×2) -

Inside the weapons locker at the back of the room. You need to use the

Weapons Locker Key Card

to open it.

View location

|

Show on map

Safety Deposit Room - Police Station 1F

Claire [2nd] (Standard)

Flame Rounds (1×2) -

Inside the locker labelled "208". You need to use the

Spare Key

for the "2" on the control panel.

Flame Rounds (1×2) -

Inside the weapons locker at the back of the room. You need to use the

Weapons Locker Key Card

to open it.

View location

|

Show on map

Safety Deposit Room - Police Station 1F

Claire (Hardcore)

Flame Rounds (1×2) -

Inside the locker labelled "208". You need to use the

Spare Key

for the "2" on the control panel.

Flame Rounds (1×2) -

Inside the weapons locker at the back of the room. You need to use the

Weapons Locker Key Card

to open it.

View location

|

Show on map

Safety Deposit Room - Police Station 1F

Claire [2nd] (Hardcore)

Flame Rounds (1×2) -

Inside the locker labelled "208". You need to use the

Spare Key

for the "2" on the control panel.

Flame Rounds (1×2) -

Inside the weapons locker at the back of the room. You need to use the

Weapons Locker Key Card

to open it.

View location

|

Show on map

West Hallway 2F - Police Station 2F

Claire (Standard)

Flame Rounds (1×2) - On the couch in the northern seating area.

View location

|

Show on map

West Hallway 2F - Police Station 2F

Claire [2nd] (Standard)

Flame Rounds (1×2) - On the couch in the northern seating area.

View location

|

Show on map

West Hallway 2F - Police Station 2F

Claire (Hardcore)

Flame Rounds (1×2) - On the couch in the northern seating area.

View location

|

Show on map

West Hallway 2F - Police Station 2F

Claire [2nd] (Hardcore)

Flame Rounds (1×2) - On the couch in the northern seating area.

View location

|

Show on map

S.T.A.R.S. Office - Police Station 2F

Claire (Standard)

Flame Rounds (1×2) - On the desk on the north eastern area of the room.

View location

|

Show on map

S.T.A.R.S. Office - Police Station 2F

Claire [2nd] (Standard)

Flame Rounds (1×2) - On the desk on the north eastern area of the room.

View location

|

Show on map

S.T.A.R.S. Office - Police Station 2F

Claire (Hardcore)

Flame Rounds (1×2) - On the desk on the north eastern area of the room.

View location

|

Show on map

S.T.A.R.S. Office - Police Station 2F

Claire [2nd] (Hardcore)

Flame Rounds (1×2) - On the desk on the north eastern area of the room.

View location

|

Show on map

Men's Locker Room - Police Station 2F

Claire (Standard)

Flame Rounds (1×2) -

Inside the right locker on the north side of the locker room. The padlock combination can be found written on the whiteboard in the

Supply Room

.

View location

|

Show on map

Men's Locker Room - Police Station 2F

Claire [2nd] (Standard)

Flame Rounds (1×2) -

Inside the right locker on the north side of the locker room. The padlock combination can be found written on the whiteboard in the

Supply Room

.

View location

|

Show on map

Men's Locker Room - Police Station 2F

Claire (Hardcore)

Flame Rounds (1×2) -

Inside the right locker on the north side of the locker room. The padlock combination can be found written on the whiteboard in the

Supply Room

.

View location

|

Show on map

Men's Locker Room - Police Station 2F

Claire [2nd] (Hardcore)

Flame Rounds (1×2) -

Inside the right locker on the north side of the locker room. The padlock combination can be found written on the whiteboard in the

Supply Room

.

View location

|

Show on map

Secret Room - Underground Facility Upper

Claire (Standard)

Flame Rounds (1×2) - On the cabinet on the west side of the room.

View location

|

Show on map

Secret Room - Underground Facility Upper

Claire [2nd] (Standard)

Flame Rounds (1×2) - On the cabinet on the west side of the room.

View location

|

Show on map

Secret Room - Underground Facility Upper

Claire (Hardcore)

Flame Rounds (1×2) - On the cabinet on the west side of the room.

View location

|

Show on map

Secret Room - Underground Facility Upper

Claire [2nd] (Hardcore)

Flame Rounds (1×2) - On the cabinet on the west side of the room.

View location

|

Show on map

Firing Range - Police Station B1

Claire (Standard)

Flame Rounds (1×2) - On the small trolley in the south east corner of the target area.

View location

|

Show on map

Firing Range - Police Station B1

Claire [2nd] (Standard)

Flame Rounds (1×2) - On the small trolley in the south east corner of the target area.

View location

|

Show on map

Firing Range - Police Station B1

Claire (Hardcore)

Flame Rounds (1×2) - On the small trolley in the south east corner of the target area.

View location

|

Show on map

Firing Range - Police Station B1

Claire [2nd] (Hardcore)

Flame Rounds (1×2) - On the small trolley in the south east corner of the target area.

View location

|

Show on map

East Storage Room - Police Station 3F

Claire (Standard)

Flame Rounds (1×2) - On the metal shelves in the south east corner of the room.

View location

|

Show on map

East Storage Room - Police Station 3F

Claire [2nd] (Standard)

Flame Rounds (1×2) - On the metal shelves in the south east corner of the room.

View location

|

Show on map

East Storage Room - Police Station 3F

Claire (Hardcore)

Flame Rounds (1×2) - On the metal shelves in the south east corner of the room.

View location

|

Show on map

East Storage Room - Police Station 3F

Claire [2nd] (Hardcore)

Flame Rounds (1×2) - On the metal shelves in the south east corner of the room.

View location

|

Show on map

Control Room - Sewers Upper

Claire (Standard)

Flame Rounds (1×1) - On a chair in the south east corner of the room.

View location

|

Show on map

Control Room - Sewers Upper

Claire [2nd] (Standard)

Flame Rounds (1×1) - On a chair in the south east corner of the room.

View location

|

Show on map

Control Room - Sewers Upper

Claire (Hardcore)

Flame Rounds (1×1) - On a chair in the south east corner of the room.

View location

|

Show on map

Control Room - Sewers Upper

Claire [2nd] (Hardcore)

Flame Rounds (1×1) - On a chair in the south east corner of the room.

View location

|

Show on map

Nap Room - Laboratory B1

Claire (Standard)

Flame Rounds (1×1) - On the table on the south side of the room.

View location

|

Show on map

Nap Room - Laboratory B1

Claire [2nd] (Standard)

Flame Rounds (1×1) - On the table on the south side of the room.

View location

|

Show on map

Nap Room - Laboratory B1

Claire (Hardcore)

Flame Rounds (1×1) - On the table on the south side of the room.

View location

|

Show on map

Nap Room - Laboratory B1

Claire [2nd] (Hardcore)

Flame Rounds (1×1) - On the table on the south side of the room.

View location

|

Show on map

Lounge - Laboratory B2 (East)

Claire (Standard)

Flame Rounds (1×3) - On the seats on the north side of the main breakout area.

View location

|

Show on map

Lounge - Laboratory B2 (East)

Claire [2nd] (Standard)

Flame Rounds (1×3) - On the seats on the north side of the main breakout area.

View location

|

Show on map

Lounge - Laboratory B2 (East)

Claire (Hardcore)

Flame Rounds (1×3) - On the seats on the north side of the main breakout area.

View location

|

Show on map

Lounge - Laboratory B2 (East)

Claire [2nd] (Hardcore)

Flame Rounds (1×3) - On the seats on the north side of the main breakout area.

View location

|

Show on map

Server Room - Laboratory B2 (East)

Claire (Standard)

Flame Rounds (1×3) - On the metal shelves in the north west corner of the room.

View location

|

Show on map

Server Room - Laboratory B2 (East)

Claire [2nd] (Standard)

Flame Rounds (1×3) - On the metal shelves in the north west corner of the room.

View location

|

Show on map

Server Room - Laboratory B2 (East)

Claire (Hardcore)

Flame Rounds (1×3) - On the metal shelves in the north west corner of the room.

View location

|

Show on map

Server Room - Laboratory B2 (East)

Claire [2nd] (Hardcore)

Flame Rounds (1×3) - On the metal shelves in the north west corner of the room.

View location

|

Show on map

Security Room - Laboratory B1

Claire (Standard)

Flame Rounds (1×1) - On the bench in the middle of the room.

View location

|

Show on map

Security Room - Laboratory B1

Claire [2nd] (Standard)

Flame Rounds (1×1) - On the bench in the middle of the room.

View location

|

Show on map

Security Room - Laboratory B1

Claire (Hardcore)

Flame Rounds (1×1) - On the bench in the middle of the room.

View location

|

Show on map

Security Room - Laboratory B1

Claire [2nd] (Hardcore)

Flame Rounds (1×1) - On the bench in the middle of the room.

View location

|

Show on map

There are no locations to show for this mode. The following modes are applicable: