Blue Herb
(Resident Evil Outbreak)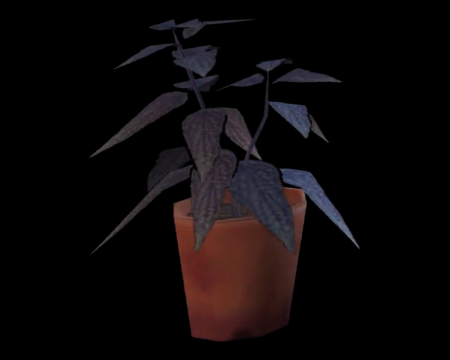 An herb that grows wild in this area.
One of three different herbs found growing in pots in and around Raccoon City.
This herb can be used to neutralize the effect of any poison, making it very useful after encountering venomous enemies. It can also be combined with other herbs to create more powerful medicines.
| | |
| --- | --- |
| Category | Common item (Recovery item) |
Location
Locker Room - J's Bar 2F

Easy

1 Blue Herb - Inside the fourth locker from the left on the west side of the room.

View location

|

Show on map

Locker Room - J's Bar 2F

Normal

1 Blue Herb - Inside the fourth locker from the left on the west side of the room.

View location

|

Show on map

3F to Rooftop Stairway - J's Bar Rooftop

Very Hard

1 Blue Herb - On the desk at the top of the stairs.

View location

|

Show on map

Behind the Residential Area - Town 2

Easy

1 Blue Herb - In the alcove to the side of the steps leading up towards the footbridge.

View location

|

Show on map

Behind the Residential Area - Town 2

Normal

1 Blue Herb - In the alcove to the side of the steps leading up towards the footbridge.

View location

|

Show on map

Behind the Residential Area - Town 2

Hard

1 Blue Herb - In the alcove to the side of the steps leading up towards the footbridge.

View location

|

Show on map

Behind the Residential Area - Town 2

Very Hard

1 Blue Herb - In the alcove to the side of the steps leading up towards the footbridge.

View location

|

Show on map

Behind the Apartment - Town 1

Hard

1 Blue Herb - On the ground on the west side of the enclosure.

View location

|

Show on map

B7F Chemical Storage - Underground 7F

Easy

1 Blue Herb - On the floor in the north east corner of the room.

View location

|

Show on map

B7F Chemical Storage - Underground 7F

Normal

1 Blue Herb - On the floor in the north east corner of the room.

View location

|

Show on map

B5F Computer Room - Underground 5F

Very Hard

1 Blue Herb - On the floor at the back of the room.

View location

|

Show on map

B4F Turn Table - Underground 4F

Easy

1 Blue Herb - On the ground on the south eastern edge of the turn table platform.

View location

|

Show on map

B4F Turn Table - Underground 4F

Normal

1 Blue Herb - On the ground on the south eastern edge of the turn table platform.

View location

|

Show on map

B4F Turn Table - Underground 4F

Hard

1 Blue Herb - On the ground on the south eastern edge of the turn table platform.

View location

|

Show on map

Doctors' Station - Hospital 1F

Easy

1 Blue Herb - On the small cupboard between the elevator and the door.

View location

|

Show on map

Doctors' Station - Hospital 1F

Normal

1 Blue Herb - On the small cupboard between the elevator and the door.

View location

|

Show on map

Doctors' Station - Hospital 1F

Hard

1 Blue Herb - On the small cupboard between the elevator and the door.

View location

|

Show on map

Doctors' Station - Hospital 1F

Very Hard

1 Blue Herb - On the small cupboard between the elevator and the door.

View location

|

Show on map

Examination Room - Hospital 1F

Easy

1 Blue Herb - On the table on the south west side of the room.

View location

|

Show on map

Examination Room - Hospital 1F

Normal

1 Blue Herb - On the table on the south west side of the room.

View location

|

Show on map

Examination Room - Hospital 1F

Hard

1 Blue Herb - On the table on the south west side of the room.

View location

|

Show on map

Examination Room - Hospital 1F

Very Hard

1 Blue Herb - On the table on the south west side of the room.

View location

|

Show on map

Elevator Control Room - Hospital B1F

Easy

1 Blue Herb - On the table on the east side of the room.

View location

|

Show on map

Elevator Control Room - Hospital B1F

Normal

1 Blue Herb - On the table on the east side of the room.

View location

|

Show on map

Elevator Control Room - Hospital B1F

Hard

1 Blue Herb - On the table on the east side of the room.

View location

|

Show on map

Elevator Control Room - Hospital B1F

Very Hard

1 Blue Herb - On the table on the east side of the room.

View location

|

Show on map

Waste Liquid Disposal Room - Hospital B1F

Very Hard

1 Blue Herb - On the ground in front of the shutter on the east side of the upper level.

View location

|

Show on map

Owner's Room - Apple Inn Hotel 1F

Easy

1 Blue Herb - On the floor on the north side of the room.

View location

|

Show on map

Corridor (2F) - Apple Inn Hotel 2F

Hard

1 Blue Herb - On the floor next to the flames in the north west side of the corridor.

View location

|

Show on map

Northwest Passage 3 - Apple Inn Hotel 3F

Easy

1 Blue Herb - On the 3F, hidden behind a corner in the corridor leading to the emergency window.

View location

|

Show on map

Northwest Passage 3 - Apple Inn Hotel 3F

Normal

1 Blue Herb - On the 3F, hidden behind a corner in the corridor leading to the emergency window.

View location

|

Show on map

Northwest Passage 3 - Apple Inn Hotel 3F

Very Hard

1 Blue Herb - On the 3F western metal walkway outside.

View location

|

Show on map

Entrance Hall - University 1F

Hard

1 Blue Herb - On the 2F under the window in the south west corner.

View location

|

Show on map

General Manager's Room - University 1F

Easy

1 Blue Herb - On the shelf in the south west corner of the room.

View location

|

Show on map

General Manager's Room - University 1F

Normal

1 Blue Herb - On the shelf in the south west corner of the room.

View location

|

Show on map

General Manager's Room - University 1F

Hard

1 Blue Herb - On the shelf in the south west corner of the room.

View location

|

Show on map

1F Passage B - University 1F

Easy

1 Blue Herb - On the floor underneath a window in the centre section of the passage.

View location

|

Show on map

1F Passage B - University 1F

Normal

1 Blue Herb - On the floor underneath a window in the centre section of the passage.

View location

|

Show on map

2F Passage - University 2F

Easy

1 Blue Herb - On the cabinet in the south east corner of the passage.

View location

|

Show on map

2F Passage - University 2F

Normal

1 Blue Herb - On the cabinet in the south east corner of the passage.

View location

|

Show on map

2F Passage - University 2F

Hard

1 Blue Herb - On the cabinet in the south east corner of the passage.

View location

|

Show on map

Experiment Preparation Room - University 3F

Very Hard

1 Blue Herb - On the floor next to the desk on the west side of the room.

View location

|

Show on map

East Waterway - University B3F

Very Hard

1 Blue Herb - On the floor in the passage at the top of the ladder.

View location

|

Show on map

Quality Assurance Testing Room - University B3F

Hard

1 Blue Herb - On the small set of shelves next to the control panel, near the western door.

View location

|

Show on map

Water Works Management Office - University B3F

Very Hard

1 Blue Herb - On the filing cabinet in the south west corner of the room.

View location

|

Show on map

B4F Corridor - University B4F

Easy

2 Blue Herbs - On the floor in the south end of the corridor.

View location

|

Show on map

B4F Corridor - University B4F

Normal

2 Blue Herbs - On the floor in the south end of the corridor.

View location

|

Show on map

Old Subway Tracks - University B4F

Easy

1 Blue Herb - On the trolley platform on the west side of the tunnel.

View location

|

Show on map

Old Subway Tracks - University B4F

Normal

1 Blue Herb - On the trolley platform on the west side of the tunnel.

View location

|

Show on map

Old Subway Tracks - University B4F

Hard

1 Blue Herb - On the trolley platform on the west side of the tunnel.

View location

|

Show on map

Old Subway Tracks - University B4F

Very Hard

1 Blue Herb - On the ground behind the pillar in the south west area of the tunnel.

View location

|

Show on map

Old Subway Tunnel - Emission Tower Facility

Very Hard

1 Blue Herb - On the ground at the far north end of the tunnel.

View location

|

Show on map

Storeroom - Emission Tower Facility

Easy

1 Blue Herb - Inside the locker in the south west of the room.

View location

|

Show on map

Storeroom - Emission Tower Facility

Normal

1 Blue Herb - Inside the locker in the south west of the room.

View location

|

Show on map

Storeroom - Emission Tower Facility

Hard

1 Blue Herb - Inside the locker in the south west of the room.

View location

|

Show on map

Emission Tower Inside Wall - Emission Tower Facility

Normal

1 Blue Herb - On the ground on the northern platform.

View location

|

Show on map

Emission Tower B1 - Emission Tower Upper Level 1

Easy

1 Blue Herb - On the upper level, on the west side of the catwalk.

View location

|

Show on map

Emission Tower B1 - Emission Tower Upper Level 1

Normal

1 Blue Herb - On the upper level, on the west side of the catwalk.

View location

|

Show on map

Emission Tower B1 - Emission Tower Upper Level 1

Hard

1 Blue Herb - On the upper level, on the west side of the catwalk.

View location

|

Show on map

Emission Tower B1 - Emission Tower Upper Level 1

Very Hard

1 Blue Herb - On the upper level, on the west side of the catwalk.

View location

|

Show on map

Back Square - University Yard 1

Easy

2 Blue Herbs - On the ground next to the metal fence on the west side of the square.

View location

|

Show on map

Back Square - University Yard 1

Normal

1 Blue Herb - On the ground next to the metal fence on the west side of the square.

View location

|

Show on map

Back Square - University Yard 1

Hard

1 Blue Herb - On the ground next to the metal fence on the west side of the square.

View location

|

Show on map

Back Square - University Yard 1

Very Hard

1 Blue Herb - On the ground next to the metal fence on the west side of the square.

View location

|

Show on map

There are no locations to show for this mode. The following modes are applicable: