Ink Ribbon
(Resident Evil 2 Remake)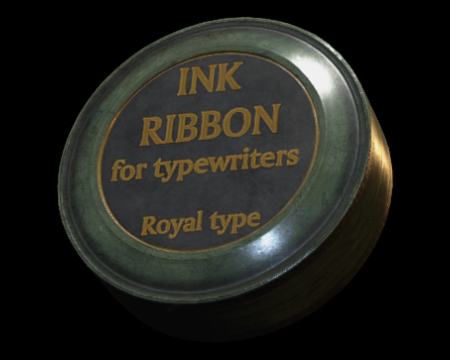 An ink ribbon. Required when using a Typewriter.
A roll of ink ribbons for use with traditional typewriters.
These are only available when playing through the game on Hardcore mode. You need to have at least one of these in your possession when accessing a
Typewriter
in order to save your progress.
Statistics
| Game mode | Occurrences | Sum total |
| --- | --- | --- |
| Leon (Hardcore) | 17 | 27 |
| Claire (Hardcore) | 17 | 27 |
| Leon [2nd] (Hardcore) | 19 | 29 |
| Claire [2nd] (Hardcore) | 19 | 29 |
Location
West Courtyard - Police Station 1F

Leon [2nd] (Hardcore)

Ink Ribbon (×1) - On the red seats in the north east area of the courtyard.

View location

|

Show on map

West Courtyard - Police Station 1F

Claire [2nd] (Hardcore)

Ink Ribbon (×1) - On the red seats in the north east area of the courtyard.

View location

|

Show on map

Darkroom - Police Station 1F

Leon (Hardcore)

Ink Ribbon (×3) - Inside the right locker in the north west corner of the room.

View location

|

Show on map

Darkroom - Police Station 1F

Claire (Hardcore)

Ink Ribbon (×3) - Inside the right locker in the north west corner of the room.

View location

|

Show on map

Darkroom - Police Station 1F

Leon [2nd] (Hardcore)

Ink Ribbon (×3) - Inside the right locker in the north west corner of the room.

View location

|

Show on map

Darkroom - Police Station 1F

Claire [2nd] (Hardcore)

Ink Ribbon (×3) - Inside the right locker in the north west corner of the room.

View location

|

Show on map

East Office - Police Station 1F

Leon (Hardcore)

Ink Ribbon (×2) - On the small round table between the two armchairs in the south east corner of the room.

View location

|

Show on map

East Office - Police Station 1F

Claire (Hardcore)

Ink Ribbon (×2) - On the small round table between the two armchairs in the south east corner of the room.

View location

|

Show on map

East Office - Police Station 1F

Leon [2nd] (Hardcore)

Ink Ribbon (×2) - On the small round table between the two armchairs in the south east corner of the room.

View location

|

Show on map

East Office - Police Station 1F

Claire [2nd] (Hardcore)

Ink Ribbon (×2) - On the small round table between the two armchairs in the south east corner of the room.

View location

|

Show on map

Secret Room - Underground Facility Upper

Leon [2nd] (Hardcore)

Ink Ribbon (×1) - On the main desk.

View location

|

Show on map

Secret Room - Underground Facility Upper

Claire [2nd] (Hardcore)

Ink Ribbon (×1) - On the main desk.

View location

|

Show on map

Operators Room - Underground Facility Middle

Leon (Hardcore)

Ink Ribbon (×1) - Inside the locker in the south west corner of the room.

View location

|

Show on map

Operators Room - Underground Facility Middle

Claire (Hardcore)

Ink Ribbon (×1) - Inside the locker in the south west corner of the room.

View location

|

Show on map

Operators Room - Underground Facility Middle

Leon [2nd] (Hardcore)

Ink Ribbon (×1) - Inside the locker in the south west corner of the room.

View location

|

Show on map

Operators Room - Underground Facility Middle

Claire [2nd] (Hardcore)

Ink Ribbon (×1) - Inside the locker in the south west corner of the room.

View location

|

Show on map

Boiler Room - Police Station 1F

Leon (Hardcore)

Ink Ribbon (×1) - On the small wooden table next to the door in the north west corner of the room.

View location

|

Show on map

Boiler Room - Police Station 1F

Leon [2nd] (Hardcore)

Ink Ribbon (×1) - On the small wooden table next to the door in the north west corner of the room.

View location

|

Show on map

Private Collection Room - Police Station 2F

Claire (Hardcore)

Ink Ribbon (×1) - On the wooden display cabinet opposite the entrance door.

View location

|

Show on map

Private Collection Room - Police Station 2F

Claire [2nd] (Hardcore)

Ink Ribbon (×1) - On the wooden display cabinet opposite the entrance door.

View location

|

Show on map

Interrogation Room - Police Station 1F

Leon (Hardcore)

Ink Ribbon (×2) - On the chair in the north west corner of the room.

View location

|

Show on map

Interrogation Room - Police Station 1F

Claire (Hardcore)

Ink Ribbon (×2) - On the chair in the north west corner of the room.

View location

|

Show on map

Interrogation Room - Police Station 1F

Leon [2nd] (Hardcore)

Ink Ribbon (×2) - On the chair in the north west corner of the room.

View location

|

Show on map

Interrogation Room - Police Station 1F

Claire [2nd] (Hardcore)

Ink Ribbon (×2) - On the chair in the north west corner of the room.

View location

|

Show on map

Records Room - Police Station 1F

Leon (Hardcore)

Ink Ribbon (×2) - On the printer in the south west corner of the room.

View location

|

Show on map

Records Room - Police Station 1F

Claire (Hardcore)

Ink Ribbon (×2) - On the printer in the south west corner of the room.

View location

|

Show on map

Records Room - Police Station 1F

Leon [2nd] (Hardcore)

Ink Ribbon (×2) - On the printer in the south west corner of the room.

View location

|

Show on map

Records Room - Police Station 1F

Claire [2nd] (Hardcore)

Ink Ribbon (×2) - On the printer in the south west corner of the room.

View location

|

Show on map

Director's Room - Orphanage 1F

Claire (Hardcore)

Ink Ribbon (×1) - On the shelves next to the door.

View location

|

Show on map

Director's Room - Orphanage 1F

Claire [2nd] (Hardcore)

Ink Ribbon (×1) - On the shelves next to the door.

View location

|

Show on map

Central Tunnel - Sewer Entrance

Leon (Hardcore)

Ink Ribbon (×2) - On the barrels next to the stairs on the northern platform.

View location

|

Show on map

Central Tunnel - Sewer Entrance

Leon [2nd] (Hardcore)

Ink Ribbon (×2) - On the barrels next to the stairs on the northern platform.

View location

|

Show on map

Incinerator - Sewers Upper

Leon (Hardcore)

Ink Ribbon (×1) - On the large wooden crate at the bottom of the central set of stairs.

View location

|

Show on map

Incinerator - Sewers Upper

Leon [2nd] (Hardcore)

Ink Ribbon (×1) - On the large wooden crate at the bottom of the central set of stairs.

View location

|

Show on map

Office - Sewers Middle

Claire (Hardcore)

Ink Ribbon (×2) - On the metal desk on the south side of the room.

View location

|

Show on map

Office - Sewers Middle

Claire [2nd] (Hardcore)

Ink Ribbon (×2) - On the metal desk on the south side of the room.

View location

|

Show on map

Monitor Room - Sewers Middle

Leon (Hardcore)

Ink Ribbon (×2) - On the small black trolley between the chairs next to the control panel on the north side of the room.

View location

|

Show on map

Monitor Room - Sewers Middle

Claire (Hardcore)

Ink Ribbon (×2) - On the small black trolley between the chairs next to the control panel on the north side of the room.

View location

|

Show on map

Monitor Room - Sewers Middle

Leon [2nd] (Hardcore)

Ink Ribbon (×2) - On the small black trolley between the chairs next to the control panel on the north side of the room.

View location

|

Show on map

Monitor Room - Sewers Middle

Claire [2nd] (Hardcore)

Ink Ribbon (×2) - On the small black trolley between the chairs next to the control panel on the north side of the room.

View location

|

Show on map

Water Injection Chamber - Sewers Upper

Leon (Hardcore)

Ink Ribbon (×2) - On the bench in the north east corner of the room.

View location

|

Show on map

Water Injection Chamber - Sewers Upper

Claire (Hardcore)

Ink Ribbon (×2) - On the bench in the north east corner of the room.

View location

|

Show on map

Water Injection Chamber - Sewers Upper

Leon [2nd] (Hardcore)

Ink Ribbon (×2) - On the bench in the north east corner of the room.

View location

|

Show on map

Water Injection Chamber - Sewers Upper

Claire [2nd] (Hardcore)

Ink Ribbon (×2) - On the bench in the north east corner of the room.

View location

|

Show on map

U-Area - Sewers Middle

Leon (Hardcore)

Ink Ribbon (×1) -

On the wheelie bin in the north east corner of the area, near to the door leading to the

Garbage Room

.

View location

|

Show on map

U-Area - Sewers Middle

Claire (Hardcore)

Ink Ribbon (×1) -

On the wheelie bin in the north east corner of the area, near to the door leading to the

Garbage Room

.

View location

|

Show on map

U-Area - Sewers Middle

Leon [2nd] (Hardcore)

Ink Ribbon (×1) -

On the wheelie bin in the north east corner of the area, near to the door leading to the

Garbage Room

.

View location

|

Show on map

U-Area - Sewers Middle

Claire [2nd] (Hardcore)

Ink Ribbon (×1) -

On the wheelie bin in the north east corner of the area, near to the door leading to the

Garbage Room

.

View location

|

Show on map

Escape Shaft Platform - Laboratory B3

Leon (Hardcore)

Ink Ribbon (×1) - On the large green cargo containers in the south east corner of the platform.

View location

|

Show on map

Escape Shaft Platform - Laboratory B3

Claire (Hardcore)

Ink Ribbon (×1) - On the large green cargo containers in the south east corner of the platform.

View location

|

Show on map

Escape Shaft Platform - Laboratory B3

Leon [2nd] (Hardcore)

Ink Ribbon (×1) - On the large green cargo containers in the south east corner of the platform.

View location

|

Show on map

Escape Shaft Platform - Laboratory B3

Claire [2nd] (Hardcore)

Ink Ribbon (×1) - On the large green cargo containers in the south east corner of the platform.

View location

|

Show on map

Baggage Car - Train

Leon [2nd] (Hardcore)

Ink Ribbon (×1) - On the green weapon boxes at the east end of the crate.

View location

|

Show on map

Baggage Car - Train

Claire [2nd] (Hardcore)

Ink Ribbon (×1) - On the green weapon boxes at the east end of the crate.

View location

|

Show on map

There are no locations to show for this mode. The following modes are applicable: