Green Herb
(Resident Evil Zero)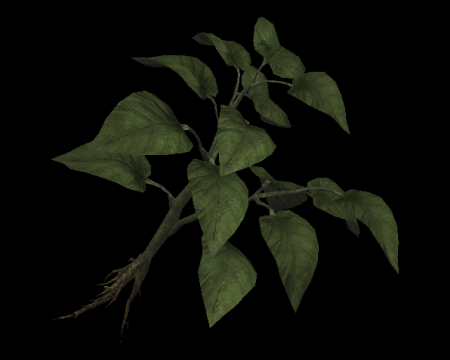 An herb native to this area. It can be used to recover health.
One of three different herbs found growing in pots around the Training Facility and surrounding area.
The most useful of the three herbs you can find. The Green Herb by itself will restore a small amount of health, but can be enhanced by combining it with another Green Herb to create the
Herbal Mix (G+G)
which will double its potency. It can also be combined with the
Blue Herb
to create the
Herbal Mix (G+B)
or combined with the
Red Herb
to create
Herbal Mix (G+R)
.
| | |
| --- | --- |
| Category | Item (Recovery item) |
Statistics
| Game mode | Sum total |
| --- | --- |
| Easy | 42 |
| Normal | 26 |
| Hard | 22 |
Location
Service Room - Train 2F

Easy

1 Green Herb - On the bench next to the service lift in the south west corner of the room.

View location

|

Show on map

Service Room - Train 2F

Normal

1 Green Herb - On the bench next to the service lift in the south west corner of the room.

View location

|

Show on map

Service Room - Train 2F

Hard

1 Green Herb - On the bench next to the service lift in the south west corner of the room.

View location

|

Show on map

Upstairs Passenger Car - Train 2F

Easy

1 Green Herb - On the table next to the antique-style phone next to the stairs on the east side of the car.

2 Green Herbs - On the floor next to the west entrance.

View location

|

Show on map

Upstairs Passenger Car - Train 2F

Normal

1 Green Herb - On the table next to the antique-style phone next to the stairs on the east side of the car.

View location

|

Show on map

Bathroom - Training Facility 1F

Easy

1 Green Herb - On the floor next to the cubicles in the north west corner of the room.

View location

|

Show on map

Bathroom - Training Facility 1F

Normal

1 Green Herb - On the floor next to the cubicles in the north west corner of the room.

View location

|

Show on map

Bathroom - Training Facility 1F

Hard

1 Green Herb - On the floor next to the cubicles in the north west corner of the room.

View location

|

Show on map

Boiler Room - Training Facility 1F

Easy

2 Green Herbs - On the floor behind the boiler in the north western area of the room.

View location

|

Show on map

Boiler Room - Training Facility 1F

Normal

2 Green Herbs - On the floor behind the boiler in the north western area of the room.

View location

|

Show on map

Boiler Room - Training Facility 1F

Hard

2 Green Herbs - On the floor behind the boiler in the north western area of the room.

View location

|

Show on map

Main Hall - Training Facility 1F

Easy

1 Green Herb - On the floor, next to the desk with the typewriter, in the north east corner of the hall.

1 Green Herb -

On the floor next to the trapdoor leading down to the

Sewer Passage

in the north west area of the hall.

View location

|

Show on map

Main Hall - Training Facility 1F

Normal

1 Green Herb - On the floor, next to the desk with the typewriter, in the north east corner of the hall.

View location

|

Show on map

Main Hall - Training Facility 1F

Hard

1 Green Herb - On the floor, next to the desk with the typewriter, in the north east corner of the hall.

View location

|

Show on map

Outside Balcony - Training Facility 2F

Easy

3 Green Herbs - On the ground in the northern offshoot of the balcony.

View location

|

Show on map

Outside Balcony - Training Facility 2F

Normal

2 Green Herbs - On the ground in the northern offshoot of the balcony.

View location

|

Show on map

Outside Balcony - Training Facility 2F

Hard

2 Green Herbs - On the ground in the northern offshoot of the balcony.

View location

|

Show on map

Private Study Room - Training Facility 2F

Easy

1 Green Herb - On the small table on the south side of the room.

View location

|

Show on map

Fountain Area - Training Facility 3F

Easy

2 Green Herbs - On the ground next to the eastern wall.

View location

|

Show on map

Bunk Room B - Facility Basement B2

Easy

1 Green Herb - On the floor in the south west corner of the room.

View location

|

Show on map

Observation Room - Facility Basement B1

Easy

1 Green Herb - On the floor, next to the table with the typewriter.

View location

|

Show on map

Observation Room - Facility Basement B1

Normal

1 Green Herb - On the floor, next to the table with the typewriter.

View location

|

Show on map

Observation Room - Facility Basement B1

Hard

1 Green Herb - On the floor, next to the table with the typewriter.

View location

|

Show on map

Old Laboratory - Training Facility 2F

Easy

1 Green Herb - On the floor of the small glass room on the north side of the room.

View location

|

Show on map

Old Laboratory - Training Facility 2F

Normal

1 Green Herb - On the floor of the small glass room on the north side of the room.

View location

|

Show on map

Outside Area - Laboratory 1F

Easy

2 Green Herbs - On the ground near the elevator in the north west area.

1 Green Herb - On the ground behind the church. You need to get on the other side of the locked gate to retrieve it.

View location

|

Show on map

Machine Room 2F - Laboratory B1

Easy

1 Green Herb - On the floor under the glass windows of the control room.

View location

|

Show on map

Machine Room 2F - Laboratory B1

Normal

1 Green Herb - On the floor under the glass windows of the control room.

View location

|

Show on map

Elevator Passage - Laboratory B2

Easy

1 Green Herb -

On the floor opposite the door leading to the

Reference Room

.

1 Green Herb -

On the floor next to the western door leading to

Marcus's Study

on the other side of the retractable wall.

View location

|

Show on map

Platform - Factory B1

Easy

2 Green Herbs - On the ground in the north east corner, next to the doors to the cable car.

View location

|

Show on map

Platform - Factory B1

Normal

2 Green Herbs - On the ground in the north east corner, next to the doors to the cable car.

View location

|

Show on map

Platform - Factory B1

Hard

2 Green Herbs - On the ground in the north east corner, next to the doors to the cable car.

View location

|

Show on map

Turntable Control Room - Factory 1F

Easy

1 Green Herb - On the floor next to the inaccessible trap door in the south west corner of the room.

View location

|

Show on map

Generator Room 2F - Treatment Plant B5

Easy

2 Green Herbs - On the floor on the north side of the walkway.

View location

|

Show on map

Generator Room 2F - Treatment Plant B5

Normal

2 Green Herbs - On the floor on the north side of the walkway.

View location

|

Show on map

Generator Room 2F - Treatment Plant B5

Hard

2 Green Herbs - On the floor on the north side of the walkway.

View location

|

Show on map

Air Regulator Room - Treatment Plant B6

Easy

1 Green Herb - On the floor opposite the door in the south west corner of the room.

View location

|

Show on map

Air Regulator Room - Treatment Plant B6

Normal

1 Green Herb - On the floor opposite the door in the south west corner of the room.

View location

|

Show on map

Air Regulator Room - Treatment Plant B6

Hard

1 Green Herb - On the floor opposite the door in the south west corner of the room.

View location

|

Show on map

Maintenance Area - Treatment Plant B7

Easy

1 Green Herb - On the ground in the south west corner of the area.

View location

|

Show on map

Maintenance Area - Treatment Plant B7

Normal

1 Green Herb - On the ground in the south west corner of the area.

View location

|

Show on map

Dam - Treatment Plant B9

Easy

2 Green Herbs - At the end of the walkway on the east side of the dam, next to the ladder.

View location

|

Show on map

Dam - Treatment Plant B9

Normal

2 Green Herbs - At the end of the walkway on the east side of the dam, next to the ladder.

View location

|

Show on map

Dam - Treatment Plant B9

Hard

2 Green Herbs - At the end of the walkway on the east side of the dam, next to the ladder.

View location

|

Show on map

Storage - Treatment Plant B9

Easy

1 Green Herb - On the floor next to the shelves in the south east corner of the room.

1 Green Herb - On the floor next to the cargo elevator in the north west corner of the room.

View location

|

Show on map

Storage - Treatment Plant B9

Normal

1 Green Herb - On the floor next to the shelves in the south east corner of the room.

View location

|

Show on map

Storage - Treatment Plant B9

Hard

1 Green Herb - On the floor next to the shelves in the south east corner of the room.

View location

|

Show on map