Mimicry Marcus
(Resident Evil Zero)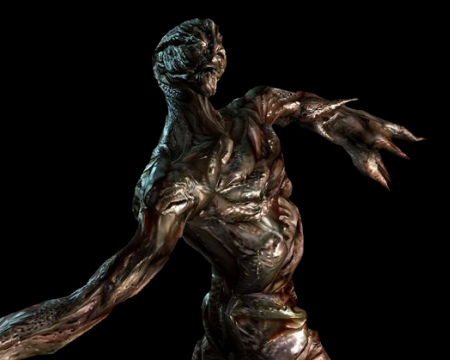 This humanoid is actually a cluster of
Leeches
that have merged together and taken on the appearance of their creator
James Marcus
. They are actually able to modify the texture of their skin to such a degree that from a distance the shape they take on looks like a real man.
These enemies are to be feared, as not only to they look terrifying they can cause a lot of damage to you. Tacking these with flame-based weapons is the best method for disposing of them, so use
Molotov Cocktails
and the
Grenade Launcher
loaded with
Napalm Grenades
for the best results.
Statistics
| Game mode | Sum total |
| --- | --- |
| Easy | 10 |
| Normal | 10 |
| Hard | 10 |
Location
Restaurant Car - Train 2F

Easy

1 Mimicry Marcus - Attacks during the cut scene when you first enter.

View location

|

Show on map

Restaurant Car - Train 2F

Normal

1 Mimicry Marcus - Attacks during the cut scene when you first enter.

View location

|

Show on map

Restaurant Car - Train 2F

Hard

1 Mimicry Marcus - Attacks during the cut scene when you first enter.

View location

|

Show on map

Bathroom - Training Facility 1F

Easy

1 Mimicry Marcus - Appears after exploring a certain amount of the room.

View location

|

Show on map

Bathroom - Training Facility 1F

Normal

1 Mimicry Marcus - Appears after exploring a certain amount of the room.

View location

|

Show on map

Bathroom - Training Facility 1F

Hard

1 Mimicry Marcus - Appears after exploring a certain amount of the room.

View location

|

Show on map

West Wing Corridor - Training Facility 1F

Easy

1 Mimicry Marcus - Appears after walking a certain distance through the corridor.

View location

|

Show on map

West Wing Corridor - Training Facility 1F

Normal

1 Mimicry Marcus - Appears after walking a certain distance through the corridor.

View location

|

Show on map

West Wing Corridor - Training Facility 1F

Hard

1 Mimicry Marcus - Appears after walking a certain distance through the corridor.

View location

|

Show on map

Broadcast Room - Training Facility 2F

Easy

1 Mimicry Marcus - Standing on the east side of the room.

View location

|

Show on map

Broadcast Room - Training Facility 2F

Normal

1 Mimicry Marcus - Standing on the east side of the room.

View location

|

Show on map

Broadcast Room - Training Facility 2F

Hard

1 Mimicry Marcus - Standing on the east side of the room.

View location

|

Show on map

Elevator Passage - Laboratory B2

Easy

1 Mimicry Marcus -

On the other side of the retractable wall, which is retracted by pushing the button on the wall of the

Corridor

above.

View location

|

Show on map

Elevator Passage - Laboratory B2

Normal

1 Mimicry Marcus -

On the other side of the retractable wall, which is retracted by pushing the button on the wall of the

Corridor

above.

View location

|

Show on map

Elevator Passage - Laboratory B2

Hard

1 Mimicry Marcus -

On the other side of the retractable wall, which is retracted by pushing the button on the wall of the

Corridor

above.

View location

|

Show on map

Machine Room 1F - Laboratory B2

Easy

1 Mimicry Marcus - Appears after restoring power to the cable car and attempting to enter.

View location

|

Show on map

Machine Room 1F - Laboratory B2

Normal

1 Mimicry Marcus - Appears after restoring power to the cable car and attempting to enter.

View location

|

Show on map

Machine Room 1F - Laboratory B2

Hard

1 Mimicry Marcus - Appears after restoring power to the cable car and attempting to enter.

View location

|

Show on map