New-Type Virus Development Report
(Resident Evil Revelations)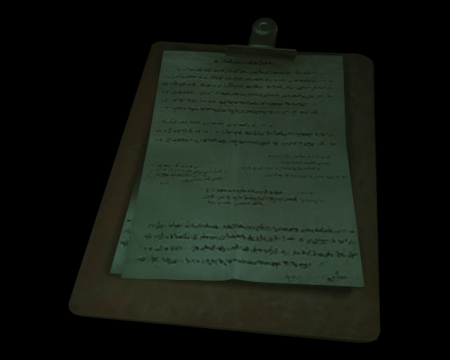 Research notes on weaponizing the new virus.
Transcript
New-Type Virus Development Report

As our genetic mapping of the new virus (The Abyss) neared completion, the Global Pharmaceutical Consortium offered the assistance of their research branch via their contacts in an unnamed country.

They proposed combining The Abyss with a weaponized virus called the T-Virus to make our virus more suited for research and experimentation. The new recombinant virus, which utilizes the DNS of sea-based organisms as its base, should make it easier to create B.O.W.s.

We have successfully broken down one of the barriers to the creation of the bio-organic weapons.

The T-Virus includes human genetic material and is capable of cross-infection.

However, the speed at which The Abyss triggers transformation is so rapid, it breaks down the cellular structure of the host. Fortunately, this problem was overcome by adjusting the rate at which infection occurs in the host's body.

There is one side effect, however, that we did not anticipate. While cellular breakdown is no longer a problem, half of the host's solid mass, including musculature and bones, is liquified during infection. The host's body becomes highly malleable, allowing it to attack a target from unexpected places.

Some hosts have shown the ability to secrete their liquified bony material from their hands and feet, thus giving their appendages sharp, protective coverings. Human hosts such as these have been designated with the codename "Ooze."

Such hosts only retain humanoid form with much effort, and while they can sustain this form, they lack all visible resemblance to their former selves.

With each experiment and every infected host, we draw ever closer to perfecting the virus.

As far as the bio-weapon industry is concerned, the product itself is useless until a vaccine that can prevent infection is also developed.

We will need much more data from clinical trials for that to happen. Deriving antibodies from a few test subjects will require time and luck.

I recently heard some mumblings from the higher-ups about a manmade pandemic. I suppose that's a business euphemism for bio-terrorism.
Location
Records Room - Epidemic Prevention Block - Queen Zenobia

Normal

Episode 8-3 onwards. On the metal shelves next to the computer desk on the north side of the room.

View locationShow on map

Records Room - Epidemic Prevention Block - Queen Zenobia

Hell

Episode 8-3 onwards. On the metal shelves next to the computer desk on the north side of the room.

View locationShow on map

Records Room - Epidemic Prevention Block - Queen Zenobia

Infernal

Episode 8-3 onwards. On the metal shelves next to the computer desk on the north side of the room.

View locationShow on map

There are no locations to show for this mode. The following modes are applicable: