Throwing Spear
(Resident Evil 7 Biohazard - End of Zoe)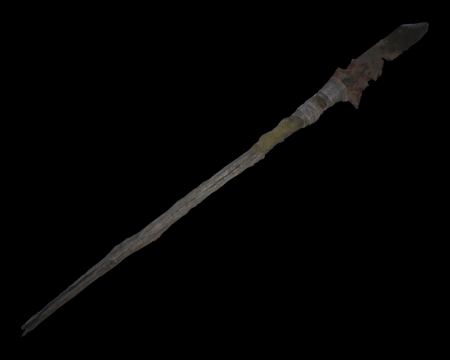 Made by attaching scrap metal to a tree branch. Can be retrieved and used again if it misses an enemy.
This homemade spear is perfect for dispatching enemies from a distance, and they are a necessity for taking out
Alligators
when the situation arises.
It is possible to create these by combining
Scrap Metal
with
Tree Branches
.
| | |
| --- | --- |
| Category | Weaponry (Weapon) |
Location
Camp - Base

Normal

1 Throwing Spear - Embedded in the stack of wooden crates in the west corner of the camp.

View location

|

Show on map

River - Base

Normal

1 Throwing Spear - Embedded in the ground at the edge of the water on the east side of the area.

1 Throwing Spear - Embedded in the water on the south side of the area.

View location

|

Show on map

River - Base

Joe Must Die

1 Throwing Spear - Embedded in the ground at the edge of the water on the east side of the area.

View location

|

Show on map

Riverbank - Base

Normal

1 Throwing Spear - Embedded in the dead alligator on the wooden platform at the east side of the area.

View location

|

Show on map

Riverbank - Base

Joe Must Die

1 Throwing Spear - Embedded in the dead alligator on the wooden platform at the east side of the area.

View location

|

Show on map

2F Main Passage - Paddle Boat 2F

Normal

1 Throwing Spear - Propped up against the wall in the north east corner of the passage.

View location

|

Show on map

Compartment - Paddle Boat 1F

Normal

1 Throwing Spear - Embedded in the wall in the eastern offshoot area of the room.

View location

|

Show on map

Stilt House Underside - Quarantine Area 1

Normal

1 Throwing Spear - Embedded in the south east raised wooden platform.

View location

|

Show on map

Stilted Cabin 2 - Quarantine Area 2

Normal

1 Throwing Spear - Propped up in the north east corner of the cabin.

View location

|

Show on map

Central Walkway - Quarantine Area 2

Normal

3 Throwing Spears - Embedded in the floor on the eastern raised platform.

View location

|

Show on map

Northern Water Pool - Quarantine Area 2

Normal

3 Throwing Spears -

Embedded in the dead alligators in the area underneath

Stilted Cabin 3

in the south west corner of the pool.

View location

|

Show on map

Northern Walkway - Quarantine Area 2

Normal

2 Throwing Spears - Embedded in the middle narrow section of the walkway.

View location

|

Show on map

Northern Water Pool - Quarantine Area 2

Joe Must Die

2 Throwing Spears -

Embedded in the stilt of the walkway near the dead alligators in the area underneath

Stilted Cabin 3

in the south west corner of the pool.

View location

|

Show on map

There are no locations to show for this mode. The following modes are applicable: