Mine Rounds
(Resident Evil 3 Remake)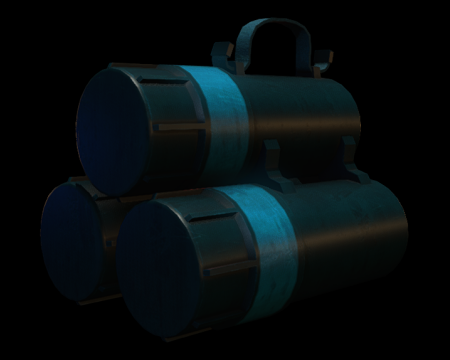 Ammo for the grenade launcher. Flies to its target using its own propulsion system. Detonates after a short period of time or if approached.
A canister of mined shells that detonate on close proximity or after an extended period of time once fired.
These are used with the
MGL Grenade Launcher
.
Statistics
| Game mode | Occurrences | Sum total |
| --- | --- | --- |
| Assisted | 4 | 14 |
| Standard | 4 | 14 |
| Hardcore | 4 | 14 |
| Nightmare | 4 | 14 |
| Inferno | 4 | 14 |
Location
Dilapidated Shelter - Subway Tunnels

Assisted

Mine Rounds (1×2) - On the wooden benches on the north side of the room.

Mine Rounds (1×2) - On the wooden benches in the south east area of the room.

View location

|

Show on map

Dilapidated Shelter - Subway Tunnels

Standard

Mine Rounds (1×2) - On the wooden benches on the north side of the room.

Mine Rounds (1×2) - On the wooden benches in the south east area of the room.

View location

|

Show on map

Dilapidated Shelter - Subway Tunnels

Hardcore

Mine Rounds (1×2) - On the wooden benches on the north side of the room.

Mine Rounds (1×2) - On the wooden benches in the south east area of the room.

View location

|

Show on map

Dilapidated Shelter - Subway Tunnels

Nightmare

Mine Rounds (1×2) - On the wooden benches on the north side of the room.

Mine Rounds (1×2) - On the wooden benches in the south east area of the room.

View location

|

Show on map

Dilapidated Shelter - Subway Tunnels

Inferno

Mine Rounds (1×2) - On the wooden benches on the north side of the room.

Mine Rounds (1×2) - On the wooden benches in the south east area of the room.

View location

|

Show on map

Plaza - Clock Tower Plaza

Assisted

Mine Rounds (1×4) - On the passenger seat of the people carrier car on the west side of the plaza.

Mine Rounds (1×6) - On the drivers seat of the crashed cop car on the west side of the plaza.

View location

|

Show on map

Plaza - Clock Tower Plaza

Standard

Mine Rounds (1×4) - On the passenger seat of the people carrier car on the west side of the plaza.

Mine Rounds (1×6) - On the drivers seat of the crashed cop car on the west side of the plaza.

View location

|

Show on map

Plaza - Clock Tower Plaza

Hardcore

Mine Rounds (1×4) - On the passenger seat of the people carrier car on the west side of the plaza.

Mine Rounds (1×6) - On the drivers seat of the crashed cop car on the west side of the plaza.

View location

|

Show on map

Plaza - Clock Tower Plaza

Nightmare

Mine Rounds (1×4) - On the passenger seat of the people carrier car on the west side of the plaza.

Mine Rounds (1×6) - On the drivers seat of the crashed cop car on the west side of the plaza.

View location

|

Show on map

Plaza - Clock Tower Plaza

Inferno

Mine Rounds (1×4) - On the passenger seat of the people carrier car on the west side of the plaza.

Mine Rounds (1×6) - On the drivers seat of the crashed cop car on the west side of the plaza.

View location

|

Show on map

There are no locations to show for this mode. The following modes are applicable: