Ben's Memo
(Resident Evil 2 Remake)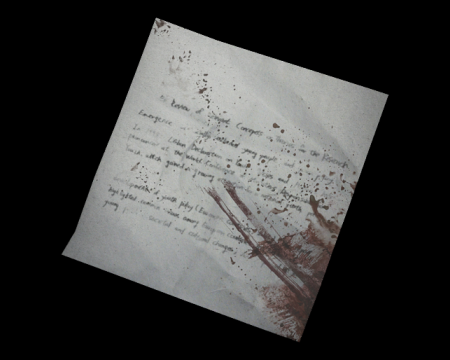 Transcript
The station's swarming with monsters. Even here I can hear their cries. But it's not the zombies I'm afraid of.

Codename: Tyrant.
The ultimate bioweapon, developed by those bastards in the utmost secrecy. To think that that thing might be wandering around here...

Chances are they've ordered it to wipe out the witnesses.
Location
Jail - Police Station B1

Leon (Standard)

On the table in the locked cell in the south west corner of the complex. You need to acquire two Power Panel Parts and use them on the electric panel next to the cell to open the cell.

View locationShow on map

Jail - Police Station B1

Leon [2nd] (Standard)

On the table in the locked cell in the south west corner of the complex. You need to acquire two Power Panel Parts and use them on the electric panel next to the cell to open the cell.

View locationShow on map

Jail - Police Station B1

Leon (Hardcore)

On the table in the locked cell in the south west corner of the complex. You need to acquire two Power Panel Parts and use them on the electric panel next to the cell to open the cell.

View locationShow on map

Jail - Police Station B1

Leon [2nd] (Hardcore)

On the table in the locked cell in the south west corner of the complex. You need to acquire two Power Panel Parts and use them on the electric panel next to the cell to open the cell.

View locationShow on map

There are no locations to show for this mode. The following modes are applicable: