G-Adult
(Resident Evil 2 Remake)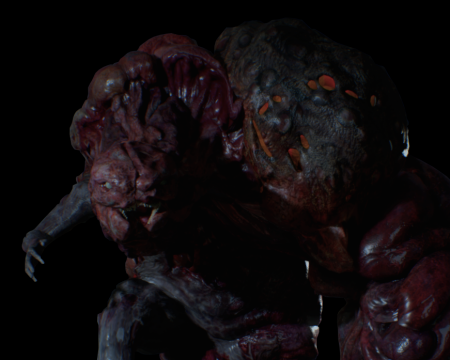 These monstrous mutations are the result of the failed offspring produced by the creature known as
"G"
. They start off as
G-Young
, but grow into these within a short space of time.
These adults can crawl and swim through the sewage systems of Raccoon City very quickly. If they manage to grab you, they can infect you with a toxin that has to be healed with a
Blue Herb
. They can also spew forth more of the young versions of itself.
Statistics
| Game mode | Sum total |
| --- | --- |
| Leon (Standard) | 6 |
| Claire (Standard) | 6 |
| Leon [2nd] (Standard) | 6 |
| Claire [2nd] (Standard) | 6 |
| Leon (Hardcore) | 6 |
| Claire (Hardcore) | 6 |
| Leon [2nd] (Hardcore) | 6 |
| Claire [2nd] (Hardcore) | 6 |
Location
Bottom Waterway - Sewers Lower

Leon (Standard)

2 G-Adults - Sitting in the water in the middle of the waterway.

1 G-Adult - Crawls out of one of the water channels in the north west area of the waterway.

1 G-Adult -

Appears in the north east section of the waterway after acquiring the

King Plug

and the

Queen Plug

.

View location

|

Show on map

Bottom Waterway - Sewers Lower

Claire (Standard)

2 G-Adults - Sitting in the water in the middle of the waterway.

1 G-Adult - Crawls out of one of the water channels in the north west area of the waterway.

1 G-Adult -

Appears in the north east section of the waterway after acquiring the

King Plug

and the

Queen Plug

.

View location

|

Show on map

Bottom Waterway - Sewers Lower

Leon [2nd] (Standard)

2 G-Adults - Sitting in the water in the middle of the waterway.

1 G-Adult - Crawls out of one of the water channels in the north west area of the waterway.

1 G-Adult -

Appears in the north east section of the waterway after acquiring the

King Plug

and the

Queen Plug

.

View location

|

Show on map

Bottom Waterway - Sewers Lower

Claire [2nd] (Standard)

2 G-Adults - Sitting in the water in the middle of the waterway.

1 G-Adult - Crawls out of one of the water channels in the north west area of the waterway.

1 G-Adult -

Appears in the north east section of the waterway after acquiring the

King Plug

and the

Queen Plug

.

View location

|

Show on map

Bottom Waterway - Sewers Lower

Leon (Hardcore)

2 G-Adults - Sitting in the water in the middle of the waterway.

1 G-Adult - Crawls out of one of the water channels in the north west area of the waterway.

1 G-Adult -

Appears in the north east section of the waterway after acquiring the

King Plug

and the

Queen Plug

.

View location

|

Show on map

Bottom Waterway - Sewers Lower

Claire (Hardcore)

2 G-Adults - Sitting in the water in the middle of the waterway.

1 G-Adult - Crawls out of one of the water channels in the north west area of the waterway.

1 G-Adult -

Appears in the north east section of the waterway after acquiring the

King Plug

and the

Queen Plug

.

View location

|

Show on map

Bottom Waterway - Sewers Lower

Leon [2nd] (Hardcore)

2 G-Adults - Sitting in the water in the middle of the waterway.

1 G-Adult - Crawls out of one of the water channels in the north west area of the waterway.

1 G-Adult -

Appears in the north east section of the waterway after acquiring the

King Plug

and the

Queen Plug

.

View location

|

Show on map

Bottom Waterway - Sewers Lower

Claire [2nd] (Hardcore)

2 G-Adults - Sitting in the water in the middle of the waterway.

1 G-Adult - Crawls out of one of the water channels in the north west area of the waterway.

1 G-Adult -

Appears in the north east section of the waterway after acquiring the

King Plug

and the

Queen Plug

.

View location

|

Show on map

Upper Waterway - Sewers Middle

Claire [2nd] (Standard)

1 G-Adult - In the water of the waterway.

View location

|

Show on map

Upper Waterway - Sewers Middle

Claire [2nd] (Hardcore)

1 G-Adult - In the water of the waterway.

View location

|

Show on map

Lower Waterway - Sewers Lower

Leon (Standard)

1 G-Adult - In the water inside the north west tunnel.

View location

|

Show on map

Lower Waterway - Sewers Lower

Leon [2nd] (Standard)

1 G-Adult - In the water inside the north west tunnel.

View location

|

Show on map

Lower Waterway - Sewers Lower

Leon (Hardcore)

1 G-Adult - In the water inside the north west tunnel.

View location

|

Show on map

Lower Waterway - Sewers Lower

Leon [2nd] (Hardcore)

1 G-Adult - In the water inside the north west tunnel.

View location

|

Show on map

There are no locations to show for this mode. The following modes are applicable: