Magnum Revolver
(Resident Evil Zero)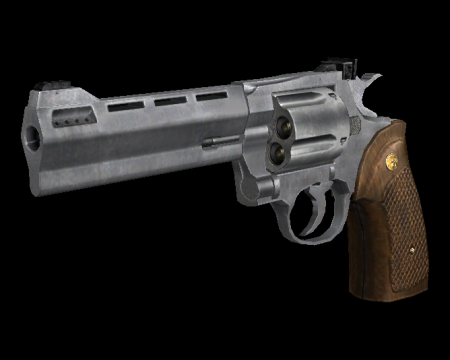 A Magnum Revolver containing enhanced parts like a new cylinder and frame. Its tremendous firepower makes it more of a "hand cannon" than a handgun.
A modified .44 caliber Magnum with increased firepower, modified by S.T.A.R.S. member Barry Burton. Is uses
Magnum Ammo
.
This is the ultimate handgun. It is only acquired by completing the bonus side-game Leech Hunter with a Rank B. It can only hold five rounds, but one shot should be enough for almost any enemy.
| | |
| --- | --- |
| Category | Weaponry (Weapon) |
Location
Cabin 202 - Train 1F

Easy

On the bottom bunk bed. Only appears here after achieving at least a B Rank in the Leech Hunter mini-game.

View location

|

Show on map

Cabin 202 - Train 1F

Normal

On the bottom bunk bed. Only appears here after achieving at least a B Rank in the Leech Hunter mini-game.

View location

|

Show on map

Cabin 202 - Train 1F

Hard

On the bottom bunk bed. Only appears here after achieving at least a B Rank in the Leech Hunter mini-game.

View location

|

Show on map

There are no locations to show for this mode. The following modes are applicable: