M40A1
(Resident Evil Revelations)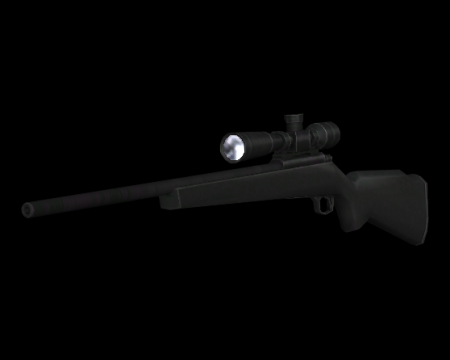 Provides a scope for long-range precision, piercing, and high critical hits.
You must make a side trek in Episode 3 to obtain the M40A1, but it is worth the time. If you aren't seeking
Handprints
, this is the only rifle available in the single-player campaign. The firing speed is slow, but it can be used to pick off enemies before they are even aware of your presence. This weapon uses
Rifle Ammo
.
| | |
| --- | --- |
| Category | Weaponry (Weapon) |
Location
Northern Corridor - Promenade 2F - Queen Zenobia

Normal Mode

Episode 3-2 onwards. Propped up next to the metal shelves on the west end of the corridor. Note: it only appears here in the 3DS version and XBox One version of the game.

View locationShow on map

Northern Corridor - Promenade 2F - Queen Zenobia

Infernal Mode

Episode 3-2 onwards. Propped up next to the metal shelves on the west end of the corridor. Note: it only appears here in the 3DS version and XBox One version of the game.

View locationShow on map

Northern Corridor - Promenade 2F - Queen Zenobia

Hell Mode

Episode 3-2 onwards. Propped up next to the metal shelves on the west end of the corridor.

View locationShow on map

Purifying Room - Solarium - Queen Zenobia

Normal Mode

Episode 3-2 onwards. Propped up next to the wall near the purifying apparatus. Note: it will never appear here the 3DS version or the XBox One version, but it will appear here in all other versions of the game.

View locationShow on map

Purifying Room - Solarium - Queen Zenobia

Infernal Mode

Episode 3-2 onwards. Propped up next to the wall near the purifying apparatus. Note: it will never appear here the 3DS version or the XBox One version, but it will appear here in all other versions of the game.

View locationShow on map

Lower Complex - Airport Building B1

Normal Mode

Episode 9-1. On the metal shelves in the south east corner.

View locationShow on map

Lower Complex - Airport Building B1

Hell Mode

Episode 9-1. On the metal shelves in the south east corner.

View locationShow on map

There are no locations to show for this mode. The following modes are applicable: