Ship Layout
(Resident Evil Revelations)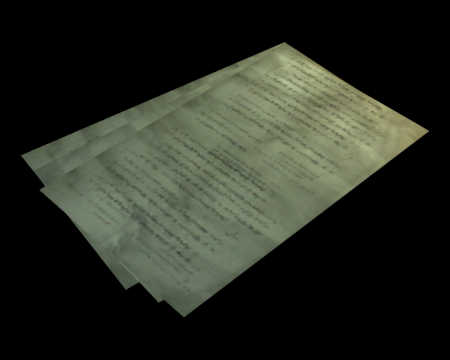 Explanation of the ship's layout for the crew.
Transcript
Ship Layout

For all staff and crew

The Queen Zenobia is a pleasure cruise liner that provides world-class service with the comfort of a luxury hotel for our passengers. This ship offers numerous services and facilities for our guests.

As a representative for this ship, it is your job to be familiar with all the facilities that can be found here.

The following list outlines some of the major facilities on this ship. Please reach each one carefully.

Promenade Hall

Boasting an area of 1500 m

2

, the ship's promenade hall has three floors, and is more spacious than any other ship in the world. The interior is done in a Gothic style, with ceilings covered in chandeliers. Its beauty and style rivals that of the finest opera houses.

Casino

The ship's casino can be found next to the promenade hall. All kinds of gaming pleasures await our guests, including card games and slot machines. Everything guests would expect from a casino can be

found here 24 hours a day.

Restaurants and Shops

The promenade hall has designer goods and brand-name stores from all over the world. Guests can relax at our many restaurants and bars. There are also shops that cater to our guests every day needs.

Emergency Communication Room

There is an emergency communication room next to the promenade that can be used as a safety point during an emergency. Crew can also use this room to transmit an emergency distress call should the need arise.

Solarium

The shuttered glass of the solarium overlooks the world's largest on-board swimming pool. This romantic spot has been a favorite destination for many of our passengers. Be on the lookout for couples who sneak in after hours.
Location
Conference Room - Bridge Lower Level - Queen Zenobia

Normal

Episode 3-2 onwards. On the table in the middle of the room.

View locationShow on map

Conference Room - Bridge Lower Level - Queen Zenobia

Hell

Episode 3-2 onwards. On the table in the middle of the room.

View locationShow on map

Conference Room - Bridge Lower Level - Queen Zenobia

Infernal

Episode 3-2 onwards. On the table in the middle of the room.

View locationShow on map

There are no locations to show for this mode. The following modes are applicable: