Anti Virus (L)
(Resident Evil Outbreak)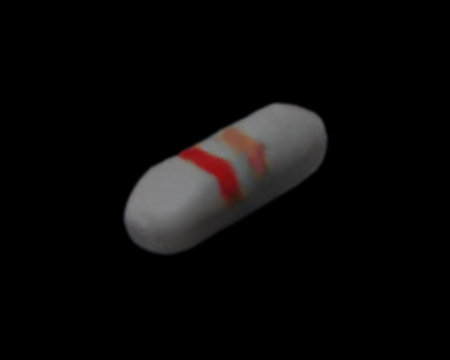 Stops virus' growth for a long time.
A large white pill.
When taken, this pill halts the progression of the virus gauge for a long duration of time. Given that you only have a limited amount of time before the T-Virus infects your body completely, it is advisable to take these as and when you get them to give yourself more time to complete the scenario.
George
can create anti virus pills by combining a
Mixed Herb (G+B+R)
with his
Medical Set
.
| | |
| --- | --- |
| Category | Common item (Recovery item) |
Location
B6F Break Room - Underground 6F

Easy

1 × Anti Virus (L) - Inside the second locker from the left.

View location

|

Show on map

Doctors' Station - Hospital 1F

Easy

1 × Anti Virus (L) - On the south side of the table in the middle of the room.

View location

|

Show on map

Doctors' Station - Hospital 1F

Normal

1 × Anti Virus (L) - On the south side of the table in the middle of the room.

View location

|

Show on map

Room 30* - Apple Inn Hotel 3F

Easy

1 × Anti Virus (L) - On the body of the dead woman lying in the middle of the southern room.

View location

|

Show on map

Room 30* - Apple Inn Hotel 3F

Normal

1 × Anti Virus (L) - On the body of the dead woman lying in the middle of the southern room.

View location

|

Show on map

Room 30* - Apple Inn Hotel 3F

Hard

1 × Anti Virus (L) - On the body of the dead woman lying in the middle of the southern room.

View location

|

Show on map

Room 30* - Apple Inn Hotel 3F

Very Hard

1 × Anti Virus (L) - On the body of the dead woman lying in the middle of the southern room.

View location

|

Show on map

Experiment Preparation Room - University 3F

Easy

1 × Anti Virus (L) - On the small trolley in the south west corner of the room.

View location

|

Show on map

Study Room - University B1F

Easy

1 × Anti Virus (L) - On the cabinet on the west side of the room.

1 × Anti Virus (L) - On the cabinet on the east side of the room.

View location

|

Show on map

Study Room - University B1F

Normal

1 × Anti Virus (L) - On the cabinet on the west side of the room.

1 × Anti Virus (L) - On the cabinet on the east side of the room.

View location

|

Show on map

Study Room - University B1F

Hard

1 × Anti Virus (L) - On the cabinet on the west side of the room.

View location

|

Show on map

Study Room - University B1F

Very Hard

1 × Anti Virus (L) - On the cabinet on the west side of the room.

View location

|

Show on map

B2F Passage Elevator - University B2F

Easy

1 × Anti Virus (L) -

Given to you by

George

who is sitting in the south east area next to the manhole. He only appears here if you or any of your fellow AIPC's are not George.

View location

|

Show on map

B2F Passage Elevator - University B2F

Normal

1 × Anti Virus (L) -

Given to you by

George

who is sitting in the south east area next to the manhole. He only appears here if you or any of your fellow AIPC's are not George.

View location

|

Show on map

B2F Passage Elevator - University B2F

Hard

1 × Anti Virus (L) -

Given to you by

George

who is sitting in the south east area next to the manhole. He only appears here if you or any of your fellow AIPC's are not George.

View location

|

Show on map

B2F Passage Elevator - University B2F

Very Hard

1 × Anti Virus (L) -

Given to you by

George

who is sitting in the south east area next to the manhole. He only appears here if you or any of your fellow AIPC's are not George.

View location

|

Show on map

Quality Assurance Testing Room - University B3F

Easy

1 × Anti Virus (L) - On the control panel in front of the window.

View location

|

Show on map

Quality Assurance Testing Room - University B3F

Normal

1 × Anti Virus (L) - On the control panel in front of the window.

View location

|

Show on map

Quality Assurance Testing Room - University B3F

Hard

1 × Anti Virus (L) - On the control panel in front of the window.

View location

|

Show on map

Underground Management Office - Emission Tower Facility

Easy

1 × Anti Virus (L) - Next to the computer on the table in the middle of the room.

View location

|

Show on map

Underground Management Office - Emission Tower Facility

Normal

1 × Anti Virus (L) - Next to the computer on the table in the middle of the room.

View location

|

Show on map

Underground Management Office - Emission Tower Facility

Hard

1 × Anti Virus (L) - Next to the computer on the table in the middle of the room.

View location

|

Show on map

Emission Tower Station - Emission Tower Upper Level 2

Easy

1 × Anti Virus (L) - On the desk on the east side of the room.

View location

|

Show on map

Emission Tower Station - Emission Tower Upper Level 2

Normal

1 × Anti Virus (L) - On the edge of the central desk.

View location

|

Show on map

Emission Tower Station - Emission Tower Upper Level 2

Hard

1 × Anti Virus (L) - On the edge of the central desk.

View location

|

Show on map

There are no locations to show for this mode. The following modes are applicable: