Recovery Medicine Base
(Resident Evil Outbreak File #2)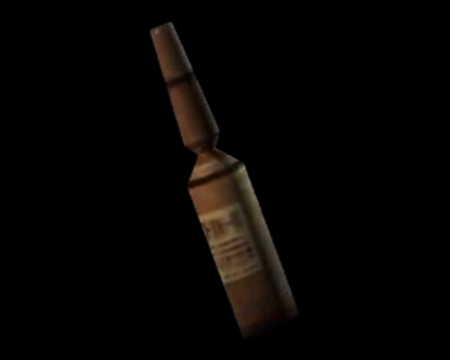 With this, you can create a recovery medicine with a kit.
The base for a creating a medicine.
You can only find these when playing as
George
. They cannot be used on their own, however if you combine them with his
Medical Set
it will create
Recovery Medicine
.
| | |
| --- | --- |
| Category | Common item (Recovery item) |
Location
Pharmacy - Hospital B1F

Very Hard

1 × Recovery Medicine Base - On the small shelving unit next to the door.

View location

|

Show on map

Maintenance access route - Hospital 3F

Hard

1 × Recovery Medicine Base - On the wall in the south west corner of the area.

View location

|

Show on map

Maintenance access route - Hospital 3F

Very Hard

1 × Recovery Medicine Base - On the wall in the south west corner of the area.

View location

|

Show on map

Storage room - Hospital 1F

Hard

1 × Recovery Medicine Base - On the trolley on the east side of the room.

View location

|

Show on map

Room 203 - Hospital 2F

Easy

1 × Recovery Medicine Base - Next to the bedside curtain in the south west area of the room.

View location

|

Show on map

Room 203 - Hospital 2F

Normal

1 × Recovery Medicine Base - Next to the bedside curtain in the south west area of the room.

View location

|

Show on map

Room 203 - Hospital 2F

Hard

1 × Recovery Medicine Base - Next to the bedside curtain in the south west area of the room.

View location

|

Show on map

Examination room - Hospital 1F

Easy

2 × Recovery Medicine Base - On the stool in the south east corner of the room.

View location

|

Show on map

Examination room - Hospital 1F

Normal

2 × Recovery Medicine Base - On the stool in the south east corner of the room.

View location

|

Show on map

Examination room - Hospital 1F

Very Hard

1 × Recovery Medicine Base - On the stool in the south east corner of the room.

1 × Recovery Medicine Base - On the floor inside the north west room.

View location

|

Show on map

West concourse - Raccoon City subway - Subway B1F

Very Hard

1 × Recovery Medicine Base - On the ground in the north east corner of the room.

View location

|

Show on map

Employee passage - Employee area - Subway B1F

Hard

1 × Recovery Medicine Base -

On the metal shelves opposite the door to the

storage room

in the north west section of the passage.

View location

|

Show on map

Control room - Employee area - Subway B1F

Normal

1 × Recovery Medicine Base - On the small metal shelves in the middle of the room.

View location

|

Show on map

Control room - Employee area - Subway B1F

Very Hard

1 × Recovery Medicine Base - On the small metal shelves in the middle of the room.

View location

|

Show on map

Main Hall - Police station 1F

Normal

1 × Recovery Medicine Base - On the bench opposite the emergency ladder on the north side of the room.

View location

|

Show on map

Main Hall - Police station 1F

Hard

1 × Recovery Medicine Base - On the bench in the north east corner of the room.

View location

|

Show on map

Witness interrogation room - Police station 1F

Very Hard

1 × Recovery Medicine Base - On the table in the northern room.

View location

|

Show on map

Autopsy room - Police station B1F

Easy

1 × Recovery Medicine Base - On the floor next to the collapsed gurney opposite the door.

View location

|

Show on map

Autopsy room - Police station B1F

Normal

1 × Recovery Medicine Base - On the floor next to the collapsed gurney opposite the door.

View location

|

Show on map

Autopsy room - Police station B1F

Hard

1 × Recovery Medicine Base - On the floor next to the collapsed gurney opposite the door.

View location

|

Show on map

Substation room - Police station B1F

Very Hard

1 × Recovery Medicine Base - On the shelves in the north east corner of the room.

View location

|

Show on map

Kennel - Police station B1F

Very Hard

1 × Recovery Medicine Base - On the floor near the manhole in the north east corner of the room.

View location

|

Show on map

Reference room - Umbrella research facility

Very Hard

1 × Recovery Medicine Base - On the bottom shelf of the filing shelves in the north west corner of the room.

View location

|

Show on map

Nursery - Umbrella research facility

Easy

1 × Recovery Medicine Base - Next to the cooling tanks in the south west corner of the room.

1 × Recovery Medicine Base - On the control panel on the west side of the room.

View location

|

Show on map

Nursery - Umbrella research facility

Normal

1 × Recovery Medicine Base - Next to the cooling tanks in the south west corner of the room.

1 × Recovery Medicine Base - On the control panel on the west side of the room.

View location

|

Show on map

Nursery - Umbrella research facility

Hard

1 × Recovery Medicine Base - Next to the cooling tanks in the south west corner of the room.

View location

|

Show on map

Nursery - Umbrella research facility

Very Hard

1 × Recovery Medicine Base - Next to the cooling tanks in the south west corner of the room.

View location

|

Show on map

Special research room - Umbrella research facility

Easy

1 × Recovery Medicine Base - On the control console in the south east area of the room.

View location

|

Show on map

Special research room - Umbrella research facility

Normal

1 × Recovery Medicine Base - On the control console in the south east area of the room.

View location

|

Show on map

Special research room - Umbrella research facility

Hard

1 × Recovery Medicine Base - On the control console in the south east area of the room.

View location

|

Show on map

Special research room - Umbrella research facility

Very Hard

1 × Recovery Medicine Base - On the control console in the south east area of the room.

View location

|

Show on map

Underground waterworks - Water treatment plant - Basement 1F

Very Hard

1 × Recovery Medicine Base -

On the floor next to the bridge in the northern-most upper walkway, accessible via the

maintenance room

.

View location

|

Show on map

There are no locations to show for this mode. The following modes are applicable: