Newspaper 1
(Resident Evil Outbreak File #2)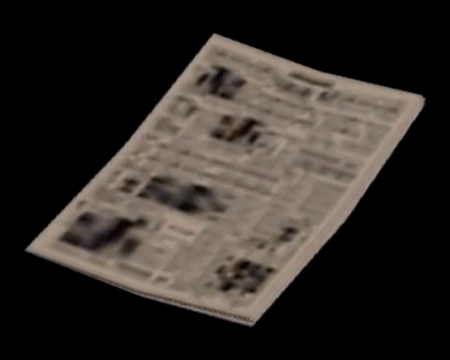 Just an ordinary newspaper. (Check FILE for contents.)
One of three types of newspaper you find that contains an interesting an article.
By acquiring this you will automatically have a file added to your inventory. The following files will be obtained:
You can also use this newspaper to create a
Molotov Cocktail
by combining it with an
Alcohol Bottle
and then with a
Lighter
.
| | |
| --- | --- |
| Category | Common item (Object or tool) |
Location
East concourse - Raccoon City subway - Subway B1F

Easy

On the ground between the two southern pillars in the middle of the room.

View location

|

Show on map

East concourse - Raccoon City subway - Subway B1F

Normal

On the ground between the two southern pillars in the middle of the room.

View location

|

Show on map

East concourse - Raccoon City subway - Subway B1F

Hard

On the ground between the two southern pillars in the middle of the room.

View location

|

Show on map

East concourse - Raccoon City subway - Subway B1F

Very Hard

On the ground between the two southern pillars in the middle of the room.

View location

|

Show on map

Central passage 4 - Umbrella research facility

Easy

On the ground in the northern corner of the passage.

View location

|

Show on map

Central passage 4 - Umbrella research facility

Normal

On the ground in the northern corner of the passage.

View location

|

Show on map

Central passage 4 - Umbrella research facility

Hard

On the ground in the northern corner of the passage.

View location

|

Show on map

Main street North - Urban area downtown

Easy

On the ground next to the mail box on the west side of the street.

View location

|

Show on map

Main street North - Urban area downtown

Normal

On the ground next to the mail box on the west side of the street.

View location

|

Show on map

Main street North - Urban area downtown

Hard

On the ground next to the mail box on the west side of the street.

View location

|

Show on map

There are no locations to show for this mode. The following modes are applicable: