Alcohol Bottle
(Resident Evil Outbreak File #2)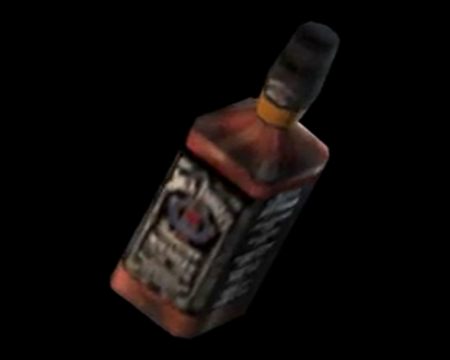 A bottle with a flammable alcohol in it.
An ordinary glass bottle used for storing alcohol.
This bottle has no use on its own, but it can be combined with one of the various
newspapers
you find to create the
Newspaper + Bottle
, which in turn can be combined with the
Lighter
to create a
Molotov Cocktail
.
| | |
| --- | --- |
| Category | Common item (Object or tool) |
Location
West ticket gate - Raccoon City subway - Subway B1F

Easy

On the ground next to the overturned trash can on the west side of the room.

View location

|

Show on map

West ticket gate - Raccoon City subway - Subway B1F

Normal

On the ground next to the overturned trash can on the west side of the room.

View location

|

Show on map

West concourse - Raccoon City subway - Subway B1F

Very Hard

On the ground in the north west corner of the room.

View location

|

Show on map

Subway car - Raccoon City subway - Subway B1F (Platform)

Easy

On the small front-facing seat in the middle of the carriage.

View location

|

Show on map

Subway car - Raccoon City subway - Subway B1F (Platform)

Normal

On the small front-facing seat in the middle of the carriage.

View location

|

Show on map

Breaker room - Employee area - Subway B1F

Easy

Inside the plastic crate on top of the crate shelving in the south west corner of the room.

View location

|

Show on map

Breaker room - Employee area - Subway B1F

Normal

Inside the plastic crate on top of the crate shelving in the south west corner of the room.

View location

|

Show on map

Stairwell - Employee area - Subway B1F

Very Hard

On the middle landing of the stairs in the north east corner.

View location

|

Show on map

Storage room - Employee area - Subway B1F

Hard

On the boxes in the north east corner of the room.

On top of the metal shelves in the south east corner of the room. You need to push the large metal crate against the wall to reach it.

View location

|

Show on map

Examination room - Umbrella research facility

Very Hard

On the small medicine trolley next to the computer desk in the middle of the room.

View location

|

Show on map

Emergency materials storage - Water treatment plant - Basement 2F

Very Hard

On the wooden crates at the back of the northern area you can climb into.

View location

|

Show on map

Maintenance passage 2 - Water treatment plant - Basement 1F

Hard

On the overturned gas canister opposite the door leading to the

break room

in the middle of the passage.

View location

|

Show on map

Maintenance passage 2 - Water treatment plant - Basement 1F

Very Hard

On the overturned gas canister opposite the door leading to the

break room

in the middle of the passage.

View location

|

Show on map

Main street North - Urban area downtown

Normal

On the ground next to the barricaded underground entrance in the north east area of the street.

View location

|

Show on map

There are no locations to show for this mode. The following modes are applicable: