Battery
(Resident Evil Outbreak File #2)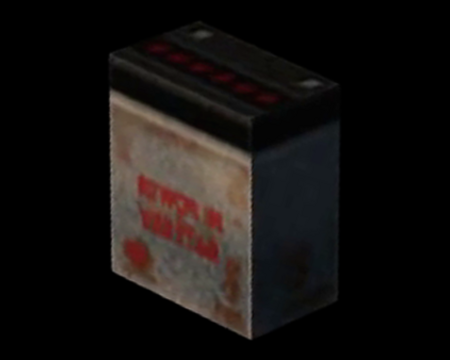 A small battery with high output capacity.
An ordinary battery that has no use on its own.
These batteries can be used to recharge the
Stun Gun
belonging to
Alyssa
.
Additionally,
David
can use this item to create a new weapon. If he has at least one strip of Vinyl Tape left, he can combine this battery with an
Iron Pipe
to create the
Stun Rod
.
| | |
| --- | --- |
| Category | Common item (Object or tool) |
Location
Police station front entrance - Police station 1F

Very Hard

On the ground inside the underpass.

View location

|

Show on map

Substation room - Police station B1F

Easy

On the floor next to the large generator on the east side of the room.

View location

|

Show on map

Substation room - Police station B1F

Normal

On the floor next to the large generator on the east side of the room.

View location

|

Show on map

B1F West hall - Police station B1F

Very Hard

On the floor in the south eastern corner of the passage.

View location

|

Show on map

Reference room - Umbrella research facility

Easy

On the floor in the north east corner of the room.

View location

|

Show on map

Laser emission room - Umbrella research facility

Hard

On the floor in the north west corner of the northern room.

View location

|

Show on map

Experimentation chamber - Umbrella research facility

Normal

On the floor against the northern wall of the area behind the laser beam wall. You can only access this area once the

Tyrant

has been released from the

observation mezzanine

.

View location

|

Show on map

Nursery - Umbrella research facility

Hard

On the capsule control switch in the north west corner of the room.

View location

|

Show on map

Maintenance passage 2 - Water treatment plant - Basement 1F

Easy

On the overturned gas canister opposite the door leading to the

break room

in the middle of the passage.

View location

|

Show on map

Maintenance passage 2 - Water treatment plant - Basement 1F

Normal

On the overturned gas canister opposite the door leading to the

break room

in the middle of the passage.

View location

|

Show on map

Break room - Water treatment plant - Basement 1F

Very Hard

Inside the locker in the north west corner of the room. Requires

Alyssa's

lockpicks to open.

View location

|

Show on map

North waterway - Water treatment plant - Basement 1F

Very Hard

On the floor in the middle of the upper walkway. Only appears if

David

is not one of the player characters.

View location

|

Show on map

Under the highway overpass - Urban area downtown

Easy

On the ground next to the cars in the south east corner.

View location

|

Show on map

Under the highway overpass - Urban area downtown

Normal

On the ground next to the cars in the south east corner.

View location

|

Show on map

Under the highway overpass - Urban area downtown

Hard

On the ground next to the cars in the south east corner.

View location

|

Show on map

There are no locations to show for this mode. The following modes are applicable: