Raccoon Today
(Resident Evil Outbreak File #2)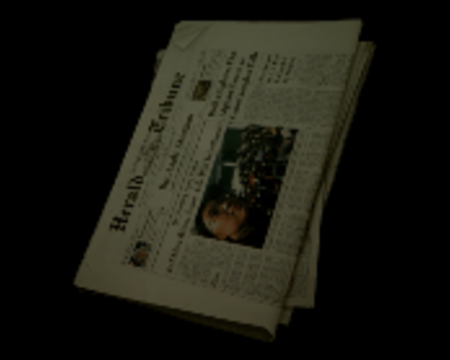 This file is available during the "End of the Road" scenario.
| | |
| --- | --- |
| Category | File (End of the Road) |
Transcript
"Raccoon Today"

June 10, 1998

"Illegal Art Ring"

Defunct local art museum Rams, which closed last February, has allegedly sold some 200 stuffed wildlife specimens on the auction block.

Sculptures, paintings, and other pieces are accounted for and have been sold to private collectors and legitimate museums, but no information concerning the specimens has emerged.

The police are demanding that the auctioneer relinquish an inventory list confirming their whereabouts. Such specimens are banned from sale by auction, and rumors of endangered species in this batch are rampant.
Location
Central passage 4 - Umbrella research facility

Easy

Automatically acquired when you pick up

Newspaper 1

, which is on the ground in the northern corner of the passage.

View location

|

Show on map

Central passage 4 - Umbrella research facility

Normal

Automatically acquired when you pick up

Newspaper 1

, which is on the ground in the northern corner of the passage.

View location

|

Show on map

Central passage 4 - Umbrella research facility

Hard

Automatically acquired when you pick up

Newspaper 1

, which is on the ground in the northern corner of the passage.

View location

|

Show on map

Main street North - Urban area downtown

Easy

Automatically acquired when you pick up

Newspaper 1

, which is on the ground between the two southern pillars in the middle of the room.

View location

|

Show on map

Main street North - Urban area downtown

Normal

Automatically acquired when you pick up

Newspaper 1

, which is on the ground between the two southern pillars in the middle of the room.

View location

|

Show on map

Main street North - Urban area downtown

Hard

Automatically acquired when you pick up

Newspaper 1

, which is on the ground between the two southern pillars in the middle of the room.

View location

|

Show on map

There are no locations to show for this mode. The following modes are applicable: