Notice of Demolition Delay
(Resident Evil 3 Remake)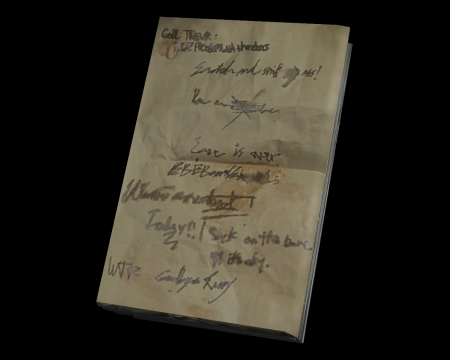 This file hints at a method for fighting
Nemesis
when you encounter him on
Demolition Site Roof
, specifically using the portable generators to slow him down.
Transcript
Notice of Demolition Delay

We have decided to delay the Barnaby Office Building demolition in response to ongoing public unrest. For safety reasons, all electrical equipment, including

generators

, have been moved to the

roof

for safekeeping.

Entry to the premises is prohibited until the current unrest has subsided. All employees are to stay at home and await further instructions.
Location
Scaffold Platform (West) - Demolition Site Upper Floors

Assisted

On the pile of large metal flooring plates on the south side of the platform.

View location

|

Show on map

Scaffold Platform (West) - Demolition Site Upper Floors

Standard

On the pile of large metal flooring plates on the south side of the platform.

View location

|

Show on map

Scaffold Platform (West) - Demolition Site Upper Floors

Hardcore

On the pile of large metal flooring plates on the south side of the platform.

View location

|

Show on map

Scaffold Platform (West) - Demolition Site Upper Floors

Nightmare

On the pile of large metal flooring plates on the south side of the platform.

View location

|

Show on map

Scaffold Platform (West) - Demolition Site Upper Floors

Inferno

On the pile of large metal flooring plates on the south side of the platform.

View location

|

Show on map

There are no locations to show for this mode. The following modes are applicable: