Drain Deimos
(Resident Evil 3 Remake)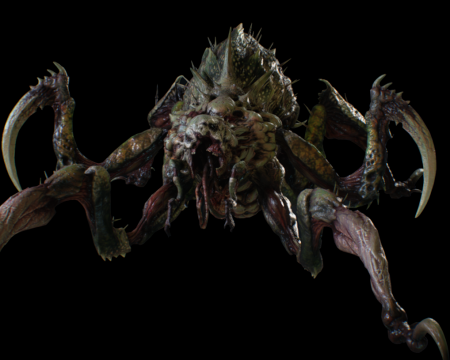 A large insect-type creature capable of infecting you with its offspring by forcing their larvae down your throat.
These creatures have taken up residence in the
Subway Power Substation
. If you do become infected, the only way to cure yourself is to use a
Green Herb
, causing you to regurgitate what they impregnated you with.
| | |
| --- | --- |
| Category | Enemy |
| Other appearances | |
Location
Power Maze A - Subway Power Substation

Assisted

Drain Deimos' - Constantly emerge and attack you.

View location

|

Show on map

Power Maze A - Subway Power Substation

Standard

Drain Deimos' - Constantly emerge and attack you.

View location

|

Show on map

Power Maze A - Subway Power Substation

Hardcore

Drain Deimos' - Constantly emerge and attack you.

View location

|

Show on map

Power Maze A - Subway Power Substation

Nightmare

Drain Deimos' - Constantly emerge and attack you.

View location

|

Show on map

Power Maze A - Subway Power Substation

Inferno

Drain Deimos' - Constantly emerge and attack you.

View location

|

Show on map

Power Maze B - Subway Power Substation

Assisted

Drain Deimos' - Constantly emerge and attack you.

View location

|

Show on map

Power Maze B - Subway Power Substation

Standard

Drain Deimos' - Constantly emerge and attack you.

View location

|

Show on map

Power Maze B - Subway Power Substation

Hardcore

Drain Deimos' - Constantly emerge and attack you.

View location

|

Show on map

Power Maze B - Subway Power Substation

Nightmare

Drain Deimos' - Constantly emerge and attack you.

View location

|

Show on map

Power Maze B - Subway Power Substation

Inferno

Drain Deimos' - Constantly emerge and attack you.

View location

|

Show on map