Memo to Leon
(Resident Evil 2)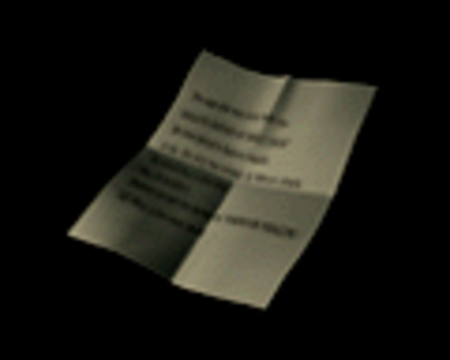 A message for
Leon S. Kennedy
, welcoming him joining the Raccoon Police Department Service.
Transcript
MEMO TO LEON

To Leon S. Kennedy,

Congratulations on your assignment to the Raccoon City police department.

We all look forward to having you as part of our team and promise to take good care of you.

Welcome aboard!

From all the guys at the R.P.D.
Location
Information Office - Police Station 1F

Leon A (Normal)

On the table amongst all the party mess.

View location

|

Show on map

Information Office - Police Station 1F

Leon B (Normal)

On the table amongst all the party mess.

View location

|

Show on map

Information Office - Police Station 1F

Claire A (Normal)

On the table amongst all the party mess.

View location

|

Show on map

Information Office - Police Station 1F

Claire B (Normal)

On the table amongst all the party mess.

View location

|

Show on map

There are no locations to show for this game mode. The following game modes are applicable: