Mechanic Jack Handle
(Resident Evil 2 Remake)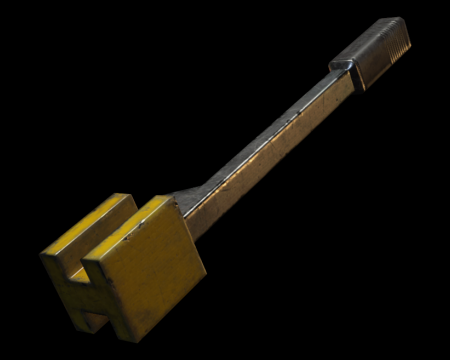 A handle for a mechanic jack.
This handle is used to operate the jack located in the Police Station
Library
. Once you have used the handle to lower the bookcase onto its rails, you can then move the bookcases into position to form a bridge for the walkway above, allowing you to access the
Main Hall 3F
.
| | |
| --- | --- |
| Category | Item (Key item) |
| Original name | Tool |
Location
Records Room - Police Station 1F

Leon (Standard)

On the white table next to the north east door.

View location

|

Show on map

Records Room - Police Station 1F

Claire (Standard)

On the white table next to the north east door.

View location

|

Show on map

Records Room - Police Station 1F

Leon [2nd] (Standard)

On the white table next to the north east door.

View location

|

Show on map

Records Room - Police Station 1F

Claire [2nd] (Standard)

On the white table next to the north east door.

View location

|

Show on map

Records Room - Police Station 1F

Leon (Hardcore)

On the white table next to the north east door.

View location

|

Show on map

Records Room - Police Station 1F

Claire (Hardcore)

On the white table next to the north east door.

View location

|

Show on map

Records Room - Police Station 1F

Leon [2nd] (Hardcore)

On the white table next to the north east door.

View location

|

Show on map

Records Room - Police Station 1F

Claire [2nd] (Hardcore)

On the white table next to the north east door.

View location

|

Show on map

There are no locations to show for this game mode. The following game modes are applicable: