Bishop Plug
(Resident Evil 2 Remake)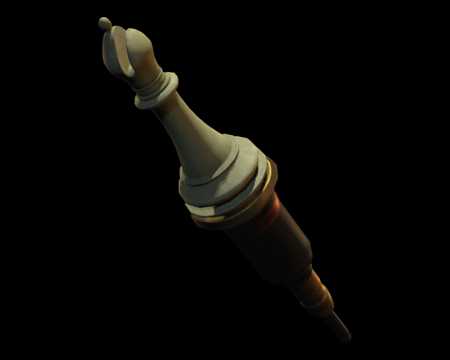 The head of this chess-themed plug is shaped like a bishop.
An electronic plug fashioned in the shape of a Bishop chess piece.
This is one of six chess-themed plugs found in the
Sewers
. You need to arrange them all on the plug terminals near the southern locked door in the
Monitor Room
in order to unlock it, allowing you to access the
U-Area
.
| | |
| --- | --- |
| Category | Item (Key item) |
| Original name | Electronic Part |
Location
Monitor Room - Sewers Middle

Leon (Standard)

Inside one of the plug terminals in the south west area of the room.

View location

|

Show on map

Monitor Room - Sewers Middle

Claire (Standard)

Inside one of the plug terminals in the south west area of the room.

View location

|

Show on map

Monitor Room - Sewers Middle

Leon [2nd] (Standard)

Inside one of the plug terminals in the south west area of the room.

View location

|

Show on map

Monitor Room - Sewers Middle

Claire [2nd] (Standard)

Inside one of the plug terminals in the south west area of the room.

View location

|

Show on map

Monitor Room - Sewers Middle

Leon (Hardcore)

Inside one of the plug terminals in the south west area of the room.

View location

|

Show on map

Monitor Room - Sewers Middle

Claire (Hardcore)

Inside one of the plug terminals in the south west area of the room.

View location

|

Show on map

Monitor Room - Sewers Middle

Leon [2nd] (Hardcore)

Inside one of the plug terminals in the south west area of the room.

View location

|

Show on map

Monitor Room - Sewers Middle

Claire [2nd] (Hardcore)

Inside one of the plug terminals in the south west area of the room.

View location

|

Show on map

There are no locations to show for this game mode. The following game modes are applicable: