First-Aid Spray
(Resident Evil Zero)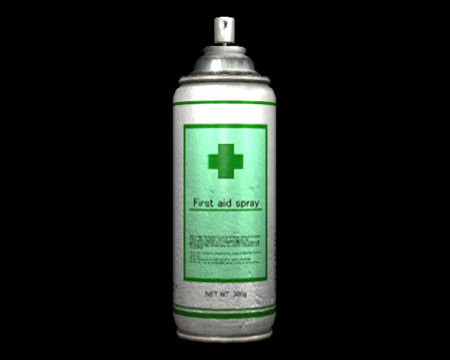 Used to fully restore health.
A powerful medical spray that can clean and heal wounds quickly and effectively. One of these will completely restore your health.
Although not many of these throughout the game, they're good to stock up on for boss fights. Although they don't remove the poison status, you will still need a
Blue Herb
to cure this.
| | |
| --- | --- |
| Category | Item (Recovery item) |
Statistics
| Game mode | Sum total |
| --- | --- |
| Easy | 16 |
| Normal | 9 |
| Hard | 8 |
Location
Freight Car - Train 1F

Easy

1 First-Aid Spray - On the shelf in the north west corner of the car.

View location

|

Show on map

Freight Car - Train 1F

Normal

1 First-Aid Spray - On the shelf in the north west corner of the car.

View location

|

Show on map

Cabin 101 - Train 2F

Easy

1 First-Aid Spray - On the sink in the north east corner of the room.

View location

|

Show on map

Cabin 101 - Train 2F

Normal

1 First-Aid Spray - On the sink in the north east corner of the room.

View location

|

Show on map

Cabin 101 - Train 2F

Hard

1 First-Aid Spray - On the sink in the north east corner of the room.

View location

|

Show on map

Medicine Room - Training Facility 2F

Easy

2 First-Aid Sprays - On the medicine cabinet between the two sets of beds on the south side of the room.

View location

|

Show on map

Medicine Room - Training Facility 2F

Normal

1 First-Aid Spray - On the medicine cabinet between the two sets of beds on the south side of the room.

View location

|

Show on map

Medicine Room - Training Facility 2F

Hard

1 First-Aid Spray - On the medicine cabinet between the two sets of beds on the south side of the room.

View location

|

Show on map

Old Laboratory - Training Facility 2F

Easy

1 First-Aid Spray - On the metal table in the south west corner of the room.

View location

|

Show on map

Old Laboratory - Training Facility 2F

Normal

1 First-Aid Spray - On the metal table in the south west corner of the room.

View location

|

Show on map

Old Laboratory - Training Facility 2F

Hard

1 First-Aid Spray - On the metal table in the south west corner of the room.

View location

|

Show on map

Church Back Room - Laboratory 1F

Easy

1 First-Aid Spray - On the shelves in the north east corner of the room.

View location

|

Show on map

Reference Room - Laboratory B2

Easy

1 First-Aid Spray - On the shelves next to the door in the north east corner of the room.

View location

|

Show on map

Operating Room - Laboratory B1

Easy

1 First-Aid Spray - On a shelf on the north side of the room.

1 First-Aid Spray - On the operating table in the north west corner of the room.

View location

|

Show on map

Operating Room - Laboratory B1

Normal

1 First-Aid Spray - On a shelf on the north side of the room.

View location

|

Show on map

Operating Room - Laboratory B1

Hard

1 First-Aid Spray - On a shelf on the north side of the room.

View location

|

Show on map

Turntable Control Room - Factory 1F

Easy

1 First-Aid Spray - Inside the wall cabinet in the north west corner of the room.

View location

|

Show on map

Turntable Control Room - Factory 1F

Normal

1 First-Aid Spray - Inside the wall cabinet in the north west corner of the room.

View location

|

Show on map

Turntable Control Room - Factory 1F

Hard

1 First-Aid Spray - Inside the wall cabinet in the north west corner of the room.

View location

|

Show on map

Lodgings - Treatment Plant B6

Easy

1 First-Aid Spray - On the table in the north east corner of the room.

View location

|

Show on map

Lodgings - Treatment Plant B6

Normal

1 First-Aid Spray - On the table in the north east corner of the room.

View location

|

Show on map

Lodgings - Treatment Plant B6

Hard

1 First-Aid Spray - On the table in the north east corner of the room.

View location

|

Show on map

Storage - Treatment Plant B9

Easy

2 First-Aid Sprays - On the shelves in the south east area of the room.

View location

|

Show on map

Storage - Treatment Plant B9

Normal

2 First-Aid Sprays - On the shelves in the south east area of the room.

View location

|

Show on map

Storage - Treatment Plant B9

Hard

2 First-Aid Sprays - On the shelves in the south east area of the room.

View location

|

Show on map