Curved Iron Pipe
(Resident Evil Outbreak)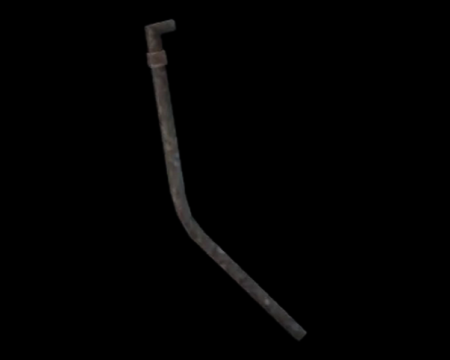 A pipe made of iron. It's curved a little.
A heavy iron pipe that can be used as a weapon, capable of causing a small amount of damage.
This was once a straight
Iron Pipe
, but repeated use has caused it to become slightly curved. If its use is continued, it will eventually become completely bent and turn into a
Bent Iron Pipe
.
| | |
| --- | --- |
| Category | Weaponry (Melee weapon) |
Location
Corridor (3F) - Apple Inn Hotel 3F

Hard

On the floor in the south east area of the corridor, next to the part of the corridor that is on fire.

On the floor in the south west area of the corridor, next to the part of the corridor that is on fire.

View location

|

Show on map

Corridor (3F) - Apple Inn Hotel 3F

Very Hard

On the floor in the south west area of the corridor, next to the part of the corridor that is on fire.

View location

|

Show on map

East Waterway - University B3F

Easy

In the water next to the iron bars on the east side of the lower waterway.

View location

|

Show on map

West Waterway - University B3F

Hard

In the water next to the iron bars in the north west tunnel.

View location

|

Show on map

Access Waterway - University B4F

Very Hard

On the ground at the bottom of the steps in the northern section.

View location

|

Show on map

Emission Tower Lower Part - Emission Tower Lower Level

Hard

On the floor next to one of the large boxes near the door.

View location

|

Show on map

There are no locations to show for this mode. The following modes are applicable: