Concrete Piece
(Resident Evil Outbreak)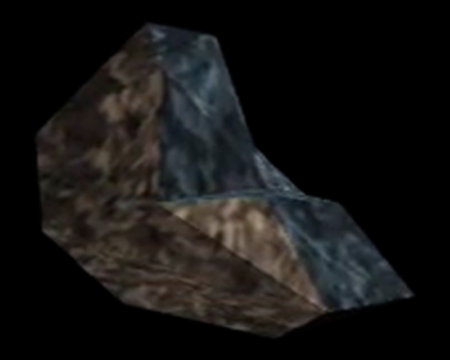 You can throw this to attack enemies.
A piece of debris from the collapsing Apple Inn Hotel. This can be used as a weapon and hurled at an enemy. A direct hit will cause them to fall unconscious for a short period of time. Available within the "Hellfire" scenario.
David
can create an additional weapon from this item. He can combine this with an
Iron Pipe
using a piece of
Vinyl Tape
to create the
Hammer
.
| | |
| --- | --- |
| Category | Weaponry (Throwing weapon) |
Location
Corridor - Apple Inn Hotel 1F

Normal

On the floor in the centre of the corridor, on the part that has fire damage.

View location

|

Show on map

Corridor - Apple Inn Hotel 1F

Hard

On the floor in the centre of the corridor, on the part that has fire damage.

View location

|

Show on map

Lounge Stairs - Apple Inn Hotel 1F

Normal

On the 1F on the east half of the room, next to the barricade of burning furniture.

View location

|

Show on map

Owner's Room - Apple Inn Hotel 1F

Easy

On the floor amongst the burning wood next to the table.

View location

|

Show on map

Owner's Room - Apple Inn Hotel 1F

Normal

On the floor amongst the burning wood next to the table.

View location

|

Show on map

Owner's Room - Apple Inn Hotel 1F

Hard

On the floor amongst the burning wood next to the table.

View location

|

Show on map

Owner's Room - Apple Inn Hotel 1F

Very Hard

On the floor amongst the burning wood next to the table.

View location

|

Show on map

Northwest Passage 1 - Apple Inn Hotel 1F

Easy

In the west section of the passage. On the floor next to the section of the corridor that is on fire.

View location

|

Show on map

Room 30* - Apple Inn Hotel 3F

Easy

On the floor next to the body of the dead woman in the southern room.

View location

|

Show on map

Room 30* - Apple Inn Hotel 3F

Hard

On the floor next to the body of the dead woman in the southern room.

View location

|

Show on map

Room 30* - Apple Inn Hotel 3F

Very Hard

On the floor next to the body of the dead woman in the southern room.

View location

|

Show on map

There are no locations to show for this mode. The following modes are applicable: