Alcohol Bottle
(Resident Evil Outbreak)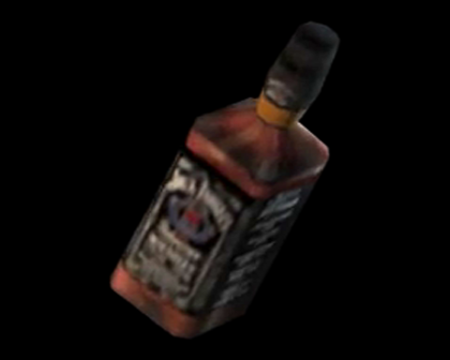 A bottle with a flammable alcohol in it.
An ordinary glass bottle used for storing alcohol. Available within the "Outbreak" scenario and they have two uses:
If you explore the Owner's Room on the 2F, you will find a picture on the wall with a bottle-shaped indentation. Insert one of these bottles into the picture and the nearby desk draw will become unlocked, allowing you to get the items inside.


These bottles can also be used to create a weapon. Combine one of these with a Newspaper to create the Newspaper + Bottle item. Combine this with the Lighter to create a Molotov Cocktail.
| | |
| --- | --- |
| Category | Key item (Outbreak) |
Location
Liquor Room - J's Bar 3F

Easy

On the liquor shelves next to the mesh fence.

On the stack of crates opposite the wall of barrels on the west side of the room.

On the stack of crates next to the wall of barrels on the west side of the room.

View location

|

Show on map

Liquor Room - J's Bar 3F

Normal

On the liquor shelves next to the mesh fence.

On the stack of crates opposite the wall of barrels on the west side of the room.

On the stack of crates next to the wall of barrels on the west side of the room.

View location

|

Show on map

Liquor Room - J's Bar 3F

Hard

On the liquor shelves next to the mesh fence.

On the stack of crates opposite the wall of barrels on the west side of the room.

On the stack of crates next to the wall of barrels on the west side of the room.

View location

|

Show on map

Liquor Room - J's Bar 3F

Very Hard

On the liquor shelves next to the mesh fence.

On the stack of crates next to the wall of barrels on the west side of the room.

View location

|

Show on map

There are no locations to show for this mode. The following modes are applicable: