Antique Coin
(Resident Evil 7 Biohazard - Not a Hero)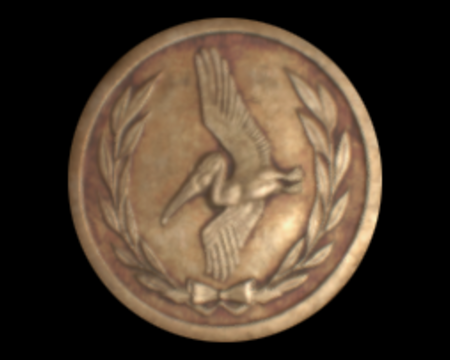 An old, commemorative coin.
A small bronze coin that appears to be very old.
There are quite a number of these scattered throughout the caverns. In the
Central Cavern
there are two birdcages on the platform in the south west corner, and these birdcages contain useful items inside but they can only be unlocked by providing each with a certain number of these coins.
| | |
| --- | --- |
| Category | Item (Object, tool or key) |
Statistics
| Game mode | Sum total |
| --- | --- |
| Easy | 10 |
| Normal | 10 |
| Professional | 10 |
Location
Central Cavern - Central Cavern

Normal

On a barrel on the left side of the large green shipping container in the north east area of the cavern.

View location

|

Show on map

Central Cavern - Central Cavern

Easy

On a barrel on the left side of the large green shipping container in the north east area of the cavern.

View location

|

Show on map

Central Cavern - Central Cavern

Professional

On the southern side of the white vehicle parked on the east side of the cavern.

View location

|

Show on map

Work Sector A - Mining Work Area

Normal

On the side of the large white sack on the southern wall of the cavern.

View location

|

Show on map

Work Sector A - Mining Work Area

Easy

On the side of the large white sack on the southern wall of the cavern.

View location

|

Show on map

Section (C3) - Storage Area

Easy

On the pile of small white plastic bags in the north east corner of this section.

View location

|

Show on map

Section (C3) - Storage Area

Normal

On the pile of small white plastic bags in the north east corner of this section.

View location

|

Show on map

Section (S2) - Storage Area

Professional

On the barrel in the south east corner of this section.

View location

|

Show on map

Section (S1) - Storage Area

Easy

On the large white sack at the end of the south west passage of this section.

View location

|

Show on map

Section (S1) - Storage Area

Normal

On the large white sack at the end of the south west passage of this section.

View location

|

Show on map

Section (S1) - Storage Area

Professional

On the stretcher in the north east corner of the passage of this section.

View location

|

Show on map

Passage - Mine Cart Yard

Easy

On top of the small paint bucket in the north west branch of the passage.

View location

|

Show on map

Passage - Mine Cart Yard

Normal

On top of the small paint bucket in the north west branch of the passage.

View location

|

Show on map

Passage - Mine Cart Yard

Professional

On top of the small paint bucket in the north west branch of the passage.

View location

|

Show on map

Repair Yard - Mine Cart Yard

Easy

On the large caged containers in the south west corner of the room.

View location

|

Show on map

Repair Yard - Mine Cart Yard

Normal

On the large caged containers in the south west corner of the room.

View location

|

Show on map

Back Passage - Mine Cart Yard

Professional

On the ledge in the north west corner of the passage.

View location

|

Show on map

Ventilation Room - Mine Cart Yard

Professional

On the large cardboard box on the west side of the room, next to the switch that deactivates the lasers.

View location

|

Show on map

Maintenance Passage - Mine Cart Yard

Easy

Inside the cardboard box next to the bottom of the ladder.

View location

|

Show on map

Maintenance Passage - Mine Cart Yard

Normal

Inside the cardboard box next to the bottom of the ladder.

View location

|

Show on map

Dead End - Mining Work Area

Professional

On the tarpaulin in the south west corner of the end of the tunnel.

View location

|

Show on map

Dead End - Mining Work Area

Normal

On the tarpaulin in the south west corner of the end of the tunnel.

View location

|

Show on map

Dead End - Mining Work Area

Easy

On the tarpaulin in the south west corner of the end of the tunnel.

View location

|

Show on map

Storage Space - Mining Work Area

Professional

On the pile of rocks on the south side of the area.

View location

|

Show on map

Store Room West - Storage Area

Professional

On the ledge of the wall on the west side of the room.

View location

|

Show on map

There are no locations to show for this mode. The following modes are applicable: