Rifle
(Resident Evil 4)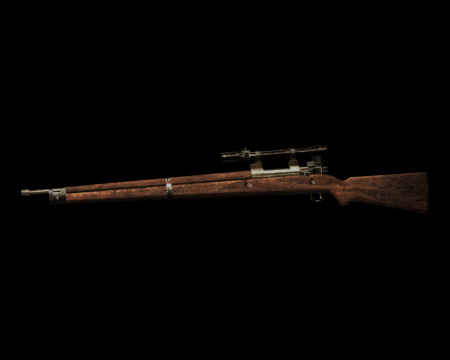 A .223 caliber bolt action rifle.
The firepower attribute shows that the manual Rifle cuts quite a good figure. Of course, its firing speed drastically limits its use. That Leon is forced to lower the rifle to load a new bullet into the chamber also does not improve the weapon's speed. On the other hand, the reloading sequence allows you to take a quick look around and detect possible danger Leon might not have spotted otherwise. This weapon uses
Rifle Ammo
. It can be fitted with its
Scope
to create a more precise weapon.
| | |
| --- | --- |
| Category | Weaponry (Weapon) |
| Buy price | 12,000 pesetas |
| Sell price | 5,250 pesetas |
Attributes and upgrades
Firepower

Value

4.0

5.0

6.0

8.0

10.0

12.0

Price

-

10,000

12,000

20,000

25,000

35,000
Firing speed

Value

2.73

Price

-
Reload speed

Value

4.00

3.23

2.33

Price

-

8,000

18,000
Capacity

Value

5

7

9

12

15

18

Price

-

6,000

8,000

12,000

18,000

25,000
Exclusive upgrade: Raises firepower to 30.0. Price: 80,000 pesetas
Location
Chapter 1-2 onwards

Normal

Chapter 1-2 onwards

Professional

There are no locations to show for this mode. The following modes are applicable: