Merchant
(Resident Evil 4)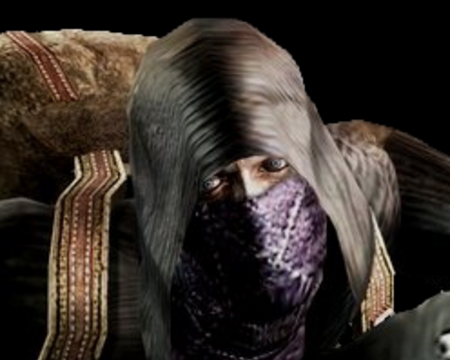 This mysterious man is your main source of new weapons, accessories and upgrades. The ambulatory businessman first offers his services in Chapter 1-2. After this, you will meet him again in various locations.
The merchant is always worth visiting. Even if you are not interested in his goods, you can always sell unwanted items such as treasures and ammunition to acquire
Pesetas
or to clear space in your inventory.
| | |
| --- | --- |
| Category | Character |
| Age | ? |
| Blood type | ? |
| Height | ? |
| Weight | ? |
Location
Chapter 1-3

Normal

Tunnel. In the small clearing near the ladder leading to the graveyard.

Storage Room. On the west side of the room.

Chapter 1-3

Professional

Tunnel. In the small clearing near the ladder leading to the graveyard.

Storage Room. On the west side of the room.

Chapter 2-1

Normal

Lake cave. In the wooden structure in the middle of the cave.

Chapter 2-1

Professional

Lake cave. In the wooden structure in the middle of the cave.

Chapter 2-2

Normal

Bridge. Standing at the entrance to the bridge that leads to the clearing with the abandoned house clearing.

Chapter 2-2

Professional

Bridge. Standing at the entrance to the bridge that leads to the clearing with the abandoned house clearing.

There are no locations to show for this mode. The following modes are applicable: